Enjoy each concert of the Tarara Summer Concert Series with a 2021 Season Pass. The season is July 3-September 25, 2021 at Tarara Vineyards.
About this event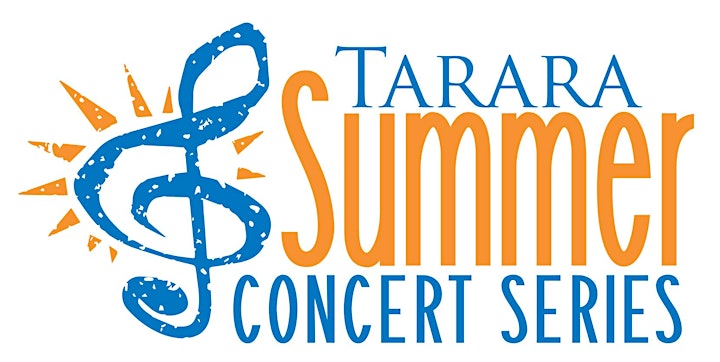 A 2021 Season Pass (good for one person) grants you admission to each concert during the season, July 3 - September 25, 2021.
If you are purchasing multiple Season Passes, you will need to make a separate transaction for each person because the name and email address must match the Season Pass for each person.
For additional information about the Tarara Summer Concert Series, please visit the official website at www.tararaconcerts.com.
2021 Schedule
July 3 - The Reflex - '80s Cover
July 10 - So Fetch! - '2000s Cover
July 17 - White Ford Bronco - '90s Cover
July 24 - Still Surfin' with David White - Beach Boys Tribute
July 31 - Last Child - Aerosmith Tribute
August 7 - Turnstiles - Billy Joel Tribute
August 14 - The Roadducks with Justin Trawick and the Common Good - Americana/Blues
August 21 - The New Romance - '80s Cover
August 28 - Gonzo's Nose - Party
September 4 - The Darby Brothers - Classic Rock Cover
September 11 - Groovalicious - Disco Cover
September 18 - Still Collins USA - Phil Collins/Genesis Tribute
September 25 - High Noon - Lynyrd Skynyrd/Southern Rock Tribute
*Net profits from the Tarara Summer Concert Series benefits the Bow Tie Fund, a 501(c)(3) nonprofit organization. The Bow Tie Fund supports the arts and advancing education with a focus on single-parent households. EIN: 85-3262550.
______________________________________________________________________________________________________
Grab your friends, a chair or a blanket, and your will to party like it's 1999 (for the 22nd time)! Join us every Saturday night at Shadow Lake at Tarara Winery and groove to some tunes under the stars.
Saturdays, July 3 - September 25, 2021
6:00pm - 9:30pm
Gates open at 5:00pm (unless stated differently).
FAQs
1. Where do I purchase tickets?
Tickets are available for advanced purchase through tararaconcerts.com. Tickets are also available for purchase at the main admissions gate the evening of the concert (if the concert is not sold out).
2. Are tickets refundable?
All Ticket Sales and Private Tent Sales Are Final. No Refunds or Exchanges Will Be Given. Refunds will only be given if a respective concert is cancelled, will not be rescheduled, and the band does not perform at least half of their musical set.
3. What if it rains?
Concerts are held rain or shine. The only time concerts will be cancelled or postponed is if lightning is present at the concert site. In the event of rain, you are welcome to drive to Handicapped Parking to drop off your guests, then return your car to General Parking. ​
4. What time do gates open?
The gates open at 5:00pm, unless stated differently on the concert schedule.​
5. What time do concerts start?
The concerts run from 6:00 p.m. – 9:30 p.m.
6. Are tents available to rent at the concerts?
Yes, tents are available to rent and require reservations. Private Tent Packages includes a private tent, tables, chairs, black linens, souvenir wine glasses, custom sign, and a concert ticket for each guest. A minimum of 16 guests is required to reserve a tent. For more information, please contact Tonia Chagnon at (703) 955-1748 or tonia@bowtiestrategies.com. This is a very popular product, so plan to book early to reserve your space.
7. Where can I park?
General Parking is located on the main road leading to the Winery. Watch for signs as you enter the property. The main road will end in a "T" at the white farmhouse. Turn left to concert parking directly on the left.
8. Is handicapped parking available?
Yes, handicapped parking is available. Watch for signs as you enter the property. The main road will end in a "T" at the white farmhouse. Turn right and follow signs around the lake.
9. Are there outdoor restroom facilities?
Yes, portable toilets will be provided.
10. Is food available for purchase?
Yes, food is available for purchase. There will be a rotation of food trucks powered by Curbside Kitchen throughout the concert season. Tararaconcerts.com has the full schedule posted.
11. Can I bring a picnic?
You are welcome to bring food to the concerts; however, no outside alcohol is permitted per ABC regulations.​
12. Is outside alcohol permitted?
Outside alcohol is strictly prohibited at Tarara Winery per ABC regulations. All coolers and bags, including purses, are inspected by staff and/or security. You must remove the alcohol or it will be confiscated. However, Tarara wines are available for purchase by the bottle at the concert venue, and for select concerts, beer will be available for purchase.
13. Are wine tastings available at the concerts?
No wine tastings will occur at the concerts.
​14. Are there activities for children at the concerts?
Although children are welcome at the concerts, there are no official activities. For safety reasons, children attending the concerts must be closely supervised by an adult at all times and be wearing shoes at all times. Children will not be permitted to play in front of Wine Sales Pavilion or the Stage.
15. Is smoking or vapping permitted at Tarara?
The concerts are located at an outside venue; therefore, smoking and vapping are permitted in designated areas only. Watch for signage at the concerts. Smoking and Vapping will not be allowed outside of the designated area.
16. Are pets allowed?
Pets are not allowed at the concert venue. If you have a service dog, then the animal must be leashed at all times.
17. What transportation options are available if I don't want to drive?
Road Yachts offers Custom Tours for a party of 2 to Corporate Groups of 60 or more. Road Yachts fleet includes everything from limos to small and large buses. Call (703) 737-3011 for a quote.
18. Are there any COVID-19 safety protocols?
All attendees and staff will be required to wear face masks at all times EXCEPT when seated. Masks are required while walking to seats, waiting in lines for food and beverages, in restrooms, and while in line outside waiting to enter the concert venue. Masks must fully cover the nose and mouth.
EPA-approved disinfectants will be used to clean and sanitize bathrooms, beverage sales areas, gates, gathering areas, and other high touch surfaces on a regular basis.
Hand sanitizing stations will be available throughout the concert venue.
COVID-19 safety practices are developing and improving every day. We will continue to refine our plans, processes, and procedures based on the latest scientific and medical guidance available and share those procedures with you on this page and through other communications. We will follow all local and state protocols.
Organizer of Tarara Summer Concert Series - 2021 Season Pass
Events by Bow Tie is a corporate event management firm located in Leesburg, VA. They specialize in community events, concerts, festivals, and executive meetings. A few examples of Bow Tie's work includes the Tarara Summer Concert Series at Tarara Winery; Santa Lands at Virginia Village Shopping Center; the Aldie Heritage Festival in Aldie, VA, and the YMCA Loudoun County's Chocolates Galore & More.
The Washington Business Journal recently named Events by Bow Tie a Top Event Management Company.  
Events by Bow Tie is a division of Bow Tie Strategies.

Learn more about this award-winning company at www.eventsbybowtie.com.