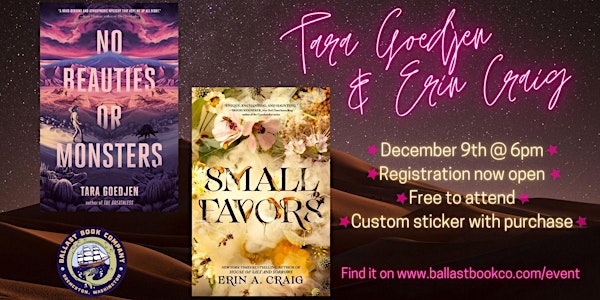 Tara Goedjen & Erin Craig: Author Event
Celebrate Tara Goedjen's new book with Erin Craig!
Refund Policy
Contact the organizer to request a refund.
Eventbrite's fee is nonrefundable.
About this event
Tara Goedjen has a new book out! Come hear her and Erin Craig talk about writing, dark fantasy stories, and young adult books.
Purchase of either book will net you two custom designed stickers to go with each book and commemorate your evening. Tara will be signing her book in person and allows for personalization, Erin's book will include a signed bookplate.
No Beauties or Monsters is perfect for fans of Stranger Things or Veronica Mars.
"This riveting thriller [is...] eerie and imaginative." —Kirkus Reviews
Rylie hasn't been back to the military base in Twentynine Palms since her father died. She left a lot of memories out there, buried in the sand of the Mojave Desert. Memories about her dad, her old friends Nathan and Lily, and most of all, her enigmatic grandfather, a man who cut ties with Rylie's family before he passed away. But her mom's new work assignment has sent their family to Twentynine Palms again, and now, Rylie's in the one place she never wanted to return to.
At least her old friends are happy to welcome her home. Well, some of them, anyway. It turns out Lily is gone, vanished into the desert. To make matters worse, there are whispers around town of a mysterious killer on the loose.
But it isn't just Twentynine Palms that feels frightening—there's something wrong with Rylie, too. She's seeing things she can't explain. Visions of monstrous creatures that stalk the night.
Somehow, it all seems to be tied to her grandfather and the family cabin he left behind. Rylie wants the truth, but she doesn't know if she can trust herself. Are the monsters in her head really out there? Or could it be that the deadliest thing in the desert…is Rylie herself?
Small Favors has the vibes of Twin Peaks & Rumpelstiltskin in this spooky tale.
"As dark and romantic as it haunting, Small Favors is an eerie fairytale that I couldn't put down."—Alexis Henderson, author of The Year of the Witching
Ellerie Downing is waiting for something to happen. Life in isolated Amity Falls, surrounded by an impenetrable forest, has a predictable sameness. Her days are filled with tending to her family's beehives, chasing after her sisters, and dreaming of bigger things while her twin, Samuel, is free to roam as he wishes.
Early town settlers fought off monstrous creatures in the woods, and whispers that the creatures still exist keep the Downings and their neighbors from venturing too far. When some townsfolk go missing on a trip to fetch supplies, a heavy unease settles over the Falls.
Strange activities begin to plague the town, and as the seasons change, it's clear that something is terribly wrong. The creatures are real, and they're offering to fulfill the residents' deepest desires, however grand, for just a small favor. These seemingly trifling demands, however, hide sinister intentions. Soon Ellerie finds herself in a race against time to stop Amity Falls, her family, and the boy she loves from going up in flames.