Actions and Detail Panel
Tara Behrend at The Interval: The Psychology of Surveillance
Tue, February 28, 2017, 6:30 PM – 8:30 PM PST
Description
The Interval at Long Now welcomes
Tara Behrend (industrial-organizational psychologist
at George Washington U / CASBS at Stanford fellow)

The Psychology of Surveillance:
How Being Watched Changes Our Behavior
Check-in begins 6:30pm; talk will start 7:30pm sharp
at The Interval at Long Now

Pervasive data collection is a feature of most modern work and education settings. Dr. Tara Behrend, Director of the Workplaces and Virtual Environments lab at George Washington University, studies the psychology of information privacy. In her talk she will discuss the long history of surveillance and the consequences of these practices for individual freedom and self-determination today.
This event is co-presented by the Center for Advanced Study in the Behavioral Sciences (CASBS), where Tara is currently a fellow working on a book about how big data can lend support to education and workforce development without compromising individuals' fundamental right to privacy.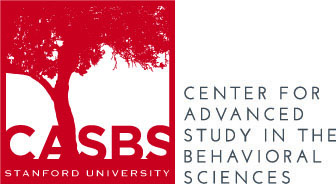 Since 01954 CASBS has been a preeminent national and international locus for cutting-edge, interdisciplinary, and transformative thinking and research on some of the most important challenges and issues. Its aim is discovery in the service of advancing social science methods, theories, and topics that address and answer socially significant questions. At the heart of the CASBS enterprise is its residential fellowship program, which attracts the finest minds from psychology, sociology, economics, political science, anthropology, history, philosophy, linguistics, and related disciplines.

Long Now members can view a free livestream of this event online.
Join Long Now for access to live streams of our Seminars and Interval events.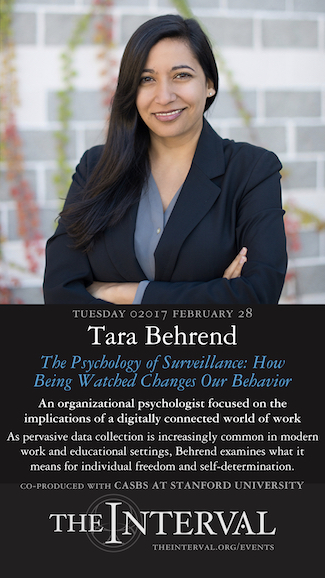 Tara Behrend is an Associate Professor of Industrial-Organizational Psychology in the Department of Organizational Sciences & Communication at George Washington University. Her research interests center around understanding and resolving barriers to computer-mediated work effectiveness, especially in the areas of training, recruitment, and selection. She is also interested in career decision-making, specifically relating to STEM fields; her work in this area is funded by a research grant from the National Science Foundation.
She provides psychometric consulting for the American Council on Education and has consulted for a wide range of public and private organizations in the areas of training, skills development and selection. She is an active member of the American Psychological Association, the Association for Psychological Science, and the Society for Industrial and Organizational Psychology, and has presented nearly fifty papers at conferences for these organizations. She directs the WAVE Lab at GWU.

To learn more about Tara's work, see her entry on Google Scholar.
Long Now members hear about Interval events first: become a member today