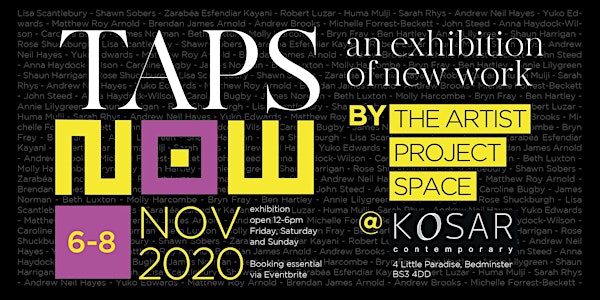 Multiple dates
TAPS Now
KOSAR CONTEMPORARY is delighted to present its last exhibition of 2020, showcasing new works by twenty-four artist members of TAPS.
Date and time
November 6, 2020 · 12pm - November 8, 2020 · 6pm GMT
Location
Kosar Contemporary 4 Little Paradise Bedminster Bristol BS3 4DD United Kingdom
About this event
Exhibition Dates: 6 - 7 - 8 November 2020
Free Entry. ***Booking essential via Eventbrite link***
Open: Friday - Saturday - Sunday | 12:00 - 6:00 pm

30 minutes slots. 6 people maximum at any given time. 
Please honour your bookings!
Venue: Kosar Contemporary : 4 Little Paradise, Bedminster, Bristol, BS3 4DD
About The Exhibition:
The finale at Kosar Contemporary's current industrial location in 2020 will bring together the diverse art practices of TAPS core-members, their artistic resilience and ingenuity in the face of a pandemic. Their fourth collaborative show touches upon the fluidity that is required to stay cohesive. The walls of Kosar Contemporary are about to come down. This current dystopian uncertainty and transience translating to a flat-packed TAPS: Assemble, un-assemble, reassemble; agile, sharp, undulating and reflective. Expect the unexpected.
Curatorial & Technical Support: TAPS
24 participating artists include;
Lisa Scantlebury, Shawn Sobers, Zarabéa Esfendiar Kayani, Robert Luzar, Huma Mulji, Sarah Rhys, Andrew Neil Hayes, Yuko Edwards, Matthew Roy Arnold, Brendan James Arnold , Andrew Brooks, Michelle Forrest-Beckett, John Steed, Anna Haydock-Wilson, Caroline Bugby, James Norman, Beth Luxton, Molly Harcombe, Bryn Fray, Ben Hartley, Annie Lilygreen, Shaun Harrigan, Suzie Walters, Rose Shuckburgh
****Kosar Contemporary is adhering to strict health and safety guidelines to protect our visitors. Masks should be worn at all times. If you have a fever or any signs of covid, kindly do not visit the gallery. Kindly cancel your booking and let us know so we can allocate the slot to someone else. ****
The Artist Project Space(TAPS) is an artist-led initiative for painters, sculptors, multi-media, experimental and interdisciplinary artists who are interested in developing their art practice through peer support, dialogue and collaboration. Based in Bristol, United Kingdom and aim to collaborate nation-wide and internationally. 
KOSAR Contemporary is an independent art gallery with a mission to deliver a diverse, inclusive and experimental programme of curated gallery exhibitions, performances and residencies throughout the year. These exhibitions support and collaborate with local emerging artists as well as national and international artists.
Founder & Director: Bristol based British contemporary artist Bea Kayani (a.k.a. Zarabea Esfendiar Kayani)



Covid-19 Safety:
The gallery is adhering to a strict policy to ensure safety of all its visitors.
Contacts
Email: info@kosarcontemporary.com Phone:
07943535842
Website: https://www.kosarcontemporary.com
Social Media:
Twitter: @KOSARcontemp1 Instagram// FB: @Kosarcontemporary