Your session has expired. Try ordering again.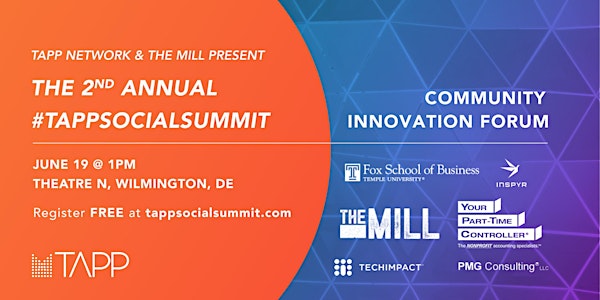 Tapp's 2nd Annual Tapp Social Summit: A National Movement of Inspirational Speakers, Global Thought Leaders and Regional Game Changers
When and where
Location
Theatre N at Nemours 1007 North Orange Street Wilmington, DE 19801
Description
You're invited! The 2nd Annual #TappSocialSummit!
WHAT'S THE #TAPPSOCIALSUMMIT
A free event, The 2nd Annual Tapp Social Summit, a movement connecting purpose-driven organizations and leaders seeking to elevate their communities through the convergence of technology, communications and innovation takes place June 19th from 1 - 5:30 pm at Theatre N. #TappSocialSummit is a Community Innovation Forum, which offers nonprofits, corporate partners, and community leaders in the MidAtlantic region an opportunity to hear and interact with local and national thought leaders about leveraging their passions and technology to inspire positive social change.
WHAT WILL BE COVERED?
An afternoon of education, enlightenment, and collaborative networking with special guests including:
National health and wellness activist and contributor to ABC's 'Good Morning America' and NBC's 'Today Show', Dr. Janet Taylor;
Jerry Valentine,

Chairman of the Delaware Tobacco Prevention Commission;

2017 New York Book Festival Award Winner and author of the critically acclaimed book, Thoughts of a Butterfly, Sherita Jackson;
Wounded Warrior's Sal Gonzalez;
Founder of Inspyrgear, John Cawley;
Tech Impact's Sam Chenkin;
Peggy Geisler

, Principal of PMG Consulting Group in conversation with:

Stuart Comstock-Gay,

President & CEO of Delaware Community Foundation;

Mark Turner,

Chairman, President & CEO of WSFS Bank, and

Vernita Dorsey,

Senior Vice President, Director of Community Strategy at WSFS Bank
WHO SHOULD ATTEND?

Everyone that aspires to change their communities, through the use of technology, communications and personal impact
WHAT'S THE AGENDA?
We begin at 1pm with our speakers, panelists through 5:30 pm.
Happy Hour will be from 5:30 - 8pm on the 4th Floor
Seating is limited!