| | |
| --- | --- |
| | |
Event Details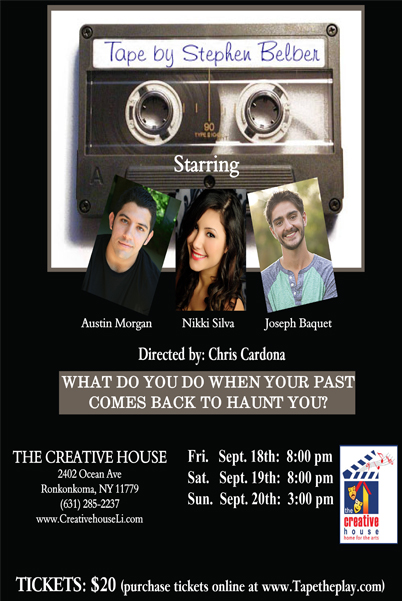 What do you do when your past comes back to haunt you?
Such is the running theme in this revival of Stephen Belber's Tape, directed by Chris Cardona. 
The play tells the story of two former high school best friends, Jon (Joseph Baquet) and Vince (Austin Morgan) discover just that when a ten-year reunion starts to unlock secrets from their past.  Jon, an aspiring filmmaker, is in town for the Lansing film festival, where one of his films is screening.  He meets with Vince in a Motel 6 where a friendly conversation soon becomes an interrogation.
Niceties are made, jokes are throw around and memories are shared -- particularly that of one night Jon spent with a girl named Amy (Nikki Silva).  Through Belber's witty dialogue, we soon learn that Jon had not only dated her, but Vince as well.  The conversation starts off innocently enough -- Vince asks about the night of a high school friend's party their senior year, and how far things went between Jon and Amy, both of whom had gotten together shortly after she and Vince had broken up.  It is here the conversation takes a dramatic turn, as Vince's inquiries start to suggest that things had gone too far and reveal his own suspicions of rape.  He claims that Amy had confided this to him, an idea that leaves Jon speechless.
When & Where

The Creative House
2402 Ocean Avenue
Ronkonkoma, NY 11779


Organizer
Bringing opportunities to many Long Island and NYC actors. Whether it is taking classes at The Creative House, which is one of Long Island's top places for classes or being Managed by one of the Top Long Island talent mangers. They each bring unique individualized opptortunities to the working actor which empowers the actor to get to the next level.