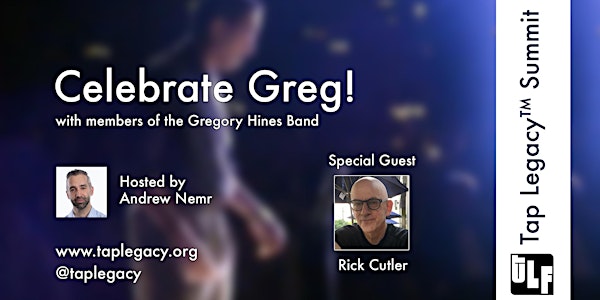 Tap Legacy™ Summit // Celebrate Greg! // Session 4
Celebrate the birthday of Gregory Hines with members of the Gregory Hines Band and host Andrew Nemr.
Refund Policy
Contact the organizer to request a refund.
About this event
Session 4 features special guest Rick Cutler. Join in for stories from the early years of the show, Rick's unique relationship with Greg as the band's music director, and what time on the road was like.
Rick Cutler
Rick is a mutli-instrumentalist focusing on drums and keyboard. He studied with Chick Corea and at the Julliard School. He has performed in the bands of Broadway shows, composed for television, and has performed and recorded with a whose who of the entertainment world including Leonard Bernstein, Stevie Van Zandt, Herbie Hancock, Freddie Hubbard, Don Rickles, Billy Eckstine, Pete Seeger, and Charles Aznavour & the NY Philharmonic Brass Quintet.
Rick toured for 8 years with Liza Minnelli (keyboardist, then drummer, and on a few occasions conducting), and 18 years with Gregory Hines (keyboardist and musical director). Rick's composition "Boom" was choreographed by Hines and performed at the nationally televised Gala For the President with President and Mrs. Clinton in attendance.