TAP | Engendering Caste, Sexualizing Race
Join us for a discussion with Sameena Dalwai, Sumit Baudh & Thenmozhi Soundararajan, on the intersections among race, caste, gender and sex.
About this event
The Centre for Studies in Gender and Sexuality at Ashoka University, and the Center for Study of Gender and Sexuality at New York University are jointly organizing an exciting new webinar series called Theory and Practice (TAP). TAP will feature scholars and activists from around the world who can speak with one another about ideas of gender and sexuality from both East and West to address global questions of politics, rhetoric, and history.
Our inaugural session will focus on questions related to Engendering Caste, Sexualizing Race. Race and caste have been described both as being similar and dissimilar. What the two structures share are long histories of violence that have also been gendered and sexualised. Simultaneously effeminised and hyper-masculinised, both caste and race have made evident the illogics of their governing structures. This session will address the broad and complex intersections among caste, race, gender, and sex as these concepts continue to inform the cultures and politics of our time.
For this session, we will have with us Professor Sameena Dalwai and Professor Sumit Baudh from Jindal Global University (India) and activist and artist Thenmozhi Soundararajan (USA).

The session will be moderated by Professor Madhavi Menon, Director, CSGS Ashoka, who will enable a conversation between the three speakers for 45 minutes, followed by a 15 minute Q&A with the audience.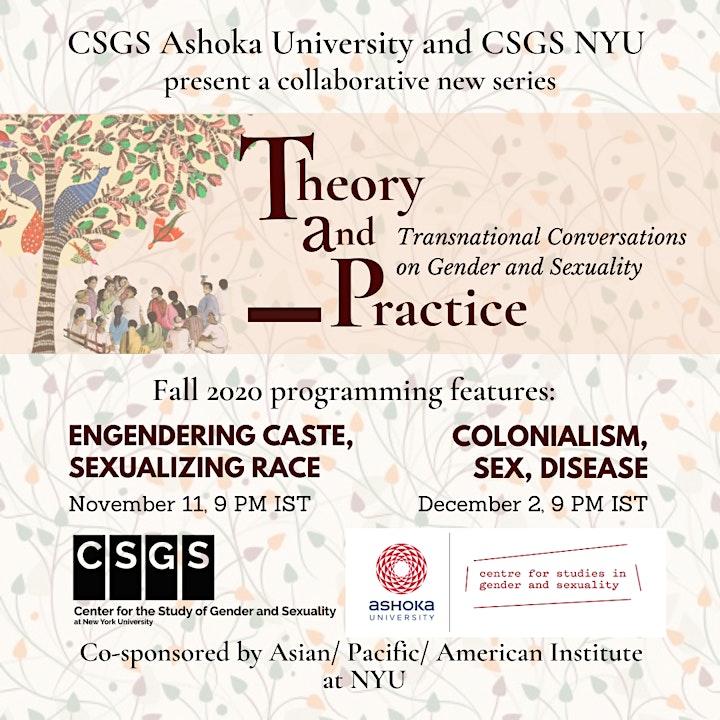 Sameena Dalwai is Professor and Assistant Director at the Centre for Women, Law and Social Change at Jindal Global University, India. Her work focuses on sexuality, caste and labour, particularly in the context of dance bars in Mumbai, a site that emerged as a locus of power, capital and legal contestations in the early 2000s. Apart from teaching and research, Professor Dalwai also advises several human rights organizations and NGOs in Maharashtra.
Sumit Baudh is Associate Professor and Executive Director at the Centre on Public Law and Jurisprudence at Jindal Global University, India. His research interests include caste, gender, sexuality, and social justice. Dr. Baudh has acted as a legal advisor to organisations in various countries working on sexuality and human rights. He is also an artist and has developed some of his research into art projects which have been exhibited in the United States and in India.
Thenmozhi Soundararajan is an activist, musician and media artist. She is the Executive Director of Equality Labs, a political collective of South Asians in the United States which addresses structural injustices through research, art and political organization. Soundararajan has also been associated with media justice collectives, and with the creation of Dalit History Month, a participatory research project that records Dalit histories through stories from within the community.
Organizer of TAP | Engendering Caste, Sexualizing Race