Tanya Tucker will be live on Monday, October 18, 2021, at the Fremont Theater in downtown SLO!
About this event
This show is rescheduled from April 22. Original tickets will be honored. 
TANYA TUCKER
CMT Next Women of Country
Bring My Flowers Now Tour
Special Guest, Jackson + Sellers, will open the show!
♦ SHOW INFORMATION ♦
Door Time- 6:30 PM
Show Time- 7:30 PM
All Ages
♦ TICKET OUTLET ♦
Boo Boo Records
978 Monterey St • SLO
Mon-Wed 10-8, Thurs-Sat 10-9, Sun 11-6
♦ BAND INFORMATION ♦
Born in Seminole, Texas, Tanya had her first country hit, the classic "Delta Dawn," at the age of 13 in 1972. Since that auspicious beginning Tucker has become one of the most admired and influential artists in country music history, amassing 23 Top 40 albums and a stellar string of 56 Top 40 singles, ten of which reached the No. 1 spot on the Billboard country charts. Tucker's indelible songs include some of country music's biggest hits such as the aforementioned "Delta Dawn," "Soon," "Two Sparrows in a Hurricane," "It's a Little Too Late," "Trouble," "Texas (When I Die)," "If It Don't Come Easy" and "Strong Enough To Bend." Tucker is also the recipient of numerous awards, including two CMAs, two ACMs and three CMT awards. Recently, Tucker received four GRAMMY® Award nominations including Song Of The Year: "Bring My Flowers Now," Best Country Album: While I'm Livin', Best Country Solo Performance: "Bring My Flowers Now," and Best Country Song: "Bring My Flowers Now." The four nominations lead all 2020 Country GRAMMY® nominees.
As the new duo Jackson+Sellers, Jade Jackson and Aubrie Sellers are getting a second first impression with their stunning and surprising new album, Breaking Point. Drawn together by seemingly cosmic forces, they first crossed paths through back-to-back gigs at Americanafest in Nashville in 2019, a fleeting moment that eventually led to a deep friendship and a true recognition of kindred spirits. During the pandemic, they aligned for an inspiring creative partnership that has yielded one of the most compelling collaborative albums of the last decade.
Breaking Point, their exceptional debut on ANTI- Records, establishes Jackson+Sellers as women who share an intuitive musical kinship and a rare ability to craft tight singular pop-rock tracks without losing sight of their songwriting selves. By shedding the identities pre-assigned to them by the music industry, Jackson+Sellers have fashioned an album reflective of their expansive musical interests, from '70s rock to indie pop to West Coast country. Co-produced by Sellers and Ethan Ballinger, the project is also a master class in unexpected vocal harmonic convergence, the likes that have not been heard since Robert Plant and Alison Krauss' Raising Sand.
"I can't remember ever being as present, emotionally charged or in the moment as I felt creating this record," Jackson says. "I love that I don't have to be 'me' when I'm writing and performing. Music is where I can escape and connect, hide and be seen at the same time. In that balance, it's where I find the truest form of myself."
"Just being yourself [in this industry] can be considered inflammatory," Sellers adds. "Or you're seen as difficult because you have your own personality and standards. Not everyone fits the tropes. I hadn't been touring and was living in LA for three years, so my headspace for creating was hungry. "I wanted to push us even further into the rock & roll sound I've been on the edge of for my last two [solo] albums"
Not long after their initial encounter, Jackson envisioned harmonies for a new song, "Hush," written as a quiet warning about bad love. She immediately thought of Sellers and DM'd her over Instagram.
"I said I really loved her voice and asked if she'd be interested in doing a co-write / duet." Jackson said. Adding, "I wasn't expecting a response but moments after I sent the message she responded with she'd love to. I knew the song would benefit from heavy female vocal harmonies, but working with Aubrie was such a boost. Collaborating with someone who's so energetically strong, it gives you even more creativity and license to explore."
Convening at Sellers' LA home, nobody expected the instant and undeniable alchemy. What began as an invitation to collaborate snowballed into a co-writing session, and eventually, enough material for a full album. Within weeks, they headed to a recording studio in East Nashville in late 2020. Jackson and Sellers contributed three tracks each, co-wrote one, and selected a trio of perfectly matched cover songs that could highlight their masterful vocal blend.
"Jade has this really lush, warm voice -- and it doesn't have any twang," says Sellers. "When I open my mouth, it doesn't matter what I'm singing, my accent makes people think it's country. So, together, we create this third thing."
Jackson observes, "From the first song we sang together, I had this confidence her voice can make anything something else. It started this vibration that never went out. We weren't holding too tightly to take these songs in any one direction. I think we all trusted them to show us."
Alongside the hard rock veneer and screaming guitars expertly played by Ballinger, the themes of vulnerability, isolation, sensitivity, and autonomy still seep through the duo's lyrics. Sellers looks at her song "The World Is Black" as addressing "that isolation that comes from being your own person and having your own standards as an artist. It's hard when you're a super-sensitive person, which we both are. When you feel everything, this is what that sounds like."
Songs like "Breaking Point" capture changes in various personal relationships, and often Jade and Aubrie felt like the other had captured their own personal experience before they had even discussed it. "Aubrie sent me this voice memo and I was so excited, I loved it," says Jackson. "We hadn't talked much at that point about some of the stuff I was going through at the time with moving on from certain negative relationships in my life and it was like she had a window inside my mind!"
Sellers, who grew up in Nashville, cites influences as disparate as Led Zeppelin to Ralph Stanley in her musical upbringing. Meanwhile, Jackson absorbed the classic country that played in her parents' restaurant in Central California, although her earlier records were produced by punk legend Mike Ness of Social Distortion. By the time Jackson and Sellers first intersected in Nashville, they had already built a strong following in their respective solo careers, releasing two albums each that sit at the corner of tough and tender, vulnerable and ferocious, reflective and rowdy. Breaking Point is simply the next step in their musical evolution.
"We weren't consciously trying to not sound like our own records as much as we were trying to allow for whatever was naturally going to happen," Sellers says. "Obviously, it's more rock than either of us had done before. The drums and bass sound like they're from another time. But, these songs have a vibe and an energy that really dictated where we went with them. That rawness and the refusal to over-manipulate the recording gave it a real edge and energy."
Spending three days in a room just singing, finding the parts and charting the way the songs would rise and fall, Jackson+Sellers took shape. In addition to their own material, their deep-cut covers include Julie Miller's blistering "The Devil Is an Angel," Suzi Quatro's defiant "The Wild One," and wrapping up the record with Shannon Wright's raucous "Has Been."
"We never intended for this to be a female empowerment album," Sellers says. "We thought it was a way to pay homage to these unique, independent women who created their own path, wrote their own songs, had their own sounds -- and just stayed true to that."
"That's a lot of what's driven both of us, and what's driven us together," Jackson agrees. "To have someone who understands being their own person? It's harder to find than you'd think."
VENUE COVID PROTOCOL:
Starting September 1 all events at the Fremont Theater will require:
- proof of full vaccination or a negative lab test within 72 hours of the event prior to entrance into the venue.
- Masks must be worn in line and while entering the venue
- In accordance with San Luis Obispo Health Officer Order #6 All patrons regardless of vaccination status are required to wear face coverings at all times while indoors.
** These guidelines are subject to change.
Testing Locations available here.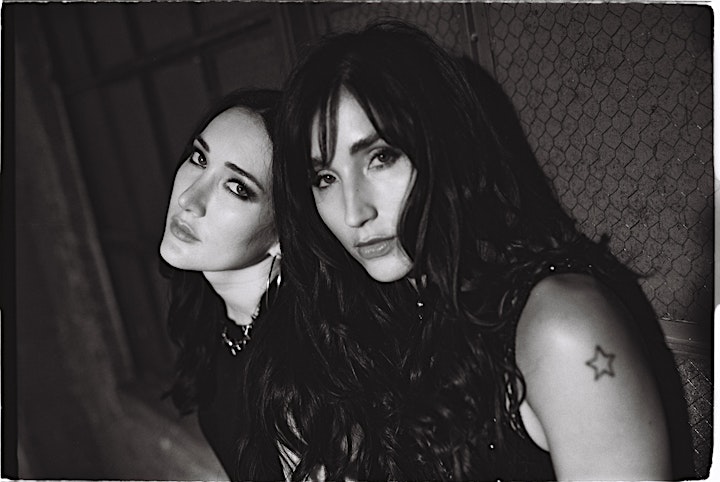 Performers
Date and time
Location
Refund policy