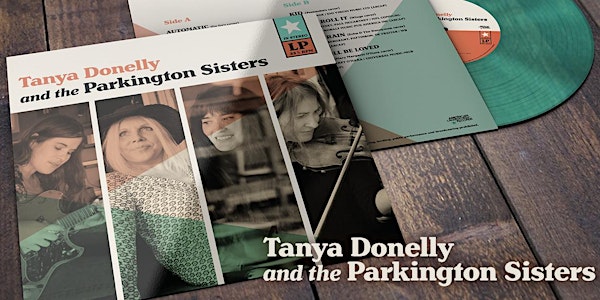 Tanya Donelly and the Parkington Sisters Album Listen Party x ONCE VV
UNDER 18 WITH PARENT OR LEGAL GUARDIAN
ONCE Somerville
Tanya Donelly and the Parkington Sisters Album Listen Party x ONCE VV
Date and time
Starts on Friday, August 14, 2020 · 5pm PDT
About this event
In order to access this livestream please RSVP for tickets via Eventbrite. A link to the livestream will then be emailed to you once you have completed the registration. In order to access the live stream click the "View Now" button in the confirmation email and follow the instructions listed on that page.
ABOUT TANYA DONNELLY:
American Laundromat Records proudly announces Tanya Donelly and the Parkington Sisters, a collection of covers from Grammy-nominated, singer/songwriter and founding member of three of the most influential and successful bands of the post-punk era, Tanya Donelly (Breeders, Throwing Muses, Belly), available 8/14. Today, pre-orders including signed copies, test pressings and special vinyl colors are available exclusively at alr-music.com.
"When Joe from American Laundromat asked if I'd be interested in doing a covers album, I was hesitant, mainly because most of the songs I truly love are already perfect in their original form," says Donelly. "But then I had the idea to ask the brilliant Parkington Sisters to be the band for this project, to bring their gorgeous sound and spirit, and make it something cohesive and centered."
Joining Tanya on the album are The Parkington Sisters (Rose, Sarah, Ariel), their sister Lydia Parkington (cello), Matthias Bossi (drum, percussion) and Jon Evans (bass, percussion) who also recorded and mixed the album.
Of the choice cuts covered, Donelly explains, "These are some of the most honest, moving, beautiful, unfiltered, true and cool songs that have ever been written, in my opinion. And those same adjectives apply to the Parkington Sisters as well."
Tanya Donelly and the Parkington Sisters is available for pre-order exclusively at American Laundromat Records.
ABOUT THE PARKINGTON SISTERS:
The Parkington Sisters are from Wellfleet Massachusetts, a town of crashing waves, gnarled pine trees, world famous oysters and the only town clock in the world that still rings ship's time. The three sisters emerge from a lineage of musicians - daughters of a prog rock musician and a classically trained guitarist, they were raised constantly playing and writing music together, an immersion that has led to the individual and collective creative force they are today. Rose, Sarah and Ariel are songwriters and dynamic multi-instrumentalists who play guitar, piano, violin and viola. Like their hometown surroundings, the band boasts a collective magic — part chemistry, part alchemy, and entirely mysterious. They incorporate the eclectic songwriting and passions of artists like Joni Mitchell, Aimee Mann, Neil Young & June Carter, but with their own unique brand of soaring melodies, vibrant harmonies and intricate string arrangements.
They have shared the stage with such divergent artists as Mavis Staples, Bruce Springsteen, Dispatch, Blitzen Trapper and the Dropkick Murphys and have performed in studios and on stages across the US, Canada, and Europe, including New York's Radio City Music Hall, Bonnaroo, NPR's Mountain Stage, and the Dodge Poetry Festival. Their releases include the recent string accompaniment to the spoken word release The Book of Hylas and their new collaboration with Tanya Donelly. Their new album Collide, produced by Chris Shaw, will also be released in the Fall.
ABOUT ONCE VIRTUAL VENUE:
"We call ourselves independent, but what we are is interdependent. Performance is art. Art soothes and nurtures us. It makes us happy." ONCE VV will work hard to add a warmth and hospitality to the livestream by evoking the hominess and cozy hospitality they are known for and will continue to keep the ONCE name tied to diverse and quality programming as they frontier the wild west of an online "virtual venue."
All for ONCE and ONCE for ALL! https://bit.ly/SUPPORTONCE