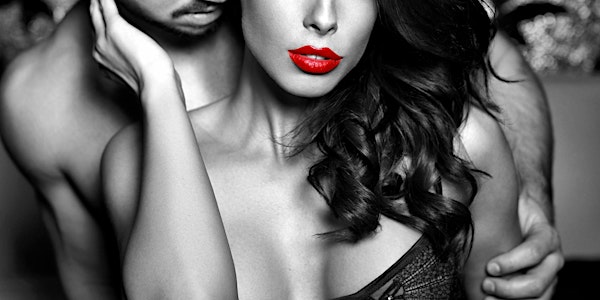 Multiple dates
TantriKink - One Day Couples Retreat
A dance of energy and power to explore your deepest surrendering.
Date and time
February 12, 2022 · 10am - August 20, 2022 · 6pm EST
Location
Sacred Love Temple 7008 South Tamiami TR Sarasota, FL 34231
About this event
What are you willing to surrender to?
TantriKink is a conscious and playful fusion of these two worlds, Tantra and Kink/BDSM, where the awakening of your senses and the mastery of your dominant and submissive energies takes place. A day designed to spice up and rekindle your relationship with yourself and your partner by understanding the playful energies that many times are being ignored or assumed dormant.
Learn Tantric practices to awaken your sensual and erotic energy to connect with your partner at a deeper level and learn conscious Kink/BDSM dynamics that will invite you to surrender deeper within yourself to birth your master self.
TantriKink is a conscious, somatic, and energetic experience facilitated to help you surrender into your pleasure, bliss, joy, ecstasy, alchemy, and evolution. It is a journey of energetic awareness, awakening, exploration, and ownership of who you are as an individual, partner, lover, alchemist, and master in the realms of love, relationships, and sexuality.
In this one day retreat you will:
- Learn how TantriKink can enhance your love, intimacy, and sex life.
- Learn how energy awareness and mastery can awaken the fire of passion in your life.
- Learn the power of mastering your dominant and surrendering/submissive energies.
- Did you know that intimate partners get turned on in the presence of Dominant energy? Learn how you can awaken and embody your Sacred Dominant Self.
- Learn the power of creating a sacred and safe field of energy for your partner to surrender to their desires.
- Learn why your role as a Dominant is critical. If the Dominant role is weak and lacks confidence, your partner won't be able to surrender fully.
- Learn the difference between being Dominant vs. being Domineering. Abuse does not have a place in TantriKink practices.
- Learn how to embody your Sacred Submissive Self and surrender fully to your mind, heart, body, soul, and life purpose.
- Learn the power of surrendering and why mastering this energy welcomes even more love, pleasure, health, and abundance.
- Learn the power of creating conscious boundaries required for both energies to exist in harmony. Without boundaries, we experience abuse and chaos. Consent is real.
- Explore your kink archetypes, as Dominant or submissive, that add more fun, playfulness, and aliveness in your relationships.
- Learn to create powerful, playful experiences with your partner that are healing, liberating, and alchemical.
- Explore Tantric rituals and practices to connect heart to heart with a partner.
- Surrender to Divine Touch, a tantric and healing touch to connect with your partner's body, pleasure, and bliss. This is not a sexual massage.
- Learn how to negotiate a sacred scene and explore your kink play at an actual dungeon.
BONUS: INCLUDED with TICKETS
Saturday 8 pm - 12 am: Community Conscious Kink PlayParty
QUESTIONS AND ANSWERS:
Is there any nudity, or sex involved in this event?
Partial nudity may be present during Divine Touch or kink play, it depends on participants' comfort.
No sex takes place at TantriKink events.
Is this event a Tantric event?
Yes, it is. Tantra has been marketed and promoted heavily for the breakthroughs it creates in the intimacy and sexuality realms, and unfortunately, some people have lost focus on the entire scope of what Tantra is. With certainty, we can say that by living a Tantric life you will experience an incredible intimate and sexual life founded on deep soul connection. With that being said, we can also say that a great sex life is a byproduct of living the fullness of what Tantra is about. Our focus is to give you an experience of you meeting your fullness, and from that place, you are invited to create the relationships you desire.
Is this event for singles only or couples only?
This event welcomes pairs.
What if I cancel at the last minute, will I get my money refunded?
No, we don't offer refunds because we have limited seating and your space could have gone to someone else. Thanks for understanding!
I have another question, how should I reach out to you?
We love questions, they help us to serve you better and create a fantastic experience. Email us at support@luciagabriela.com
✨✨✨✨✨
COV19 PROTOCOLS:
- If you have experienced flu-like symptoms, please do not buy a ticket.
- We invite every participant to wash their hands frequently throughout the event.
- We sanitize the space before and after every gathering.
- We provide hand sanitizer, disinfectant wipes, and disinfectants.
- Social distance is available.
- Face coverings or masks are welcome, not required.
-Attend at your own risk and within your own comfort.
DISCLAIMER:
Events facilitated by Lucia Gabriela are integrative, holistic, and inclusive. Lucia Gabriela and her co-facilitators strive to facilitate a sacred space for their participants founded on honor, respect, compassion, gratitude, and self-empowerment. This sacred space enables participants to explore what their soul has called them to awaken, claim, and embody.
Events are a fuse of a variety of therapies and practices, such as Tantra, Shamanism, Psychology, Neurobiology, BioNeuroEmotional Therapy, Coaching, Integrative Nutrition, Somatic Emotional Therapies, Integrative Body De-Armoring, Reiki, Integrative Energy Therapy (IET), Qi-Gong, Therapeutic Kink, Cranial Sacral, Shiatsu, Acupuncture, Reflexology, Therapeutic Massage, Crystal Sound Therapy, Soul Dance, Esotericism, Meditation, and Yoga.
Events are designed to address participants as a whole rather than fragments.
Events are beyond humanistic dogmas, fundamentalisms, doctrines, extremism, and ego-centered philosophies.
At our events, you will experience FREEDOM to awaken SELF infinite wisdom and you are invited to question it all. We welcome your authenticity.
These statements have not been evaluated by the Food and Drug Administration. These products are not intended to diagnose, treat, cure, or prevent any disease. Consult your physician before beginning any exercise program.
✨✨✨✨✨
FACILITATOR BIO:
Lucia Gabriela helps individuals and couples to master their purpose, life, relationships, and intimacy with themselves and others.
Her passion is to create a safe and sacred space for people to deeply explore many aspects of themselves, purge emotional and/or sexual traumas that are holding them back from manifesting what they desire, heal their inner child, embrace their shadows, connect with their higher self, reconnect with their own body's wisdom, align with their true essence, live their higher potential, and master their sexual life in all realms. They can then create their life with awareness, maturity, radical self-love, and full commitment to explore their sexual and spiritual evolution.
To learn more about any of Lucia's transformational coaching and somatic experiences, immersion weekends and couples retreats go to www.luciagabriela.com
About the organizer
Founder at Nuna Holistic Retreat Center, Founder at Sacred Love Temple, Founder at Sarasota Dark Temple, Relationship and Intimacy Coach, Emotional Somatic Therapist, Tantra Facilitator and Creator of TantriKink.
Lucia Gabriela helps individuals and couples to master their life, relationships, and intimacy with themselves and others.
As a Relationship and Intimacy Coach, Lucia Gabriela creates a sacred and safe space for individuals and couples to build conscious relationships and meaningful intimacy in their life.
As an Emotional Somatic Therapist and Tantra Facilitator, Lucia Gabriela specializes and works with individuals whose journey is to liberate themselves from emotional and sexual traumas. She helps them reclaim their creative power, body, voice, sensuality, and sexuality and welcome pleasure into their lives, creations, and relationships.