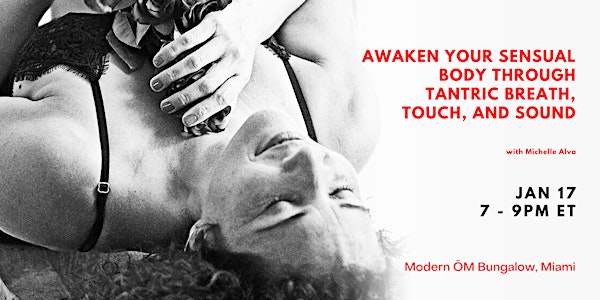 Tantric Practices: a Monthly Exploration with Michelle Alva
Join Michelle Alva for an introductory workshop on Tantra, an ancient philosophy that teaches us to live guided by the heart and soul.
When and where
Location
Modern ŌM Bungalow 5020 Northeast 2nd Avenue Miami, FL 33137
About this event
Tantra is an ancient practice, it teaches us to live fully engaged, embodied, and aligned to our authentic essence.
Tantra practices connect you to our creative, life force energy, our energetic-ecstatic nature, and sacred sexuality through our physical body. We connect to our breath, sounds, vibrational being, and sensual movements that allow us to stregnthen our intuition, pleasure, ability to be mindful, and present. Using breath, movement, sound, and intention, tantra connects us to the richness of the present moment, allowing us to process what is keeping us stuck, and alchemize it into expansion, growth, and freedom from within. These monthly sessions at the Modern Om Bungalow, will have different themes every month in order to explore the various aspects of tantra and benefit from a holistic experience (see full schedule below). Singles, couples, men, women, and non-binary are all welcome! The classes can be attended individually, or register for the year long series for added benefit to your life!
❓ What to expect: Classes will be experiential, there will be some teaching in the beginning of every theme, and time for every person to share their name and intention if they wish to. Every individual gets to share in whatever way is comfortable for them. Nothing is forced or pressured. Each person is supported to own their sovereignty and authentic desires.
Everything we do in the classes is consensual, we practice conscious communication, and discuss healthy boundaries, create agreements, and clear consent when practicing partner exercises.
Participants get to strengthen their ability to let go of "people pleasing", holding back what we want to say, we get speak from our heart and soul, and use of our authentic voice with one another. These classes are empowering, safe, and sacred containers where we cultivate deep compassion, nurturing, acceptance of all, and mutual respect. A deeper connection within and with the whole group is created due to the authentic, intimate, and vulnerable nature of these Tantric Practices.
Our exploration of tantric practices will unfold as follows:
- Tuesday Jan 17: Awaken your Sensual Body through Tantric Breath, Touch, and Sound
- Tuesday Feb 21: Deeper Intimacy and Connection Tantra Massage for Singles and Couples
-Tues March 21: Awakening Awareness and Full Presence Through Tantra Massage
⭐️ Who: Mindset, Energy, Sex, and Intimacy Coach Michelle Alva has a background in physical therapy, hypnosis, NLP (neuro-linguistic programming), Time Dynamics®, tantra, integrative yoga therapy, sound healing, PSYCH-K®, mindfulness-based meditation, belly dance, and shamanism.
🏡 Where: The Modern ŌM Bungalow, the clubhouse for Miami's mindful community. 5020 NE 2nd Ave, Miami, FL 33137.
🚙 Parking: There is metered parking alongside the streets of Upper Buena Vista on NE 2nd Avenue as well as NE 50th Terrace. Do NOT park in residential zone - they do tow.
✅ Bring: You're invited to bring a refillable water bottle and an open heart.
🎟 Tickets: Registration is Early Bird or General Admission. Modern ŌM ŌM Members always receive preferred pricing. Join one of 4 Miami Membership Tiers to access the following rates:
Virtual ŌMIE - 20% off
Miami SIT - 20% off
Miami CORE - FREE (Included in Membership)
Miami PLUS - FREE (Included in Membership)
📲 Follow us: Eventbrite I Miami Telegram I Instagram
MODERN ŌM MEMBERSHIP INCLUDES
20 - 100% off Miami in-person events (based on tier)
8+ LIVE online events per week with world-wide experts
Challenges and prizes for attendance
Discounts on trainings and retreats
15% off Modern ŌM Products
Join Modern ŌM's membership here.
ABOUT MODERN ŌM
Modern ŌM started in 2016 as a mindfulness club in Miami. We're now a global community of authentic and like-hearted souls. Join us locally and online for:
Group spiritual practice, workshops, experiences, and trainings
Mindful techniques and modalities that will enhance your life
Meeting community and new friends who are on their unique spiritual paths
Learning from 100+ world-class facilitators across lineages and modalities
Relaxing, playing, and enjoying yourself at our social gatherings
COMMUNITY PRAISE
"I love the community, I love the vibe of Modern ŌM!!" - Seema
"I highly recommend this membership - you will not regret it!" - Nadine
"You can really tell Modern ŌM truly truly cares about its community and the conscious evolution of its members. Thank you!" - Alessandra