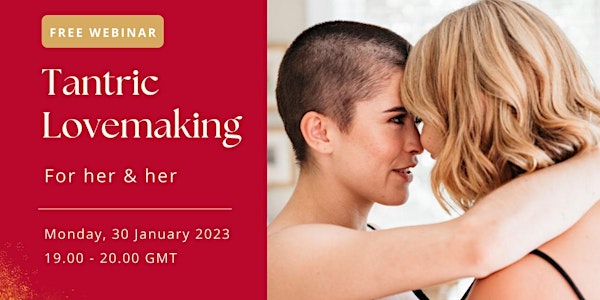 Tantric lovemaking - for her and her
This is a FREE online event for bisexual and lesbian women wishing to deepen intimacy, pleasure and erotic sacredness in intimacy
About this event
Through the natural empathy that appears between two female lovers when they make love with love, adoration, and perfectly controlling their erotic energy, they can easily assimilate different qualities from each other such as self-confidence, sensuality, orgasmic power, romanticism, a vibrant awakened heart, and many more.
During this 1-hour free tantric workshop we will explore:
-What is tantric lovemaking really?
-Essential keys to practice tantric love making between women
-Extraordinary benefits of lovemaking between women
We look forward to seeing you!
With love, Catherine & Kalas
-----
About Sapphic Tantra: We are a unique tantric community for bisexual and lesbian women, exploring sacred eroticism, love and intimacy between women with the purpose of creating a happy and fulfilling life, together with a continuous spiritual awakening!
About Catherine: I'm a Yogini and teacher of Esoteric Tantra, Yoga and Tantra for Women. For the last 13 years, I have been teaching and working with women from all over the world, in different spiritual communities, and recently felt the longing to share these life changing Tantric teachings with all Sapphic women
About Kalas: I have been studying and practicing Yoga & Tantra intensely for more than 5 years on a daily basis. I am bisexual and was always attracted to women. This is a very special project to me because it's a chance to contribute to the life of other women that love women with everything I've learned and experienced so far on my journey of love, spirituality and self-discovery.