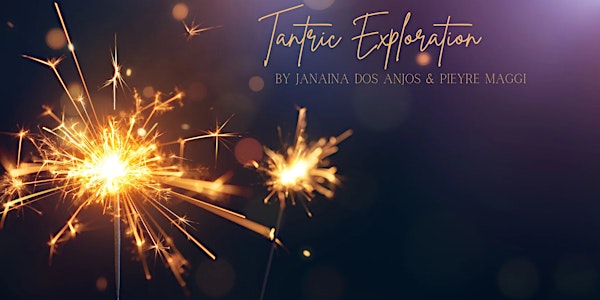 Tantric Exploration
A yummy and safe space to explore love with ourselves and others. Open to all people aged 18 to 45 who want to explore connection.
When and where
Location
Bld Géneral Jacques 202/block 6 202 Boulevard Géneral Jacques #block 6 1050 Ixelles Belgium
Refund Policy
Refunds up to 1 day before event
Eventbrite's fee is nonrefundable.
About this event
Welcome to co-create a loving bubble and spark before the start of next year.
This is a night of celebration, love and connection.
Previous editions were amazing to share with you!
Each session is uniquely prepared with different exercises for connection and savoring.
This is a yummy and safe space to explore love with ourselves and others.
A space open to all people aged 18 to 45 who want to explore connection with themselves and others.
Helping each other to reach a state of love and connection.
Receiving support into loving ourselves more. 🌹
Being seen, felt and met with what is present for You. 💓
Honoring and feeling our bodies and the pleasure available in being alive.
Come to celebrate and create aliveness together. Mhmmmm ✨🍉🌊
Janaina & Pieyre will be hosting this event and holding space for you and the beautiful group showing up this evening.
Expect:
🌷 Tantric exercises specially picked for your enjoyment this evening💓 Exploring connection through energy, eye gaze, movement and touch🌊 Awaken and move sensual energy throughout your body🌷 Tap into your bliss and share it with others🌊 Play, sensual dance & cuddles
💓 Vibrating love.
Guidelines
- Welcome as who you are
- No phones. No cameras.- Be clear. No booze or drugs.
- Be consensual. If it's not a clear yes, it's a no.
Caution: You might get high of your own body bliss.
Program
18:40 Space open
19:00 Tantra Workshop
21:15 - 21:45 Closing Ceremony
Dress code:
- Dress code: Clothes that feel good or sensual to you and allow you to move freely. White and/or glittery (optional).
More about your hosts
Janaina & Pieyre met at the dance floor around 5 years ago. The connection and bond we developed over this time in and out of 5 rhythms dance floor will be part of the energy we are bringing to share with you . Both of us got our paths touched and transformed by Tantra experiences. It´s is such a pleasure to share a bit of what moves each one of us with you and, of course meet you.
About Pieyre : After I broke free from a lawyer's career in 2014 and embarked on a journey of self-development and travel financed by playing poker, it took me about 3 years to engage in an inner journey. This journey started by following synchronicities leading me to go to Bali and Thailand. Loving discoveries, tools to evolve/heal or just have a great time, I got to explore a lot of different practices through retreats, workshops or festivals about tantra, breathwork, watsu/wata, psychedelics, contact impro, meditation, energetic healing as well as personal therapy. All of these tools are ultimately secondary to just Being yet some can help access it more easily and I'm quite happy to share what has been benefiting me. My intention with the creation of this workshop is for all persons involved to be able to access that Loving inner state through fun and pleasure.
About Janaina: Around 8 years ago life initiated me in a journey inside that continued as I entered motherhood. After years living in different countries and working with women´s rights, in 2017 I went to India for spiritual nourishment and took a pause for living in nature. The reconnection my body through yoga also opened the longing to explore more of my pleasure and sexuality. This search took me to many self development retreats, tantra, women´s circles, dance, unexpected encounters and courses. Its gifts touched every area of my life and continue to unfold. I am a certified life coach, yoga teacher and trained with VITA Tantra Institute. I love sharing this work of reconnection. Embracing more of my freedom and pleasure is an ongoing process that provokes and fulfils me. It is my intention to co-create spaces to cherish aliveness, honor this body and getting to know more of ourselves. The connection to the bliss in me and with you, opening the heart for whatever is present is what I am most grateful for.