Description
The Winter Solstice is a time to go inwards, tend the light within our hearts when it's dark outside, gather around the fire at night, and nurture each other in community. It's a restorative time to prepare our inner soil for the seeds of the coming year. We move slowly to shed our skins and get our bodies ready for renewal.
If you feel that the winter is casting a shadow of loneliness in your heart, or if you just want to celebrate the art of connection and playfulness, this gentle, heart opening gathering is perfect for you.
What is Tantra?
When people in California talk about Tantra, people tend to think "sex" and "edgy" and "polyamory." But -sorry if this disappoints you- that's not what we're up to here. At the roots of the Tantra lineages lies a commitment to honoring our intimacy with everything as sacred, not just light and spirit, but darkness and the body. How good is sex without sacred intimacy anyway? In our Tantra groups, we practice relating heart to heart, experiencing what I call "transpersonal intimacy" in a safe, clean, soulful container.
Much of this Tantra gathering will occur in the sacred devotional space of a "puja" circle. In Hinduism and Buddhism, the word "puja" translates as "the act of worship." We will connect with each other through non-verbal and non-sexual practices: eye gazing, dancing, honoring, sharing, laughing, relating. You may come with a partner and stay with your partner, or you may switch partners to experience this transpersonal intimacy with new partners for each brief intimacy exercise. Our gathering will be sure to be fun, sweet, gentle, connecting, nurturing, joyful, enlivening, touching, authentic, and heartfelt.
More people than ever are living alone in this country. And we can definitely feel desperately alone even when we're surrounded by other family members.
We all know a lot of people who seem to have it all: a successful job or business, a beautiful home, a spouse, obedient children, a lovely cat or dog, money in the bank, and all the comforts and the appearance of love. In other words, they seem to have everything that our Western culture can offer. But somehow, something doesn't feel quite right.
It is hard to pinpoint, but something feels missing at the core. They feel like they should have everything they need to be happy, but somehow, there's this intangible feeling of skipping lightly over life without really grasping the deep meaning of it.
There is truly nothing wrong with that. It is not our fault if we missed a more essential piece. We're just going with the program the culture installed in us. Our programming says, "When you work hard and gather all these things, you can finally focus on prioritizing intimacy." Yet we find ourselves empty, shattered by the broken promise.
What if we try going back to the basics? What if we prioritize intimacy first? What if we opt in to feeling fully nourished, being seen and feeling fully met?
What about feeling deeply connected with someone, another soul who can look back into your eyes and say quietly, "I see you. I know why you and I are here. I know that this is WHY we chose to live this human experience."
Olivier believes in the somatic learning and memory of the body. What we learn through the body determines a lot of who we think we are, how we interact in the world and how we attract what we want. That is why he offers a mostly non-verbal playground so we can learn through playful experimentation and push our edges gently.
What to expect:
Opening Circle and Winter Solstice Ritual with Lissa Rankin.

4 Directions Movement Meditation (music composed and produced by Olivier): this meditation is based on a gentle swinging movement that is designed to naturally bring you back to your center and connect with your Hara (3rd Chakra). When you connect with your center and open a channel between heaven and earth, you get back to a calm, harmonious state, firmly grounded in your verticality. It feels like arriving home to yourself.



Dance your Tribal Self: we'll express our aliveness and celebrate life through the dance of the divine masculine and divine feminine archetypes and evoke erotic polarization.

Tantric Energy Circulation: we'll have fun moving our life and sexual energy -or Chi- and play with masculine and feminine energy principals.
What to wear:
Feel inspired to express your creativity to embody the Winter Solstice. Yet make sure your clothes are comfortable enough so you can move and dance freely.
Regarding food:
No food will be served. If you're pressed with time, you may stop at Good Earth on the way and grab dinner. You can eat at the venue until we start at 7pm.
Agreements:
Please arrive around 6:30pm so you can get seated and settled. We will start our ritual promptly at 7pm. Doors will close and we will stay in sacred space until our circle closes at 10pm. If you register for this event, please honor your commitment to come, and please respect your fellow Tantra practitioners by arriving on time. Plan ahead for Friday night traffic and be aware that Highway 1 can be windy and slow! Be forewarned that, in order to protect the sacred container, if you arrive after 7pm, doors will be closed and you will not be admitted into the event.

Parking: You can park on the curb around the Muir Beach Community Center. Do not park in any private driveway. There is plenty of street parking, but illegal parking in resident driveways is strictly prohibited. Please understand that if you do park anywhere other than on the street, your car may be towed away at your expense.

No dual relationships: Teachers and staff are off limits for dating and flirting.
The workshop will be facilitated by Olivier Bessaignet, with the support of his wife Lissa Rankin.
Who is Olivier Bessaignet?
Olivier originates from Nice, in the south of France, so, in contrast to many Americans, his upbringing marinated him in a culture where pleasure is more of a priority than productivity or ambition. With salty sea breezes and morning baths in the Mediterranean Sea tempting him to rest in the joy of feeling his body, Olivier had the ideal childhood conditioning for a life of embodiment. But the traumas of Western culture took a toll on his teenage self, and by the time he was in his twenties, he had left his body and escaped to the safety of his mind, like so many of us do.
He played the violin and studied music composition and production, first at the conservatory in Nice and then at the prestigious Berklee School of Music in Boston before joining a band that played gigs on the French Riviera in his twenties. But even with the pleasure principle reigning supreme as a small time rock star in the south of France, Olivier felt like something was missing. Although he dated the lead singer in his band and seemed to be attractive to women, he didn't feel attractive and could no longer feel the aliveness of his body. Compared to the experience of embodiment he remembered from early childhood, his relative disembodiment left him missing the pleasure he knew his body could feel. This negatively affected not just his sex life, but his self esteem and his capacity for pleasure, intimacy, and a sense of juicy aliveness. After breaking up with his girlfriend because he moved to Boston, he hadn't been able to get a date in three years. At the end of his rope, feeling contracted and at the mercy of his childhood conditioning, which didn't allow for or recognize sexual power, he felt desperate to rediscover what might help him get out of his funk.
Motivated by his suffering to seek out anything that might help, he started reading the writings of Osho, the Indian guru and leader of the Rajneesh movement. Olivier finally felt the "plunk" in his solar plexus that allowed his whole nervous system to relax. Osho's teachings gave him permission to unlearn the conditioning that was interfering with his access to embodiment and intimacy. He finally knew the next step in his journey, so in 2000, he made a bold move that would change his life, signing up for all three levels of Sky Dancing Tantra. Tantra transformed his emotional life, his relationship to his body, his capacity for deep intimacy, his sexuality, and his self esteem. Suddenly, women were responding to his new embodiment in an unexpected way, and he realized that nothing had changed in his appearance, but everything had changed in his relationship to his body, his sexuality, his emotional availability, and his musical creativity. Olivier moved to Paris, where he fell in love with his teacher, Bhagvati, a Parisian Tantra teacher who was trained by Michel Sokoloff. He was the lover and Tantra partner of Bhagvati for twelve years. He supported Bhagvati's workshops and together, with Bhagvati singing, they recorded the music Olivier played, produced, and composed, which they used to lead Tantric moving meditations in Bhagvati's workshops.
When he moved to California six years ago, Olivier continued to deepen this practice and experience of Tantra with Tantra teachers Michaela Boehm and Evalena Rose. He also studied Internal Family Systems with Richard Schwartz, Transformation Through Intimacy with Robert Augustus Masters, and Compassionate Communication, a form of Non-Violent Communication, with Scott Catamas, which helped him improve his ability to practice healthy communication and intimacy in his relationships. All of these practices prepared Olivier to be ready for his marriage to New York Times bestselling author and teacher Lissa Rankin, MD, who has studied Tantra under three teachers from the Kashmir Shaivism lineage. Together, they practice using their catalytic, transformational, deeply intimate, and sometimes triggering relationship as an intentional Tantric spiritual path. They live in Muir Beach, California with Lissa's daughter Siena and their housemate April. He now leads Tantra and Transpersonal Intimacy workshops in Marin County, as well as teaching online music production courses to French musicians.
(Bio written by Lissa Rankin)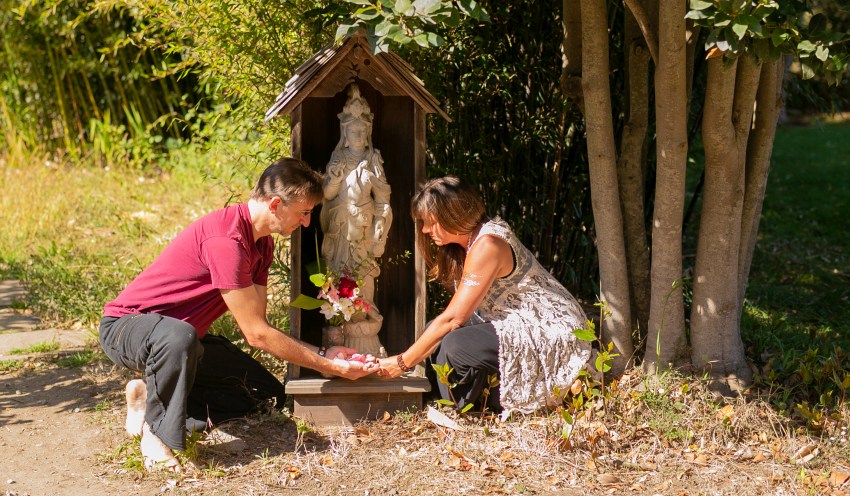 The Venue: Muir Beach Community Center
An intimate rustic barn with ocean views, mountain views, and a peaceful rural setting only 30 minutes from San Francisco. You will be able to savour your snack on the sunny deck, breath in the ocean air, listen to beach laughter, and if you stay until night, watch San Francisco's city lights reflect on the ocean surface.