Description
*Please note that due to the coronavirus pandemic, this event will now be offered online. We have planned to do an online version for a while, and our beta tests have gone quite positively. We're excited to offer Tampa an opportunity to experience connection and intimacy in this much needed time! Online partcipation details will be sent upon signup or shortly thereafter.*


Tired of Swiping? Tantra Speed Date isn't your average singles event.
Relationship skills games + speed date, you'll share moments of fun, guided connection with up to 24 dates in a traditional Puja circle.

Over 9,000 singles have gone on 70,000+ dates in 30+ cities worldwide in just two years. 95% have matched with one or more dates. If you don't match, your next event is on us!
Exercises are playful, PG-rated (verbal dyads, dance, light partner yoga, improv), and infused with positive relating skills. You'll walk away not only with matches, but with a refreshing perspective on what relationships can be.
Get your ticket today!


---
Sold out? Can't make it? See other dates:
---
~ VIDEO FROM THE EVENT ~

---

---
~ IMPORTANT DETAILS ~
* Please arrive on time to check in and receive your dating materials.
* Ceremony portion begins 30 minutes after start time. Doors will be closed for the duration of the ceremony. LATE ARRIVALS WILL NOT BE ADMITTED. See cancellation/late policy below
* Events do sell out, so purchase tickets online to guarantee your spot. Door tickets are cash only and subject to capacity and gender balance. Tickets are non-transferable and cannot be sold or exchanged.


~ VENUE INFORMATION ~
ENTRANCE: There are two entrances: the main entrance is on Dr. Martin Luther King Jr Street, and the back entrance is accessible from the parking lot. Registration starts 15 minutes prior to the event and happens in the main room where the main entrance is. If you enter from the parking lot and the door is closed, simply knock so we can let you in.

PARKING: There is free parking in the back lot. There is also street parking out front but it is limited to 2 hours (check signs). Note that the venue is close to Tropicana Field, and there may be more traffic than usual on game nights. Allot extra time.

---
~ FAQ ~
What is Tantra Yoga?
Well, for starters, it's not what you saw in American Pie! Tantra is thousands of years old (of Hindu and Buddhist tradition) and has become a buzzword, which unfortunately has some misleading definitions. Translated from Sanskrit, it means "weaving," which means bringing oneness to yourself and consciousness to what you do. The exercises are designed to bring you into a state of being more present when you meet your dates. And who doesn't want to be more present, right?
What is a Puja?
A Puja is an intentional ceremony. In Sanskrit it means reverence, honor, an offering. It is a ritual designed to open our hearts and allow us to see the inner beauty within ourselves and all beings. It invites us into the elegant dance of masculine and feminine in a warm space of oneness and connection--what a great way to start your first date!
What does it look like?
Participants form two circles facing each other. The men form the outside circle and the women form the inside, with each woman facing a man. Each pair then share a meaningful exchange through a directed exercise (a Puja "station"), which can be for a few seconds or a few minutes. Then they put their hands together in Namaste, thank each other and--like a speed date--rotate to the next person. The ceremony ends when everyone has rotated a full circle.
What if I don't feel comfortable doing the exercises?
Thanks for asking! While the exercises are straightforward and fun, you are always 100% at choice for how you wish to participate. If you find an exercise that doesn't work for you, then--just like in yoga--you have the option to modify or completely opt out. Everyone is encouraged to participate at their own comfort level, and our facilitators demonstrate what that looks like so everyone is clear before we begin.
What's the age range?
Some events are open and some have a specific age range (stated in the title)--though it's merely a suggestion, not a rule. See our statistics and learn why people love the open events on our FAQ.
More questions?
We're happy to answer! See our FAQ or Contact your Facilitator.


---
~ SUCCESS STORIES ~

~ TV, PRESS & TESTIMONIALS ~




---
~ YOUR FACILITATOR ~
Lucia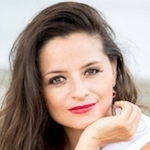 Lucia Gabriela is Founder and Director at Nuna Holistic Retreat Center for Emotional and Sexual Healing located in Sarasota, FL. As a Relationship and Integrative Sexuality Coach, Integrative Somatic Therapist and Conscious Sexual Healing Facilitator, Lucia helps individuals and couples to master their life, relationships and sexuality. Her passion is to create a safe and sacred space for individuals and couples to deeply explore many aspects of themselves, purge emotional and/or sexual traumas that are holding them back from manifesting what they desire, heal their inner child, embrace their shadows, connect with their higher self, reconnect with their own body's wisdom, align with their true essence, live their higher potential, and master their sexual life in all realms. They can then create their life with awareness, maturity, self responsibility, radical self-love, and full commitment to explore their sexual and spiritual evolution.
Contact: tampa@tantrany.com