Description
Tired of swiping and awkward first dates?
Now in 15+ cities, this Yoga-inspired workshop is more than dating, it's "Yoga for your Love Life!"
Combination relationship skills class + speed date, you'll model positive relationship roles and share a moment of guided connection with up to 24 dates in a traditional Puja circle. Exercises are fun, PG-rated (think light partner yoga, actor's improv, eye-gazing, dance), and are infused with positive relating skills. You'll walk away not only with matches, but with a refreshing perspective on what relationships can be!
Get your ticket today and experience the magic singles from New York to San Francisco–to now London!–are raving about!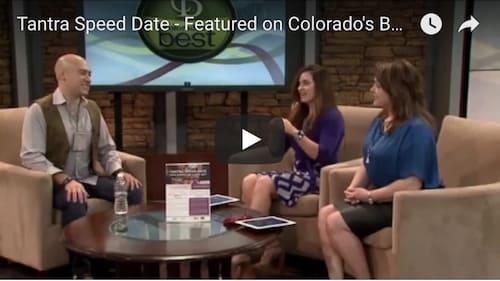 "I met the love of my life! I was hestitant to go but I'm SO glad I did!" -Catherine B.
"I now feel that I have a much deeper understanding of what it means to be a man in a relationship and how to make dating a beautiful experience." -Justin M.
"I really felt like a goddess, surrounded by strong, beautiful, empowered men." -Brandi D.
* Event sold out? Can't make it. See all dates in all cities.
---


Tired of swiping, mindless chit-chat and awkward first dates?
Come meet mindful singles at our Tantra Yoga-inspired dating event.
Our authentic and playful exercises will bring out your best self so you can get to know your dates in a real way.
You'll share a few moments of connection with each date in a traditional Puja circle. Exercises are fun and PG-rated (communication games, actor's improv, partner yoga, dance, etc.), and are infused with positive relating, so you'll pick up some skills to boot! And of course you're always in charge of how you want to participate.
After the event, receive your matches.
---
IMPORTANT DETAILS:
* Please arrive in time to check in and receive your dating materials.
* Ceremony will begin 30 minutes after published start time. Doors will be closed for duration of ceremony. LATE ARRIVALS WILL NOT BE ADMITTED. (See cancellation/late policy below)
* Door tickets (cash only) are subject to capacity and gender balance. Event does sell out so pre-purchase online to guarantee your spot. Online sales end 3 hours before event start.

---
TAKE A LOOK AT OUR AMAZING REVIEWS:

"Not only did I meet amazing open-hearted people, I experienced genuine healing through the connection exercises. I feel more connected to my femininity and sense of masculinity, and more healed in my relationship with both."
-Kasia K.
"Incredible opportunity to fall into my feminine energy in a way I can't usually experience!" -Genevieve
"This event helped heal a lot of fear I had about the male figure. Guy ran such beautiful exercises. I felt myself beginning to heal." -Anonymous
"This type of experience should be offered nationwide, to reduce peoples feelings of isolation and loneliness. If people had access to an experience like this on a weekly basis, the world would be a kinder and happier place" -Anonymous

"This was excellent! Really want to know how to be this all the time." -Anonymous
"A beautifully held night of fun and connection. It took the angst and panic out of meeting new potential partners and just had fun connecting and healing." -Hannah L.
"A great way to connect and meet new people in an awakened setting." -Anonymous
"The people were awake and sensitive and courageous!" -Cynthia G.


More Photos from our events:
---


FAQ:
What is Tantra Yoga?
Well, for starters, it's not what you saw in the movie American Pie! Tantra is thousands of years old and has become a buzzword, which unfortunately has some misleading definitions. Translated from Sanskrit, it means "weaving," which we have come to understand as oneness. Bringing oneness to yourself and consciousness to what you do. The exercises involving breathing and meditation that are a part of Tantra are designed to bring you into a state of being more present. And who doesn't want to be more present, right?
What is a Puja?
A Puja is an intentional ceremony. Translated from Sanskrit it means reverence, honor, an offering. It is a ritual designed to open our hearts and allow us to see the inner beauty within ourselves and all beings. It invites us into the elegant dance of masculine and feminine in a warm space of oneness and connection--what a great way to start your first date!
What does it look like?
Participants form two circles facing each other. The men form the outside circle and the women form the inside, with each woman facing a man. Each pair then share a meaningful exchange through a directed exercise (a Puja "station"), which can be for a few seconds or a few minutes. Then they put their hands in Namaste, thank each other and--like a speed date--rotate to the next person. The ceremony ends when everyone has rotated full circle.
What are some of the exercises?
We'll do some basic connection exercises: breathing, meditation, light partner yoga, speaking a vulnerability, eye-gazing, dance, conscious touch (holding hands, hands on heart)… things that go a bit beyond the obligatory "what do you do/where are you from." And you're always invited to go as deep as you choose.
What if I don't feel comfortable doing the exercises?
Thanks for asking! We take consent very seriously, and we have a zero tolerance policy for any inappropriate behavior. While the exercises are straightforward and fun—and we have been told we do an excellent job creating a safe container—you are always 100% at choice for how you wish to participate. Just like in yoga, when you find a pose you're not comfortable with, you have the option to modify, or completely opt out of any exercise. Everyone is encouraged to participate at their own comfort level, and our facilitators go over what that looks like at each event, so everyone is clear before we begin.
Still have more questions?
Check out our complete FAQ on our website.