Description
Tired of Swiping? Tantra Speed Date isn't your average dating event.
Relationship skills games + speed date, you'll share a moment of fun, guided connection with up to 24 dates in a traditional Puja circle.

Over 5,000 singles have gone on 40,000+ dates in 20+ cities worldwide. 95% have matched with one or more dates. If you don't match, your next event is on us!
Exercises are playful, PG-rated (verbal dyads, dance, light partner yoga, improv), and infused with positive relating skills. You'll walk away not only with matches, but with a refreshing perspective on what relationships can be.
Get your ticket today!


---
Sold out? Can't make it? See other dates:
OR See all dates in all cities


---
~ SUCCESS STORIES ~

~ TV, PRESS & TESTIMONIALS ~




---
~ IMPORTANT DETAILS ~
* Please arrive on time to check in and receive your dating materials.
* Ceremony portion begins 30 minutes after start time. Doors will be closed for the duration of the ceremony. LATE ARRIVALS WILL NOT BE ADMITTED. See cancellation/late policy below
* Event does sell out, so purchase tickets online to guarantee your spot. Door tickets are cash only and subject to capacity and gender balance.


---
~ FAQ ~
What is Tantra Yoga?
Well, for starters, it's not what you saw in the movie American Pie! Tantra is thousands of years old and has become a buzzword, which unfortunately has some misleading definitions. Translated from Sanskrit, it means "weaving," which we have come to understand as oneness. Bringing oneness to yourself and consciousness to what you do. The exercises involving breathing and meditation that are a part of Tantra are designed to bring you into a state of being more present. And who doesn't want to be more present, right?
What is a Puja?
A Puja is an intentional ceremony. Translated from Sanskrit it means reverence, honor, an offering. It is a ritual designed to open our hearts and allow us to see the inner beauty within ourselves and all beings. It invites us into the elegant dance of masculine and feminine in a warm space of oneness and connection--what a great way to start your first date!
What does it look like?
Participants form two circles facing each other. The men form the outside circle and the women form the inside, with each woman facing a man. Each pair then share a meaningful exchange through a directed exercise (a Puja "station"), which can be for a few seconds or a few minutes. Then they put their hands in Namaste, thank each other and--like a speed date--rotate to the next person. The ceremony ends when everyone has rotated full circle.
What are some of the exercises?
We'll do some basic connection exercises: breathing, meditation, light partner yoga, speaking a vulnerability, eye-gazing, dance, conscious touch (holding hands, hands on heart)… things that go a bit beyond the obligatory "what do you do/where are you from." And you're always invited to go as deep as you choose.
What if I don't feel comfortable doing the exercises?
Thanks for asking! We take consent very seriously, and we have a zero tolerance policy for any inappropriate behavior. While the exercises are straightforward and fun—and we have been told we do an excellent job creating a safe container—you are always 100% at choice for how you wish to participate. Just like in yoga, when you find a pose you're not comfortable with, you have the option to modify, or completely opt out of any exercise. Everyone is encouraged to participate at their own comfort level, and our facilitators go over what that looks like at each event, so everyone is clear before we begin.
More questions? Visit our Website


~ YOUR FACILITATOR ~
Libby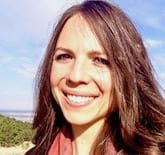 Altering the future of leadership through relationship first. It brings me great joy to share this invaluable work and I am continually humbled and amazed at the impact. It's never too late to start living as the man or woman we've always wanted to be. I work with men and women, entrepreneurs, companies, couples, and families looking to improve their relationships and become leaders in their respective worlds, both at work and at home. I often hear, "I had no idea this would be so helpful and uplifting!" I lead by example and believe in modeling vulnerability and continual evolution. My extensive training, experience, and research allows me to integrate somatic and energetic practices, gentle nervous system attunement, communication training, and authentic relating practices so we can go beyond the selves we've been conditioned to be and into our true greatness. It's one thing to feel at peace alone in a cave.--We're here to heal and experience through relationship. We blossom into leaders IN relationship, so we can't do it alone. If we're not committed to this, what are we committed to? The best part?--We get to create lasting results, and have fun doing it. It's time to play!
Contact: boulder@tantrany.com
Organizer of Tantra Speed Date - Boulder - Where Playful Meets Mindful!