Tantra & Sexual Energy - everything you want to know about how singles & couples can supercharge their love lives
About this Event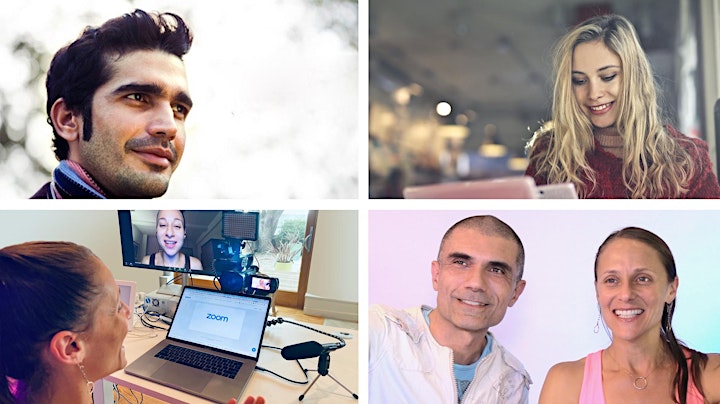 Would you like a fun boost of sexual energy to supercharge your love life for the Winter? Look no further.
This is often a time of year where we hunker down and the weather is not the only thing that cools off!
The biggest challenge we see for singles and couples alike is a lack of chemistry. The practices of Tantra and deliberately increasing your sexual energy can take care of that challenge and make your love life more fun and exciting, whether you have been together for years or you are on your first date!
Have you ever wondered what Tantra is really about?
We are all familiar with the concept of sexual energy and sexual excitement, but would you like to know how to cultivate it…deliberately?
These days, many people turn to pornography to get turned on. We don't think there is anything wrong with that! And at the same time, overuse can be depleting to the body and the mind, and certainly the sex energy. How can you build excitement and turn on in your own body and in your love life organically?
Can a spiritual practice really be complete if part of us is left out? Especially a vital, energizing part of us that can supercharge anything we do?
People are devitalized by porn, overwork, stress and a multitude of other things. Reduced turn on is a major issue for people these days. Testosterone levels are down, stress levels are up!
Contacting your sexual energy through Tantra and knowing how to use it can not only make your love life take off but increase your energy all around.
Both singles & couples contend with these things, and many singles and couples have the interest and desire to bring more depth and sizzle to their relationships, but few know how to ask, who to ask and what to ask!
Erwan and Alicia are experts in the field of bringing sexuality and spirituality together to create what they call An Eternal Date, which is a romantic relationship that has the depth AND the sexy. They provide a time tested, practical, safe yet sophisticated, exciting and tantalizing approach to tantra and sexual energy in relationships. Alicia & Erwan have been supporting both singles and couples in creating this kind of relationship since 1995, with a specialty in Extended Orgasm- their signature sexual technique. They will be addressing all these questions and more on December 9th at Tantra & Sexual Energy- Everything you Want to Know
You will learn:
For Men
-How to limit ejaculation while increasing enjoyment and release in sex
-How to be a vortex of presence with a palpable vital energy that turns women or your partner on
For Women
-How to increase your turn on and sexual appetite
-How to direct that turn on towards someone specific to draw them in
For Couples
-How to re-ignite relationships where the turn-on has died down for any number of reasons
For both sexes singles and couples
-What do you do with your sexual energy if you are single... and don't want to waste it
-How to have extended states of orgasm and pleasure in all sex acts.
You'll also learn specific techniques like how to locate and increase this vital energy, how to circulate it throughout your body, how to direct to any activity or person, how to have a better and better sex life where you are more and more turned on, and how to use it for your own growth and development.
Your Facilitators:   
Erwan and Alicia are long time teachers based in the Bay Area couple that have developed the Davon Method and taught it to thousands of students and helped them reach their sexual and relationship goals. As a married couple, they have been teaching singles to get into relationship and couples to thrive in relationship, with an emphasis on developing an advanced level of sophistication with attraction and seduction for the last 25 years. They have become the go-to place in the Bay Area for all things romantic and sexual.
Erwan and Alicia have a unique approach to relationship coaching that combines their educational backgrounds in psychology and sexuality and aspects of Zen Buddhism to provide a holistic method to effectively improve connection with the self and others.
Erwan studied psychology after a difficult childhood and an early introduction to therapeutic work. He went on to live and study in a Zen Monastery, direct a yoga ashram, and began teaching personal development at one of the world's largest personal grown organizations. Erwan's passion for helping and teaching people led him to found Erwan Davon Teachings in 1995, specifically to help people improve their relationships.
Alicia Davon holds a Master's degree in Integral Psychology with a focus on women's romantic and sensual expression. She trained as a therapist before meeting Erwan and led numerous women's groups devoted to female pleasure and life fulfillment from career to relationship. She met Erwan 15 years ago and started teaching with him soon after.
Together, Erwan and Alicia developed The Pleasure Course and several other programs, which have helped thousands achieve their ideal love lives. They provide a safe place to explore psychological inquiry, pleasure, and sexuality.
They have spent years perfecting their curriculum and techniques and are excited to share their expertise with newcomers so they can help improve chemistry, connection, communication, and passion in others' lives!
 For more events, visit our website: https://www.erwandavon.com/events
Are you tired of working on yourself or your relationship, trying to "figure it all out?" Relationship development, as a single or a couple, should be fun!
This will be an evening full of fun stories from Erwan & Alicia's relationship they have developed over 2 decades, and priceless, actionable tips you can take into your life immediately.
This evening makes a great date night for couples... and provides rocket fuel for singles to move their initial first dates forward to more.
If you have ever wondered if exploring the meeting of spirituality and sexuality could improve your relationship and relationship building skills then we invite you to join them for this exciting evening.
*This event will be given virtually through Zoom - we will send you the login instructions once you have your ticket.
If you have any questions please email alicia@erwandavon.com