TANTRA-PALOOZA Festival 12~12~12!

Wednesday, December 12, 2012 at 5:00 PM

-

Sunday, December 16, 2012 at 12:00 PM (PST)
Event Details
Join us for the most Powerful Tantra Gathering in Modern History!
WHO? Teachers: Charles Muir, Kamala Devi, Triambika Vengoechea, Reid Mihalko, Mare Simone, Francoise Ginsberg, Kirin Khalsa,  Michael McClure, Scott Catamas, Daniel Schmachtenberger, Adam Paulman, Baba Dez Nichols, Roxanne DePalma & You!
WHAT? The theme is "Awaken Your Inner Guru." We will be offering radical tools and transformative practices to access your full erotic expression within an immersive community where we dance, play, soak, study, work, eat, sleep and awaken together!
WHEN?  12-12-12 is Wed. Dec. 12, 2012 Registration starts at 4pm, Sensual puja at 7pm and classes, parties, and performance art go on until Noon on Sun. the 16th!
WHERE? A natural retreat center in Desert Hot Springs with clothing optional outdoor pool, spa tubs and poolside bar, restaurant and spa services. 
HOW MUCH?  The all-inclusive price of Tantra Palooza covers all 12 workshops, evening parties, food and 4 nights of boarding for only $897! To reserve your space you must make a non-refundable deposit of $112 by Eventbrite, PayPal or check. This event has sold out every year! 
Our Desert Hot Springs Venue Features
Swimming Pool with Natural Hot Mineral Water/Averages 88° F

Indoor Jetted Pool with Natural Hot Mineral Water/Approximately 102° F

Outdoor Jetted Pool with Natural Hot Mineral Water/Approximately 104°F

Tropical Courtyard with Seating Areas, Fire-Pit
No-Smoking Facility (outside smoking area by lobby)

Complimentary Wireless Internet Service

Free Parking & Friendly Staff

Special for Tantra-Palooza: Red Room of Pleasure & White Temple of Tantra
Here's What You Get:
4 Days Full Immersion Tantric Instruction from 12 of the BEST Tantra Masters

3 Scrumptious Vegetarian Buffet Style Meals Per Day

4 Nights Accommodation at a Luxurious Natural Spa & Resort in Desert Hot Springs

New Radical Tools and Transformative Practices to Access your Full Erotic Expression
TANTRA-PALOOZA SCHEDULE:
(Subject to Change)

WEDNESDAY 12/12/12
4-7 Doors open for Registration
7pm Welcome Circle
8pm Sacred Snuggle Party w/ Reid Mihalko & Kamala Devi
Midnight Sacred Sound Circle 12-12-12

THURSDAY 12/13/12
8-9:30am  Breakfast
8:30am Optional Naked Yoga with Roxanne
10am Orientation & Panel with All teachers
1-2pm Lunch Break
2pm Spa Suites Open
3pm Keynote with Charles Muir  "Communing with the Beloved, the Guru Within"
6-7pm Dinner Break
8pm Tantra Puja with Francoise  "Galaxy  Puja: Ritual of Honoring the
Divine in All of Us"

FRIDAY 12/14/12
8-9:30am  Breakfast
8:30am Optional Naked Yoga with Roxanne
10am  Daniel Schmachtenberger
11:30am  "Wisdom of the Heart: The Dynamic Power of Compassion"  with
Scott Catamas
1-2pm Lunch Break
3pm "Sensual Activation and Emotional De-Armament"  with Adam Paulman
and Michael McClure
6-7pm Dinner Break
8pm Talent Show with Tantra Theater and You!

SATURDAY 12/15/12
8-9:30am  Breakfast
8:30am Optional Naked Yoga with Roxanne
10am "Portals for Mortals 10 Steps to Infinite Sex & Love" with Kirin Khalsa
11:30 am  "Erotic Alchemy: Activate the 7 Gates to Awaken Ecstasy and
Self Rejuvenation" with Mare Simone
1-2pm Lunch Break
"3-6pm Red Tent, White Tent: ""Penetrate the Divine Feminine and
Masculine"" with Triambika and Baba Dez"
6-7pm Dinner Break
8pm Sacred Sexual Play Party with Reid & Friends

SUNDAY 12/16/12
8-9:30am  Breakfast
8:30am Optional Naked Yoga with Roxanne
10am Visioning 2013 & Closing Circle with Kamala Devi and All Teachers
Tantra Palooza Festival Ends at Noon! 
"Thank you for hosting and co-creating an amazing weekend!  On a very auspicious day.  Tantra Palooza on 8/8/08 definitely assisted me in the opening of the gate."
"At Tantra-Palooza the teachers and attendees created a glorious magical bliss which immersed all of us in an ecstatic river of healing and enlightenment.  I'm still tingling and vibrating!!!"
Here Are Your Teachers: 
Kamala Devi is an author, coach, national speaker, activist, and performance artist who specializes in tantra, sexuality and polyamory. She is the mother of a 5 year old son, has been successfully navigating an open marriage for 10 years, and practicing polyamory for over 15. She is the founder and director of San Diego Tantra Theater and recently starred in Showtime's Polyamory: Married and Dating Docu-series. As a Certified Yoga Teacher, Tantra Educator, Ordained Minister, and Bliss Coach she offers private and group sessions, helping people design and maintain relationships around their true erotic self.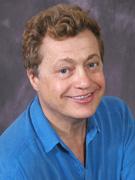 *Charles Muir is considered the Pioneer of the Modern Tantra Movement in the US. In 1980, he originated the Sacred Spot Massage, and many other experiential exercises, which have become cornerstones in the curriculum of most Tantra educators. This weekend is a rare opportunity for you to study directly with the "Grandfather of the Tantra Renaissance in America". He'll be teaching with his beloved Leah Alchin, and Advanced Certified Tantra Educator. There will be various other Certified Tantra educators and like-minded participants from all over the country.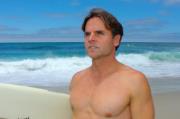 Michael McClure aka Eco Elf is a tantric shaman, professional environmentalist, green developer, actor, and professional stand-up comedian who has made the world's largest water rocket! Under the mentorship of Jim Bell, he is remodeling a 60-year-old house into a sustainable tantric temple named "The Emerald Temple." He is the founder of the Green Sweep Game and Adopt a Christmas Tree.

Francoise received her Doctorate from the University of Paris in psychology and sociology, tantra teacher for 19 years, specializes in Pujas, and tantra tutoring.http://tantrafg.com/ Offering : the Galaxy  Puja : ritual of honoring the divine in all of us via guided exercises including soul gazing, words of appreciation, light touch, and embrace. Group exercises playing with eclipses, traveling and being part of .Duo connections honoring the attributes of planets via exchanges of words, movement and sensual touch. An invitation to unravel the mysteries of the universe within us. All guided and accompanied by celestial melodies.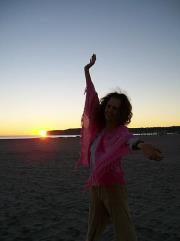 Kirin had her spiritual awakening when she sat at the feet of Yogi Bhajan, kundalini yoga master and Mahan Tantric Master of White Tantra Yoga.  She was called to take a pilgrimage to India where she visited the Golden Temple in Amritsar, India.  She has meditated with the Master at over 100 white Tantra courses, attended summer and winter solstice retreats in New Mexico and Florida.  She lived at a yoga ashram in Millis, Ma. where she began her yoga teaching career.Kirin moved to San Diego and was a pivotal person in bring Tantra to San Diego. Kirin is a mystic and Intuitive.   She is able to read the aura and see past lives, karma and samskaras (patterns) that are currently affecting this lifetime. Through her Numerology readings she helps people around the world, via skype, move forward in their lives with love, prosperity, and living their destiny.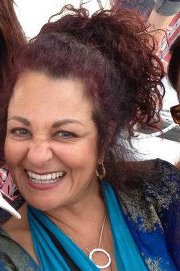 Certified Tantra Educator Mare Simone is a pioneer in the field of exploring Tantra and enlightened sexual loving. Her Tantra profession began in the mid-80s, after a yearlong teacher training and initiation in Tantra Kriya Yoga, with Sunyata Saraswati and Bodhi Avinasha. Mare is a Certified Sex Surrogate since 1986.In 1989, she founded Tantra Connections in Los Angeles, to establish a community founded on Tantric skills and principles. Mare has been on TV in HBO's, Real Sex… The Playboy Channel… British ITV… E! Entertainment … She appears in the popular Tantra video, produced by www.Tantra.com "Ancient Secrets, for Modern Lovers". Mare currently leads seminars and maintains an ongoing private practice with clients across the globe. She lives in Southern California and tours the US and abroad. Please see the calendar to find out about Mare's tours or inquire by e-mail to learn out how you can sponsor Mare, to rendezvous with you.
FAQ
Are there day passes? 
No. We are intending to provide an immersive environment for the duration. We understand that not everyone can make it to all three days of the festival; there are no discounted day passes. The tuition is set at such a reasonable price that we trust you will still get immense value and attend as much as possible.
What is your Refund Policy?
The $112 deposit is non-refundable. You are entitled to a refund for what has been paid above $112 up to two weeks before the event begins. 50% of the balance will be refunded one week prior to the event. No refunds for no-shows or canceling within 24-hours.
What are the hours? 
The doors open for registration at 4pm on Weds. 12/12/12  We begin at 8:30 each morning and go past midnight. We close around noon on Sunday 12/16/12. A specific schedule (subject to change) will be posted closer to the event. 
This package INCLUDES Meals and is priced PER PERSON for the duration of the event. This event has sold out every year! To reserve your space you must select and pay for Option #1 or Option #2 below.  For more information write Kali Das at kalidas@kamaladevi.com or Call her at 619-279-7641.

Option #1
"I went to your Tantra-Palooza last year, and it totally CHANGED MY LIFE!  I can't wait to attend this year with my Honey."
My 30 Day 100% Money Back Guarantee
If after attending this 4 day retreat, you don't feel like you gained tremendous value, I'm happy to give you a full refund. I am confident that this event will change your life!

When & Where

Whole Resort Take Over in Desert Hot Springs
14500 Palm Drive
Desert Hot Springs, CA 92240


Wednesday, December 12, 2012 at 5:00 PM

-

Sunday, December 16, 2012 at 12:00 PM (PST)
Add to my calendar
Organizer
...TO JOIN OUR TANTRA COMMUNITY. We are abundant, fun and open minded.  Experience it for yourself.  Here is a calendar of upcoming events in San Diego. Find an event that fits your schedule and write us ASAP because we often sell out!! Location and details will be sent when register or write kalidas@blisscoach.com. Space is limited (love is not.)  Visit this page often because we are constantly adding new events.