Description
Tantra Night Monthly! May Special Guest: Eugene Hedlund from ISTA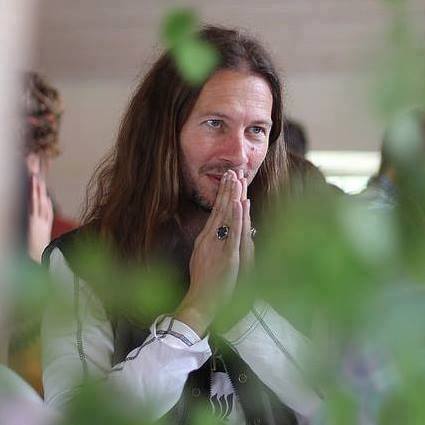 Eugene Hedlund is the founder of The School of Tribal Tantra. He has led workshops and trainings in the US, Europe, Asia and Australia since 2008.
He founded The School of Tribal Tantra as a gateway to accelerate those who are ready to step into their Tantric mastery. Eugene's core passion is to use these tools and gifts in an integrated way which best serves each student. Tribal Tantra has graduated over 100 new tantra teachers world wide since 2016.
Tribal Tantra is a seamless fusion of the classical lineage of Kashmiri Shaivism, modern tantra, Shamanism and conscisous movement.
More info videos about Tribal Tantra and Eugene Hedlund at:
https://www.youtube.com/channel/UC10ilzVJh04mIx5dp5epgIg
"I am not here to offer anything new, but to help us remember something old, something true, something that has always been...that you are complete. You are enough. You are worthy of loving and being loved."
More about Tribal Tantra:
https://www.tribaltantratrainings.com
TANTRA NIGHT
A Monthly Interactive evening of Sensuality, Connection, & Fun with your clothes on!
We invite you to a fun, interactive evening of frank conversation about modern relationships, sensuality and how to connect more fully. And through PG-rated experiential exercises, we will explore a more joyful way to meet and relate… all with our clothes on!
What is Tantra? It can be many things to many people, but most especially, it is about connection. It is a deeper way of sharing energy with people, not only with our bodies, but with our hearts and souls.
How do we become masterful lovers? How do we meet compatible partners? And how do we find connection and intimacy when we spend most of our time avoiding intimacy...on the train, in crowded elevators, and even at our jobs?
Tantra Night brings you these ancient ways with a very fun and modern twist. Whether you're a Tantra pro or a total newbie, there is something for everyone.
Each month is a different theme or topic, which is often chosen through your feedback.
So what does Tantra Night look like?
We're glad you asked! We begin with icebreakers to get everyone connected, then move to fun, interactive exercises, which produce lively and frank discussions about this most interesting topic of sensuality, all with our clothes on!
We move through the evening, with practical/usable Tantric techniques to incorporate into all aspects of your life. The practices are all PG, which may include eye gazing, movement, or energetic connection. The evening concludes with Q & A, and suggestions for how to study further.
Here is what some of our participants have said:
"It is an open-minded and welcoming group of warm hearted people, who are human centered, making deep connections, or working on that, in a comfortable environment, to help improve your intimacy, sensuality and sex life."
"An amazing event that opened my mind, body and heart. I feel great and ready to share my positive energy with others. Highly recommend this gift is you feel stressed, sad or curious."
"Lauren, Guy, & Karen pack Tantra into delectable, seductive morsels of truth!!!"
"You guys rock! You know your stuff and deliver it beautifully and playfully!"
And while we are two women and one guy, we love rocking it with our participants!
Come join us!
Karen, Lauren, and Guy (yes, he is the guy!:)

*Exercises are optional and non-sexual. There is no nudity, sorry!
Some topics often covered:
What is Tantra really, and why is it so often misunderstood?

How to be a better lover.

Dynamics of attraction and how to use Tantra to attract a mate.

Sensuality exercises and practices (for yourself or with a partner).

Q&A - Ask our panel of experts any question


Frequently Asked Questions:
Q: What will I feel like after the workshop?
A: You will likely feel refreshed, energized, and very connected. You might even smile at folks on the subway and wonder why everyone looks so grim! :)
Q: Is this for couples or singles?
A: Both! We will have fun exercises to do to increase your connection to your significant other, or help you find connection with someone who might become significant to you!

Q: Do I have to bring a partner?
A: You don't have to. You will get an opportunity to work with everyone in the class.
Q: What kinds of things will we do?
A: We do fun exercises and communication games that will enable you to connect in an authentic way.

Q: What if I don't want to participate in the exercises?
A: The exercises are optional, though we find most people warm up after the introductions and it's easy and fun to connect.
---
Your Facilitators:
Karen is a trained Tantrika and Advanced Certified Tantra Educator with Charles Muir's Source School of Tantra Yoga. Not only is she a leader at Mama Gena's School of Womanly Arts and a Mastery Graduate, but also has studied with the Bodansky's, Morehouse, and Caroline Muir's Divine Feminine Institute, and she is an Orgasmic Meditation practitioner. Besides offering private tantra sessions, she also coaches on sensuality skills and communication skills, so important for a healthy sexual relationship. Her desire is for people to find true intimacy and connection. While her new website is being constructed, you can reach her at: Karen@karenfitzgerald.tv
Guy is an Advanced Certified Tantra Educator (trained and endorsed by Charles Muir). He has a wide range of experience with several modalities of touch and sensuality, including studying with the Bodanskys, OM Rupani, Morehouse, and Orgasmic Meditation, in which he is also a certified coach and instructor. He offers Tantra sessions in New York and around the world; and teaches workshops on relationships, polarity, and various sensuality practices. He particularly enjoys working with couples on intimacy and providing guidance on open relationships. http://www.dakaguy.com
Lauren is a trained Tantrika and Advanced Certified Tantra Educator with Charles Muir's Source School of Tantra, Orgasmic Meditation Instructor, Graduate of Mama Gena's School of Womanly Arts, Mastery Graduate, Jewelry Designer, Seductress, and a stand for everyone ready to heal and further ignite their sexual self, sovereign and free! She teaches Tantra and other modalities of healing and personal growth. She also offers private Tantra Sessions, Orgasmic Meditation Training, Coaching Sessions, or Reiki Healing Attunements. https://www.radiantecstasy.com