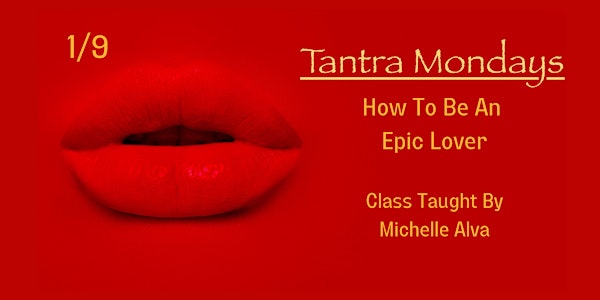 TANTRA MONDAYS
Want to get out of your head, and into your body, especially during intimacy with a partner?
When and where
Location
Tantra Studios 390 Northeast 59th Terrace Miami, FL 33137
About this event
Tantra is an ancient practice that teaches us to enjoy every moment more fully alive and embodied.
We will have a special Amplify Love in 2023 Activation with Michelle Alva where she will guide us to envision our Highest Version Of OurSelves, Our Dreams and Visions for an epic 2023!
We will Kick start this powerful class with a Tantric Breathing and Mindset to Abundance Activation. We will do special hypnotic, NLP growth mindset activation and guided embodiment experience.
In this intro class for singles and couples, we learn ways to naturally energize by releasing tension, and awakening our sacral energy, which is also our healing and creative energy!
You will learn the secrets of being a sensual lover, being easily arousable, and "turned on" to whole body orgasms.
You will feel magnetic and radiate after this class. The class will allow you to deepen intimacy and connection with yourself, and with a partner if you consent to. Exercises like eye gazing, tantric breathing, and gentle sacred touch exercises with yourself and optionally with a partner will also be introduced.
Allow Michelle Alva, Tantra Practitioner, and Creator of the ALVA Method (Activate Love Vibrate Abundance), to guide you on a journey through breath, movement, sound, and aphrodisiac oils that leaves you feeling free, light, and clear on all levels. This class is great for singles, and couples. Get ready for fun!
Attendees will receive Deeper connection: tantra for couples complimentary- after they attend live event 1/9 GET DETAILS HERE: Tantra For Couples. $697 in value.
https://www.conscioussexacademy.com/deeper-connection-register
About Michelle Alva
Michelle Alva is a love and intimacy coach, NLP/Hypnosis and Tantra Practitioner. She has a background in Physical Therapy for over 27 years. She also experienced sexual trauma and held pelvic pain for years... she has created The ALVA Method to Activate Love Vibrate Abundance.
She created The ALVA Method (Amplify Love Vibrate Abundance), a mindset-energy approach , which is a process of self-discovery that integrates both modern science and ancient wisdom practices to educate and empower individuals on how to reset and calm their nervous system, heal from emotional pain in the body, and elevate one's energy to experience major healing with minor effort. This approach is also a global movement to raise the collective amount of love energy on the planet! Michelle created online programs and a movement Yoni Power and Orgasmic Abundance, and Deeper Connection for Couples, to heal the world of sexual shame and guilt and empower individuals to be their own source of healing and transformation.
Michelle offers one-on-one in person Tantric Bodywork/Coaching Sessions with Mindset-Change/Hypnosis, and also offers zoom sessions for men, women, and couples. She also offers live group events and retreats all around the world.
Subscribe to her Youtube Channel https://www.youtube.com/c/Michellealvalove/videos to learn more about Tantra and Yoni / Sexual Healing at MichelleAlvaTV her IG @michellealvalove
Learn more at www.michellealva.com
Please arrive few minutes early and bring a notebook, pen and bottle of water.
Free parking.
For more info please call or text 305-992-0754.
www.Tantra-Studios.com
@tantra_studios