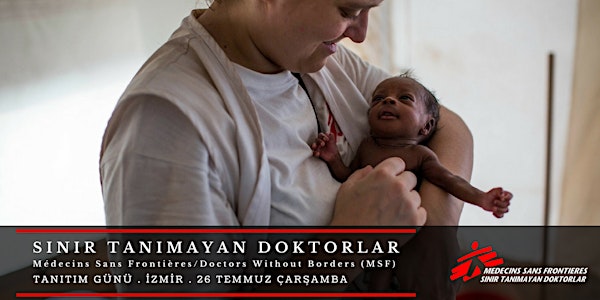 Tanıtım Günü: Sınır Tanımayan Doktorlar (MSF) İzmir'de
When and where
Location
DAS Akademie - Izmir "Deutsche Akademie für Sprachen" Sair Esref Blv. 1371. Sk. Alkan Ishanı Kat 4-5 Cankaya İzmir, İzmir Turkey
Description
MSF Tanıtım Günü - İzmir
Uluslararası tıbbi insani yardım kuruluşu Sınır Tanımayan Doktorlar (MSF), 26 Temmuz Çarşamba günü 18:00-20:00 saatleri arasında Dr. Apostolos Veizis'in katılımıyla İzmir'de tanıtım ve bilgilendirme toplantısı düzenliyor (*). (English below)

Silahlı çatışma, salgın hastalık ve doğal afet durumlarından etkilenen veya sağlık hizmetlerinden mahrum bırakılan insanlara acil yardım hizmeti veren MSF, dil, din, ırk, toplumsal cinsiyet ve siyasi görüş ayrımı gözetmeksizin yalnızca ihtiyaca dayalı olarak sağlık hizmeti sunar. Bağımsızlık ve tarafsızlık ilkeleri doğrultusunda çalışmalarını sürdüren MSF, tıp etiği ve uluslararası insancıl hukuk ilkelerine sıkı sıkıya bağlıdır.

Tıp doktoru, hemşire, lojistikçi, psikolog, İK çalışanı, epidemiyolog, laboratuvar teknisyeni veya doğum ebesi olmanız farketmiyor... MSF'nin çalışmaları hakkında daha fazla bilgi almak ve dünya çapındaki tıbbi insani yardım projelerine katılmak isteyen tüm sağlık çalışanları veya lojistik ve idari alanda çalışanlar sunum ve söyleşi programımıza davetlidir.
50 kişilik sınırlı kapasitemiz olduğu için lütfen kaydınızı Eventbrite üzerinden yaptırıp etkinlikte yerinizi ayırtın. Etkinlikle ilgili diğer tüm gelişmeleri, Facebook'taki etkinlik sayfamızdan takip edebilirsiniz.
(*) Etkinlik dili İngilizce olacaktır.

www.sinirtanimayandoktorlar.org
Yer: DAS Akademie İzmir
Şair Eşref Bulvarı 1371 Sokak
No: 5, Z 102, Alkan İş Hanı
Çankaya / İZMİR / TÜRKİYE
Tel: +90 (232) 445 10 08
- - -

Working in MSF projects abroad - Info Session

Whether you are a doctor, nurse, logistician, psychologist, laboratory technician, epidemiologist, human resources administrator or humanitarian affairs officer... If you are interested in learning more about working in #MSF projects around the world, we are looking forward to seeing you at our information session (*) on Wednesday, 26th of July, between 18:00-20:00 in Izmir.
Please register to the event and join us to learn more about our type of interventions, profiles needed, basic criteria to apply and more!

(*) The event will be held in English.
www.sinirtanimayandoktorlar.org
Venue: DAS Akademie İzmir
Şair Eşref Bulvarı 1371 Sokak
No: 5, Z 102, Alkan İş Hanı
Çankaya / İZMİR / TÜRKİYE
Tel: +90 (232) 445 10 08