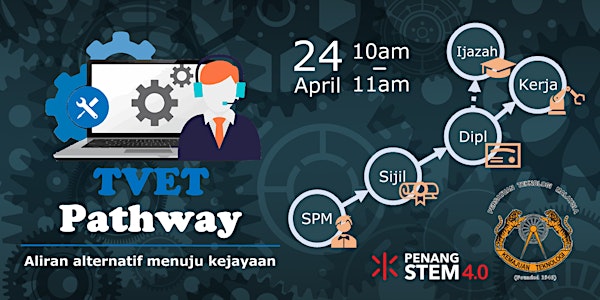 Tanpa Gred Cemerlang?
In our monthly online TVET Talk series, we will strive to enlighten students that there are alternative pathways for a successful careers.
About this event
It is widely recognised that technical and vocational education and training (TVET) and apprenticeships do not always have the same positive public image as university education.
However, the value of apprenticeships and TVET cannot be more understated, especially in countries which are more industry-driven. This is particularly so as Malaysia gears itself to meet the challenges of IR4.0 and the Digital Economy, with manufacturing and exports as our key revenue drivers
Likewise, for the state of Penang, where manufacturing exports contribute more 55% of our GDP, the need for and value of TVET talents will also correspondingly increase, particularly since Industry players are geared more towards automation.
In our monthly online TVET Talk series, to be jointly organised by PENANG STEM and the Technological Association of Malaysia (TAM) and conducted in Bahasa Malaysia, we will strive to enlighten students (and also parents) that there are alternative pathways for those who are not so academically-inclined but who can still carve out successful careers ahead in Industry.
The TVET Pathway series will be conducted online on the 4th Saturday of each month from 10 – 11am, starting from Apr 24. The one-hour sessions will feature speakers from related professions who will touch on:
• Overview about TVET – increasing importance of TVET in a developing manufacturing-based economy
• Suggested TVET courses for students to pursue, based on needs of industry and future employment/career opportunities
• Student funding/sponsorship
Q & A sessions will be included to offer students/parents to find out more about the TVET pathway and what it can offer to students.