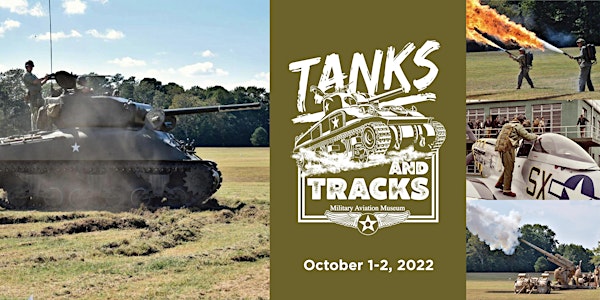 Tanks and Tracks 2022
**EVENT CANCELLED DUE TO IMPENDING WEATHER FROM HURRICANE IAN**
When and where
Location
Military Aviation Museum 1341 Princess Anne Road Virginia Beach, VA 23457
Refund Policy
Refunds up to 30 days before event
About this event
See them, feel them, and get out of their way! Historic WWII Tanks are rolling out at the Military Aviation Museum! Join us on October 1st and 2nd to get an up close and personal look at armored vehicles. With demonstrations daily and a Living History camp display area, Tanks and Tracks will provide you with a rare opportunity to step back in time! Some of the visiting armor and tracked vehicles will even be offering rides (see below for details).
Featuring Tanks, Artillery and other Vehicles from around our region, Tanks and Tracks will showcase some of World War II's most incredible equipment, ripped straight from the pages of a history book! Joining us from the Wheels of Liberation team will be the Sexton, a Canadian-designed 25 pound self-propelled gun, the American M18 Hellcat, a famed Tank Destroyer, as well as the British Cromwell Cruiser Tank. Courtesy of the Tippins family we will also be hosting the Sherman 'Easy Eight' Arrogant Bastard. Also on display will be the Museum's own functioning 8.8cm Flak Cannon!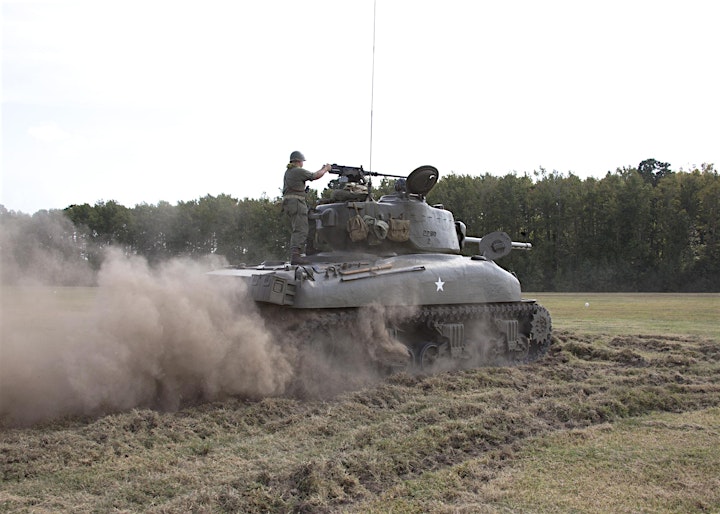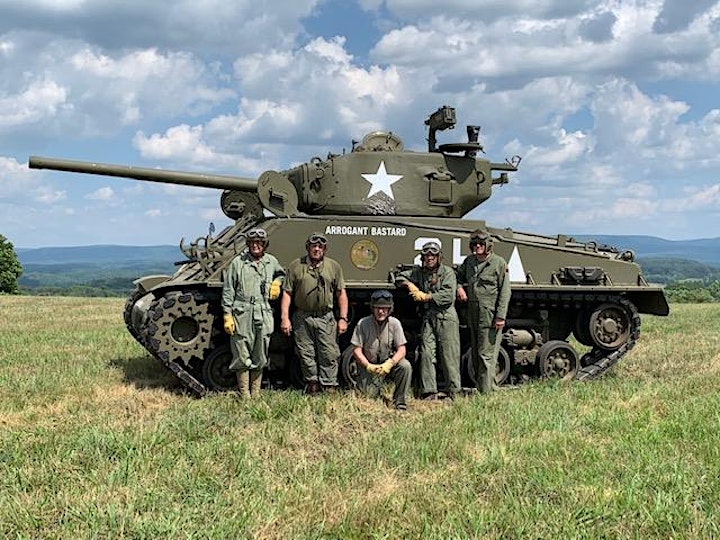 Things to See and Do
Living History Camp Area. Made possible by dozens of local living history groups, the camp area will surround the battlefield that the tanks will use for their demonstrations. The camp area will feature costumed re-enactors, equipment displays, and programs going on throughout the day.
Daily Armor & Weapon Demonstrations. Starting at 1pm each day, there will be weapon and vehicle demonstrations. This will include the much-loved flamethrower demonstration returning alongside the Parris Island Living History Detachment.
"Capture the Airfield" Mock Battle. At the conclusion of the Daily Weapon & Armor demonstrations there will be a short battle demonstration showing how all of the equipment was designed and intended to work together on the battlefield.
Tank Rides. Available for purchase on site, First Come, First Served. Will include a limited number of rides in the Hellcat and the Sexton, with the M29C Weasel providing all-day ride options.
Static Warbirds. Although it is being held over our normal Air Show weekend, Tanks and Tracks is not an air show. The Museum's incredible collection of WWII aircraft will be on static display around the property for you to grab an up-close look!
Open Cockpits. The Museum's Ju 52 will be opened up for you to take a look inside a WWII Axis troop transport!
The Goxhill Tower. Typically closed during special events, we will be running daily tours departing from our WWI Hangar during Tanks and Tracks, so that everyone has a chance to see and enjoy our original WWII Control Tower, relocated brick-by-brick from Goxhill in England.
Food Trucks. There will be several food trucks on site at the Museum including fan favorites like Little Piggy's Wurst Nightmare, Blackwater BBQ and Pittsburgh's Best
Your ticket also includes access to the Museum's main hangars and display areas!
Gates Open Saturday and Sunday Only, 9am – 5pm.
Ticket prices will increase the week of the show both online and in person.
Tickets can also be purchased in advance at the Museum Store.
For more information on the event, please call 757.721.7767.
To Register your Living History Group to participate please visit: https://forms.gle/FCCMN7cTVtDRup9V8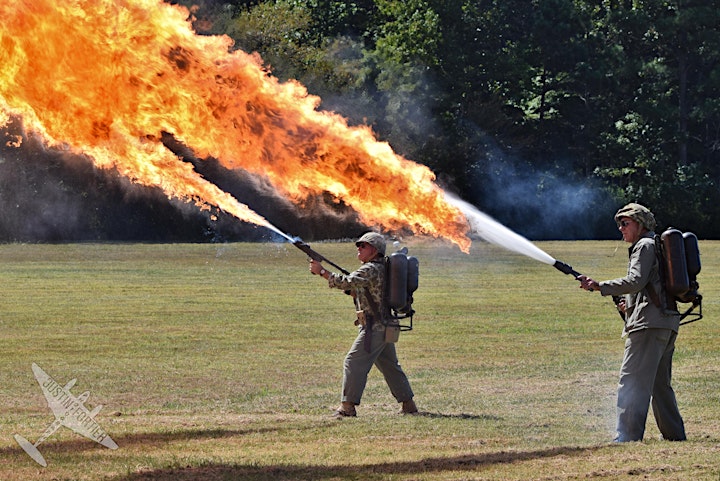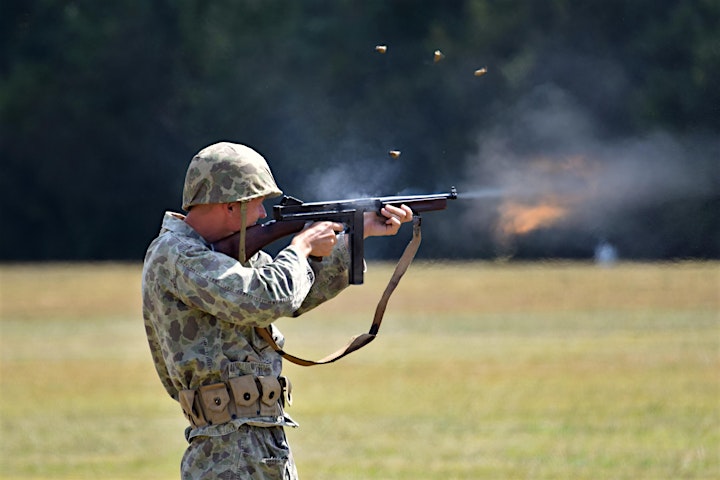 Rules & FAQs
Tanks and Tracks features a range of original WWII vehicles operating, as well as weapons demonstrations. For everyone's safety there are a few special rules to be aware of.
There is no smoking permitted on the field.
Please do not touch or climb on vehicles, displays or aircraft unless you are invited to do so by a member of the crew.
No drones, quad-copters or similar machines may be operated on the airport property.
No segways, hoverboards or similar motorized vehicles are permitted on the field (this does not include mobility assistive devices).
No pets (only service animals will be permitted on the property during an event).
No Coolers (small soft-sided lunch bags are welcome though).
No Alcohol is permitted on the show grounds.
No tents, umbrellas or sun coverings may be brought in.
No weapons may be brought in by the general public, period attire or otherwise.
No cooking or open flames are permitted.
Will I have to pay for parking?
No! Parking is free on site with the purchase of your event tickets. All parking is on-field parking, and there is no bus ride needed to get from the parking lot to the event grounds!
Are we allowed to bring food and drinks into the event?
You are welcome to bring your own food and drinks, and there will be food vendors on site. Please note that alcoholic beverages may not be brought on site and that all food bags are subject to be searched on entry.
Will we be able to take tours inside the planes or get close to them?
Selected aircraft will be available to view inside.
Can I fly-in to watch the show?
With a portion of the runway closed to allow for equipment and weapons demonstrations, it will not be possible to fly in for Tanks and Tracks.
Will this event proceed rain or shine?
This event will proceed rain or shine. In the event of severe weather, demonstrations may be delayed, and shelter to attendees will be provided in the Museum hangars.
Are discounted tickets available for the Military?
Discounted tickets are available for Active Duty, Retired Military and Dependents. Please select this ticket option when purchasing your tickets.
Is there Group Pricing for Tanks & Tracks?
Yes! For Groups over 20 people, reduced pricing is available. To take advantage of this, discount tickets must be purchased directly from the Museum by contacting Mitch Welch at operations@aviationmuseum.us
Overnight Parking.
It is not possible to park overnight, or to camp on the property if you are not a member of a properly registered Living History group.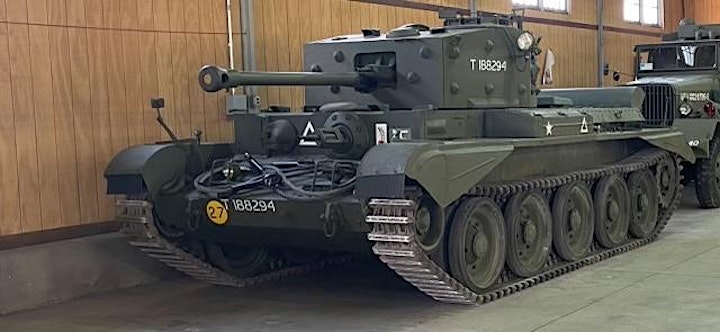 Please Note.
By attending our events, you understand and agree that the Military Aviation Museum, anyone acting on behalf of the Military Aviation Museum, and the Military Aviation Museum's licensees, successors, and assigns, shall have the right, where permitted by law, to print, publish, broadcast, distribute, and use in any media now known or hereafter developed, in perpetuity and throughout the World, without limitation, your entry, name, portrait, picture, voice, likeness, image, statements about the event, and biographical information for news, publicity, information, trade, advertising, public relations, and promotional purposes, without any further compensation, notice, review, or consent. By attending an Event at the Military Aviation Museum, you represent and warrant that your entry is an original work of authorship, and does not violate any third party's proprietary or intellectual property rights. Should you disagree to any of the above, please contact the Military Aviation Museum to process this request.