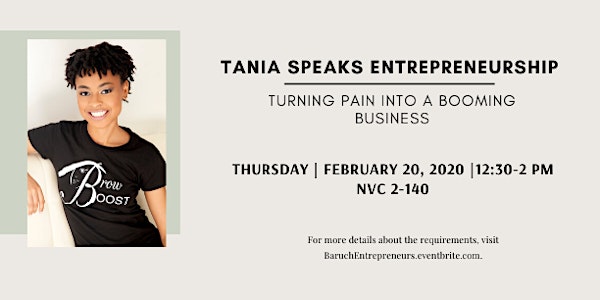 Tania Speaks Entrepreneurship: Turning Pain Into A Booming Business
Learn how Tania Speaks broke out of her shell and turn negativity into positivity and builts Brow Boost, an organic skin care company.
When and where
Location
The Lawrence N. Field Center for Entrepreneurship 55 Lexington Avenue Room 2-140 New York, NY 10010
About this event
Open to CUNY students, alumni, faculty, and staff.
Tania Speaks, teen entrepreneur, as featured in Forbes, Black Enterprise, Adweek, and named one of TIME Magazine's Most Influential Teens will introduce students to the uncut truth about being your own boss and using pain to fuel a profitable business. Through sharing her journey, participants will acquire the necessary skills to make money and develop creative capacity and entrepreneurial confidence.
Light lunch will be provided.
ABOUT TANIA SPEAKS:
Tania A. Speaks is an 18-year-old, enthusiastic teen entrepreneur and founder of Brow Boost, an organic skin care company. Tania holds an immense passion for empowering others and her impressive blend of confidence and skills assist her in inspiring individuals to attain greatness in every aspect of life.
In October 2016, at the age of 15, Tania formulated Brow Boost, an organic eyebrow gel for individuals who desire to tame their bushy eyebrows as well as grow thinning brows. At a young age, Tania endured bullying for having bushy brows. She was too young to be professionally serviced. Tania was motivated and determined to find a solution to her problem brows. In fact, she wanted to help others build their confidence and gain strong self-belief. Following the success of Brow Boost, in 2017, she introduced her new men's line called Beard Boost – an organic beard oil. Brow Boost products are naturally sourced and made from the Aloe Vera plant, Vitamin E, and essential oils. The remarkable success of her products strengthened her business more than 60% in her first five months as a professional teen entrepreneur. She has obtained additional capital by winning several business pitch competitions and has been featured in Forbes, Black Enterprise, Sheen, The Root, and named one of Time Magazine's Most Influential Teens of 2018.
Speaks is also a scholar and was ranked in the top 5% of her high school class. She maintained a 4.0 grade point average while taking college courses to enable her to skip her junior year. She is currently a sophomore majoring in Entrepreneurship at Hofstra University in Long Island, New York.
Tania's commitment to helping teens overcome obstacles is demonstrated as the co-founder of LIFEshift, an empowerment group for teens between the ages of 12-19. Her straightforward objective is to offer a teen perspective to the lessons and activities that reinforce resiliency during life transitions. Speaks spends her free time encouraging other teens to consider entrepreneurship and being an advocate against bullying.
Tania is always looking for opportunities to share her story and products with the world.
You are invited to stay connected via email at tania@browboostgel.com, www.browboostgel.com, or on social media: @tania.speaks on Instagram and @BrowBoost on Facebook.