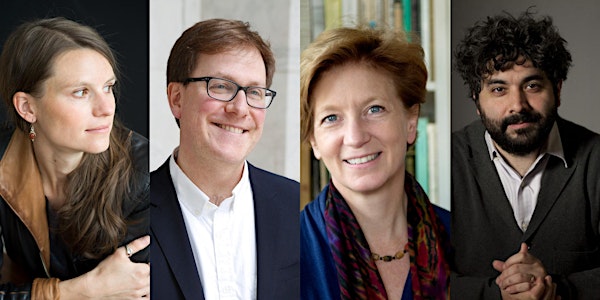 Tangled Legacies: Jünger's Marble Cliffs
Ajay Singh Chaudhary, Tess Lewis, Jessi Jezewska Stevens, and Corey Robin discuss Ernst Jünger's novel On The Marble Cliffs.
When and where
Location
Goethe-Institut New York 30 Irving Place New York, NY 10003
About this event
1 hour 30 minutes

Mobile eTicket
Ernst Jünger's On the Marble Cliffs is both a mesmerizing work of fantasy and an allegory of the advent of fascism. Tess Lewis, translator of this new edition, published by New York Review Books, is joined by Jessi Jezewska Stevens, author of the introduction, Ajay Singh Chaudhary, executive director of the Brooklyn Institute for Social Research, and Corey Rubin, political theorist and journalist, for a discussion of this caliginous masterpiece.
Jünger's tangled legacy, comprising his long-standing service as a highly decorated officer, first in World War I and later in the Wehrmacht, was an expression of his rejection of liberal democratic values and support of German militarism, yet his decisive turn against Nazi totalitarianism led him to call, belatedly, for peace. In 1944 he was expelled from the army. Jünger's novel presages this volte-face, and its timely invocation of the fraught dialectic between the violence of military expansion and the desire for peace is embodied by its protagonists, two brothers who have seen enough of war and have resolved to live quiet lives devoted to inner reflection and the pursuit of knowledge.
Join us for a discussion of the ambivalent legacy of one of the twentieth century's most gifted and contradictory writers.
Ajay Singh Chaudhary is the executive director of the Brooklyn Institute for Social Research and a core faculty member specializing in social and political theory. He holds a Ph.D. from Columbia University and an M.Sc. from the London School of Economics. His research focuses on social and political theory, Frankfurt School critical theory, political economy, political ecology, media, religion, and post-colonial studies. He has written for The Guardian, The Nation, The Baffler, n+1, Los Angeles Review of Books, Quartz, Social Text, Dialectical Anthropology, The Hedgehog Review, Filmmaker Magazine, and 3quarksdaily, among other venues. Ajay is currently writing a manuscript on the politics of climate change.
Tess Lewis is a writer and translator from French and German. Her translations include works by Peter Handke, Walter Benjamin, Lutz Seiler, Jonas Lüscher and Philippe Jaccottet. Her awards include the 2017 PEN Translation Award for her translation of Maja Haderlap's novel Angel of Oblivion and a Guggenheim Fellowship. Her essays and reviews have appeared in a number of publications including Granta, Bookforum, and The Los Angeles Review of Books. She is an Advisory Editor for The Hudson Review and co-curator of the Festival Neue Literature. She is currently the Berlin Prize Fellow at the American Academy in Berlin.
Corey Robin is Distinguished Professor of Political Science at Brooklyn College and the CUNY Graduate Center. A frequent contributor to The New Yorker, The New York Review of Books, and other publications, Robin is the recipient of awards and fellowships from the Cullman Center of the New York Public Library, the American Council of Learned Societies, the Russell Sage Foundation, and the American Political Science Association. His books and essays have been translated into thirteen languages, and he has appeared on NPR, MSNBC, and other media outlets.
Jessi Jezewska Stevens is the author of The Visitors and The Exhibition of Persephone Q. Her stories and essays have appeared in The New Yorker, The Nation, The New York Times, Foreign Policy, The Paris Review, Tin House, and elsewhere. She holds a BA in Mathematics from Middlebury College and an MFA from Columbia University. She lives in New York and Geneva.
This event is co-sponsored by the Brooklyn Institute for Social Research and New York Review Books.