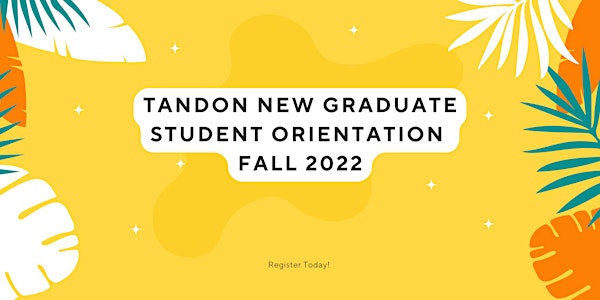 Tandon New Graduate Student Orientation (NGSO) - Fall 2022
Congratulations and welcome to the NYU Tandon School of Engineering! We are excited to welcome you to NGSO Fall 2022!
When and where
Location
NYU Tandon School of Engineering 6 MetroTech Center Brooklyn, NY 11201
About this event
To open registration access, please select "Enter access code" and enter your 9-digit NYU N Number INCLUDING the N (i.e. N12345678). If your N Number does not work, please email orientation.tandonstudentlife@nyu.edu. 
This registration serves as your RSVP for the New Graduate Student Orientation (NGSO) Fall 2022. Once you register you will be set to attend NGSO on 8/23 - 8/25.
Note: Required sessions will be on the first two days of orientation (8/23 & 8/24) with the exception of the PhD Orientation which will be on 8/25.
While going through the registration process you will prompted to answer a series of questions. Please note that the time limit for completing the questions is 20 minutes only and that the system will timeout. If you are unable to complete the registration in that time frame or if you accidentally close your browser before finishing the registration process, you can go back to the registration link again and register. Note that in any such case, you can use your N number as the promotional code again after 15 minutes.
For more information and updates on New Graduate Student Orientation (NGSO) Fall 2022 please visit: https://engineering.nyu.edu/campus-and-community/student-life/graduate-student-orientation