About this Event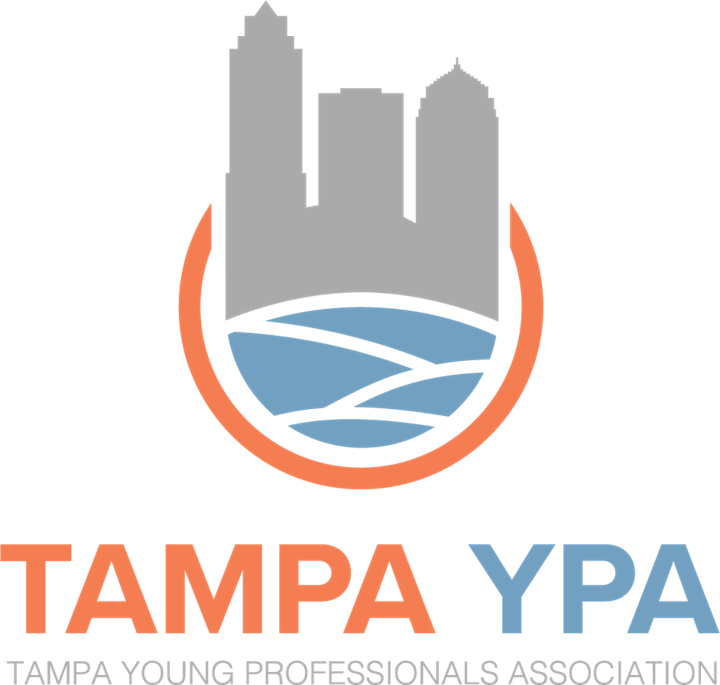 About This Event:
When: Saturday May 16, 2020
What Time: 8:30am - 11:30am
Where: 2801 N. Nebraska Avenue, 33602
Who: Twelve(12) Committed Volunteers needed
Committed Volunteers Needed (12) to RSVP for our Community Outreach event, in which we will assist in serving breakfast to local residents in the dining facility, while others will assist in ensuring the dining tables are clean and prepared for new guests.
Dress code for the event is long pants, closed-toe shoes, and a shirt with sleeves. For the first six who RSVP to commit, you will be provided a #TampaGivesBack long sleeve volunteer shirt courtesy of Tampa YPA.
About Feeding Tampa Bay:
Founded in 1982, Feeding Tampa Bay, a member of Feeding America, feeds over 600,000 hungry people across West Central For every $1 dollar that is donated, they can provide 10 meals to families in need.
This is an amazing opportunity to not only give back to the community, but also meet other members of the fastest growing professional networking group in the city, make organic connections while providing an incredible service.
About Tampa YPA:
The Tampa Young Professionals Association (Tampa YPA) is a professional networking organization representing 150+ men and women from various industries and professions. Tampa YPA helps members develop and grow in their personal and professional lives by providing business networking, cultural, leadership development and social opportunities. Tampa YPA powers the #TampaGivesBack community outreach series, in which we strive to collective volunteer over 5,000 man hours in 2020 across several fundraising & volunteer events for Tampa Bay nonprofit organizations. We also present networking mixers and after-work socials at some of the most desirable venues in the city.
🔜Our website TampaYPA.com will be launching soon with a full list of all networking mixers, community outreach events, and other special projects we are apart of in 2020.
Follow us on Instagram @TampaYPA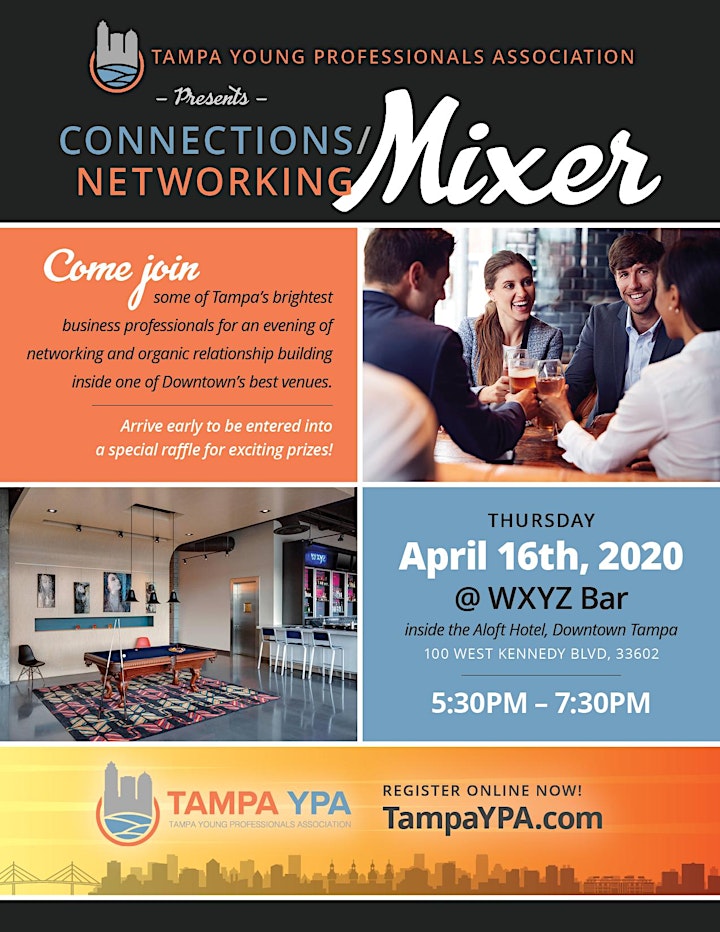 Tampa Young Professionals Association invites you to attend Connections Part I, taking place Thursday evening, April 16, 2020 inside the WXYZ Bar at the Aloft Tampa Downtown (100 West Kennedy Blvd)for a mixer that will bring together some of the areas best and brightest business professionals to unwind, socialize and network.
The WXYZ Bar provides a vibrant networking scene for young professionals from a cross-section of industries to experience the best of what Downtown Tampa has to offer. Our events are for singles, couples and groups of friends, everyone is welcome.
What to wear?
Come as you are. After work attire, business or business casual works.
The Environment
The WXYZ Bar faces the waterfront on the Riverwalk in the heart of Downtown Tampa, and it's modern and inviting area compliments the vast selection of cocktails crafted by the wonderful staff. Enjoy making new connections with great views of the city.
Parking
We suggest utilizing rideshare services (Uber, Lyft). There will be valet parking available at the hotel, along with nearby city garage parking (Poe Parking Garage - 800 N. Ashley Drive, 0.4 mile walk to the hotel).
Tickets
Advanced ticket purchase is strongly recommended for Connections, and will be available starting on Monday, March 2. Businesses interested in securing one of the limited vendor tables available will also be able to secure their spot on that day. Additional information will be available on our website, TampaYPA.com on Monday, March 2.