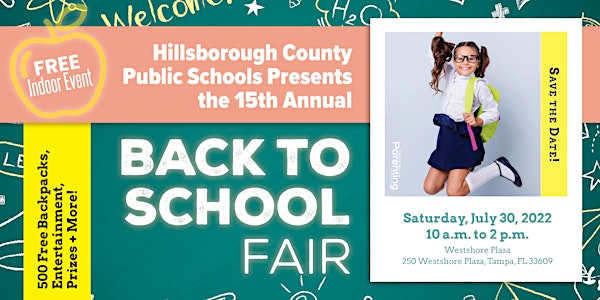 Tampa Bay's Largest Back to School Fair
Tampa's Largest Back to School Fair returns on July 30! The 15th Annual Back to School Fair presented by Hillsborough County Public Schools.
When and where
Location
Westshore Plaza Shopping Mall 250 Westshore Plaza Tampa, FL 33609
About this event
Tampa's Largest Back to School Fair returns to Westshore Plaza on July 30!
The 15th Annual Back to School Fair presented by Hillsborough County Public Schools will gather the best Tampa Bay has to offer to make the upcoming school year the best one yet! … and yes, it's FREE!
(Interested in learning about vendor or sponsor opportunities? Click here for more info on this amazing event!)
This awesome back to school bash takes place INSIDE THE AIR CONDITIONED comfort of Westshore Plaza shopping mall on Sales Tax Holiday Saturday! This means you won't have to pay sales tax on your school related purchases! (Click here for more info on Sales Tax Holiday) What a great time to get your school shopping done!
FREE backpacks are given to the first 500 kids in the backpack line (Exact Location TBD - follow the signs in the mall) - the line for free backpacks usually starts to form around 9am, and there are just 500 backpacks to give out - so get there early and don't miss out!
Back to School Fair, Tampa Bay's ultimate back to school bash, presented by Hillsborough County Public Schools is taking over WestShore Plaza mall in Tampa, a giant air conditioned indoor mall from 10am to 2pm on Saturday, July 30, and you won't want to miss it!
Last year our back to school bash had some awesome entertainment and this year we are at it again! Bringing back the favorites and more.
Meet and take pictures with Captain Fear from the Tampa Bay Buccaneers and ThunderBug from the Tampa Bay Lightning!
Pose for pictures, listen to a story, and sing with the Princesses of Parties with Character!
Get your face painted by Let's Plan A Party!
FREE Backpacks to the FIRST 500 Kids in line!
Drawings and contests throughout the day! Enter HERE.
Over 50 different vendors, including non-profits, schools, activity providers and more!
Enjoy performances, games, and activities throughout the event.
Tampa Bay Parenting's Back to School Fair and back to school bash on Saturday will start off bright and early at 10 a.m. with the first 500 kids who arrive receiving a FREE back to school book bag! From there, Tampa Bay's Back to School Fair and back to school bash will continue to rev up with live entertainment, hands on activities, workshops, speaker sessions, and so much more. In addition, local exhibitors will be providing all sorts of back to school related information including health & wellness, safety, private and public schools, resources, childcare, after school programs, school supplies, tutors, children's retailers, finances and much more! And with 60+ retailers, Tampa's Back to School Fair presented by Hillsborough County Public Schools at WestShore Plaza will give families the chance to get all of your back to school shopping done at the same time.
Thanks to our sponsors and exhibitors we are giving away a handful of awesome prize packages this year!! Visit tampabayparenting.com/BTSF_EntertoWin to see all the details and enter to win.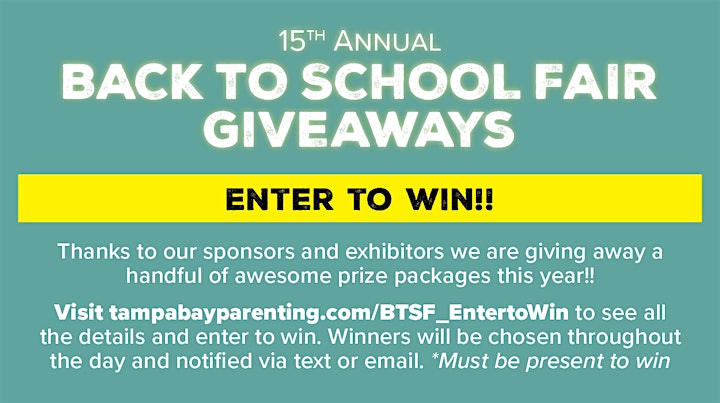 Presenters, Sponsors, Partners and Exhibitors
Class Sponsors
Exhibitors
Children's Board of Hillsborough County
Barbizon Modeling & Acting
Barrett School of Music
Boy Scouts of America
Brain Balance of Westchase
CodeFu Tampa
Comparion Insurance Agency
Early Childhood Council of Hillsborough County
Esports Players Club
Florida Eye Specialists & Cataract Institute
Girl Scouts of West Central Florida
HART
Hillsborough County Anti-Bullying Advisory Committee
Hillsborough County Council PTA
Hillsborough County Sherriff's Office
Humane Society of Tampa Bay
i9 Sports
iParticipate
Keiser University
Let's Plan A Party
McIlwain Dental Specialists
New York Life
Parties with Character
Pediatric Associates
Playa Family Dentistry
Quest Kids Therapy
Ruth Eckerd Hall
SailFuture Academy
St. Peter Claver Catholic School
State Farm
Steam Your Dreams, Inc.
Tampa Bay Lightning's Rolling Thunder
Tampa Bay Rowdies
Tampa-Hillsborough County Public Library
Tampa Police Department
TGH Imaging – Powered by Tower
TLC Pediatric Dentistry & Orthodontics
US Army Recruiting, Tampa Central
VIP Image by Clara
Wee Macree
ZooTampa
Zubrick Magic Theatre
For information on becoming an exhibitor or vendor, check out our vendor page here!