Description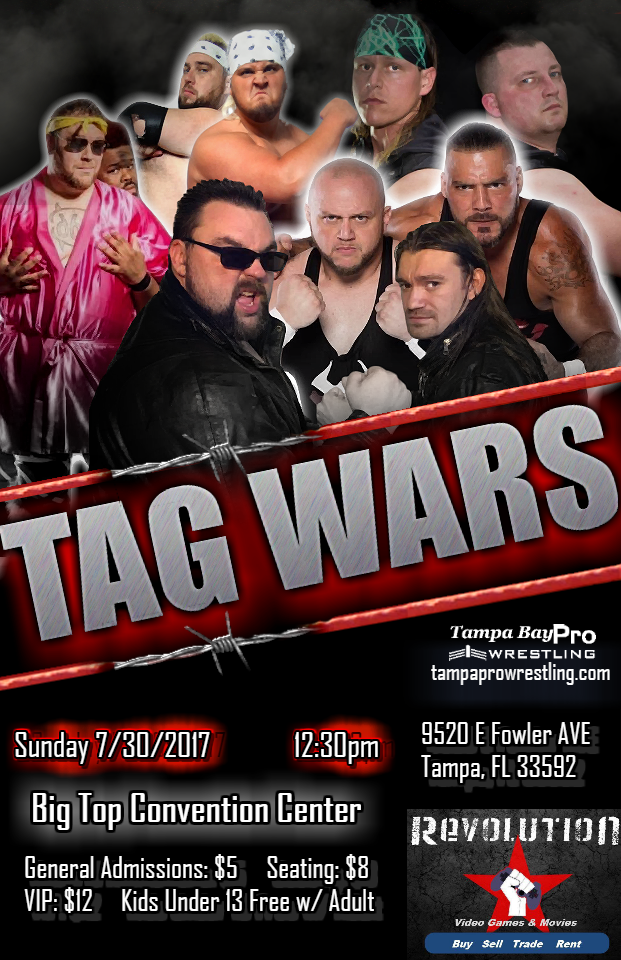 Sunday 7/30/2017 - 12:30 PM - 3:00 PM - Tampa Bay Pro Wrestling presents "Tag Wars"
Featuring: Rhett "The Freak" Giddins, Hunter Law, Troy Hollywood, Sideshow, "The Mercenary Pittbull" Romeo Quevedo, Dax "The Axe", Eddie Taurus, Danny Vincent, Brandi Lauren, Mason Price, Tony Storm, "The Technical Alchemist" David Mercury, "The Outlaw" Mitch Mitchell, Michael Patrick, Leo Brien, "The Maverick" Chris Calloway, Snoop Strikes, Damien Angel, Danny Vincent, Jason Bates, Alex Perry, Cobalt, Steven Frick, Coach Kid, Richey Pepperfield, Brandon Law. Kaydan Green, Ronnie Rios, "The Brooklyn Juggernaut" Romeo, and much more.
Projected Card includes a Tag-Team Title Tournament, featuring Stateline, Regenesis, The Renegades, The Dirty Blondes, The Coda, The Heavyhearts, The Extreme Alliance and the American Outlaws.
A Free Courtesy Signing (12PM) by The Spicy Flyers (Chango Fuego & Ruby Flyer)
Brandi Lauren vs a Debuting Lethal Academy Ladies Graduate
Cobalt vs "The Franchise Rookie Richie Pepperfield (w/ the Dynasty) in a grudge match
Jason Bates vs "The Brooklyn Juggernaut" Romeo
A medical update the condition of Brandon Law
(C) Rhett Giddins, Snoop Strikes and Danny Vincent vs Troy Hollywood, David Mercury and Hunter Law
Match Card is Subject to change

Big Top Convention Center, 9250 E Fowler Ave, Tampa, FL 33592. (Building N)
Children are free at the show with a paying adult, Additional Chairs are made available in all sections for the children to sit with their parents. Please ask the ticket counter day of the show for additional information.
More information on www.tampabayprowrestling.com
Bottled Water is included for Free with all tickets.