Description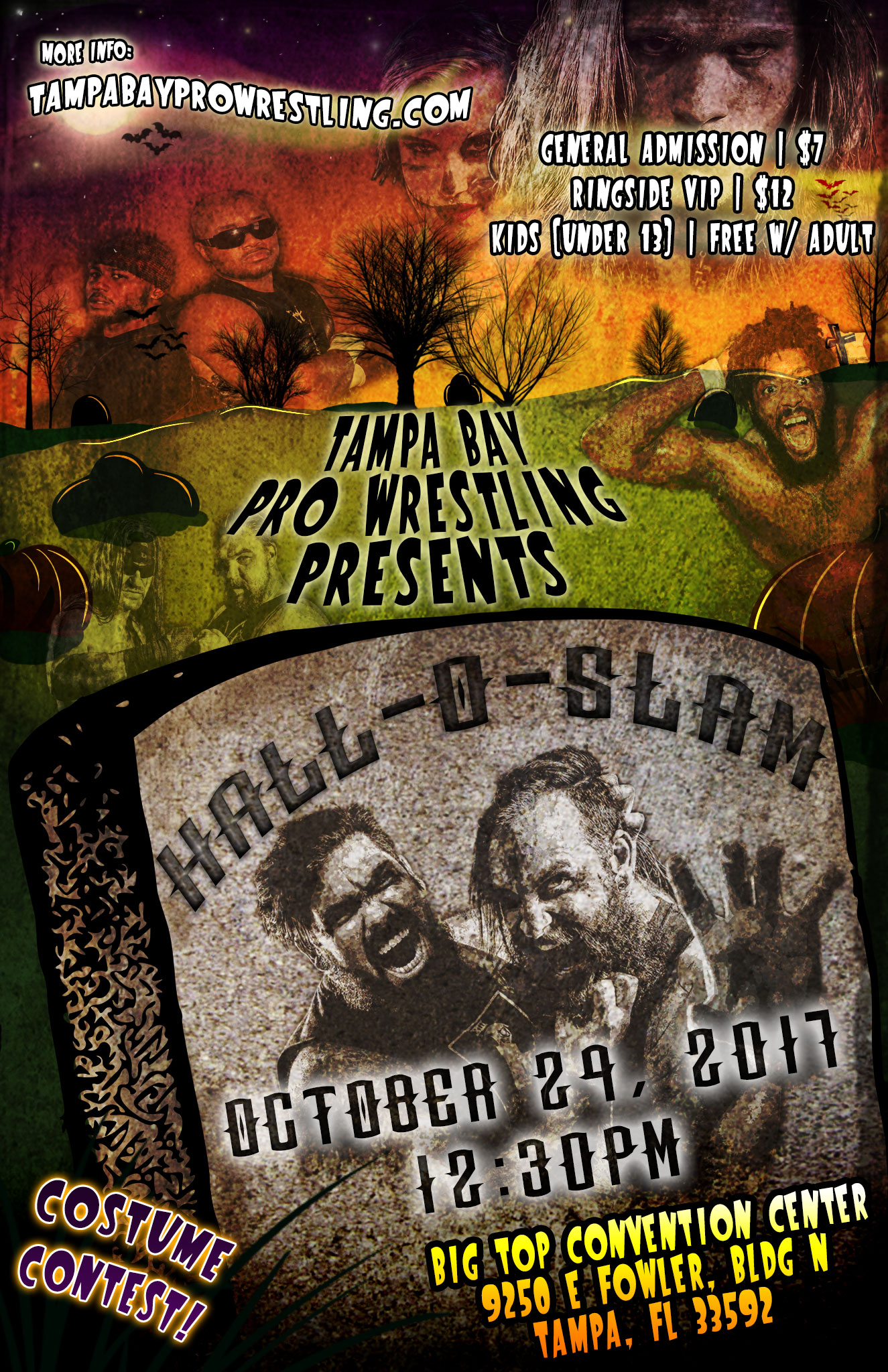 Sunday 10/29/2017 - 12:30 PM - 3:00 PM - Tampa Bay Pro Wrestling presents "Hall-O-Slam"
Featuring: Troy Hollywood, "The Absolute Best" Hunter Law, Dax "The Axe", Eddie Taurus, Damian Angel, Danny Vincent,"The Maverick" Chris Calloway, "The Starter" Josh Grady, Coach Kid, Chango Fuego, Cobalt, "The Franchise Rookie" Richey Pepperfield, Brandon Law, Katalina Perez, Barrington Hughes, "The Smashing Machine" Steve Frick, Apollo Jr, "TheThrillseaker" Justin Black, Miss Hannah, Kikyo and much more.
Tampa Bay Pro Heavyweight Title Match: (C) Troy Hollywood vs "The Natural" Danny Vincent
Halloween Guntlet Match - Winner gets match of their chosen with anyone under any stipulation: Featuring: Brandon Law, Rod Grimes, Chango Fuego, Barrington Hughes, Steve Frick, Apollo Jr and much more.
Tag-Team Match:The Coda w/ Serenity vs The Renegades (Dax & Calloway)
Stipulation Match Cobalt vs "The Starter" Josh Grady w/ The Dynasty (If Cobalt losses he is off the Big Top Show):
Sateria Garcia vs Darian Vichot
"Pristine" Nora Pryce vs "Smash-mouth" Katalina Perez
"The Absolute Best" Hunter Law vs "Magnitude 8" Tony Lewis
Miss Hannah vs "The Fallen Flower" Kikyo
Free Courtesy Autograph Signing by "The Coda"
Match Card is Subject to change

Big Top Convention Center, 9250 E Fowler Ave, Tampa, FL 33592. (Building N)
Children are free at the show with a paying adult, Additional Chairs are made available in all sections for the children to sit with their parents. Please ask the ticket counter day of the show for additional information.
More information on www.tampabayprowrestling.com
Bottled Water is included for Free with all tickets.