Description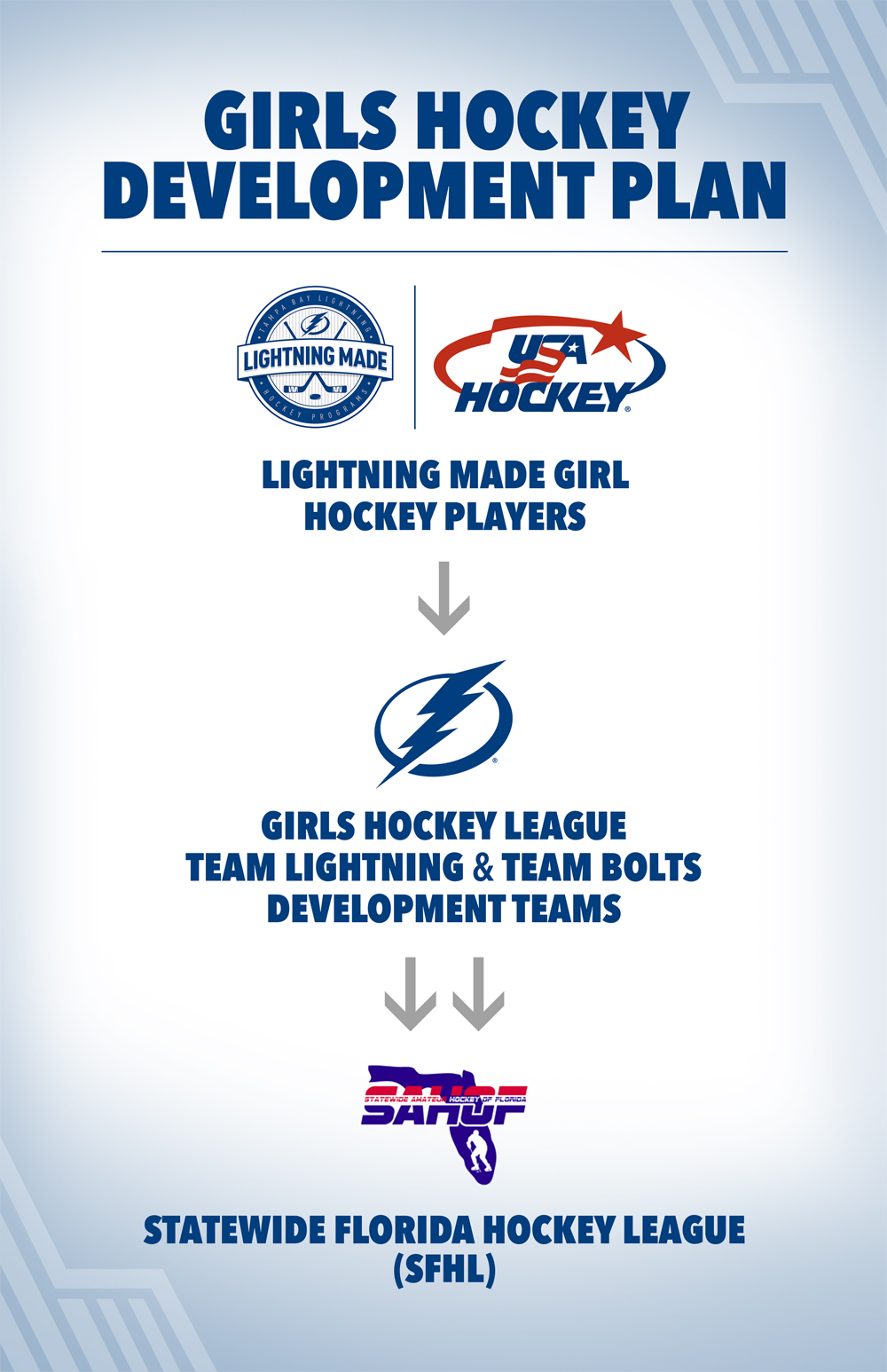 Please RSVP for a girls scrimmage/evaluation skate set for Thursday, June 22nd from 6:15-7:45pm at TBSA. All girls who attended our try-outs are invited and encouraged to attend.
Girls of every skill set have a home within the Tampa Bay Lightning Girls Hockey program! Program includes:
Team Lightning & Team Bolts - All girls within our program will be placed on one of these 2 teams. Teams will consist of players of all abilities between the ages of 8 (some exceptions may apply) and 14, creating 2 equal teams. These 2 teams will compete in 2 separate leagues. A newly developed Girls Hockey League, as well as a rec league out of one of our local rinks!
Statewide Florida Hockey League (SFHL) Teams - In addition to Team Lightning and Team Bolts, girls able to compete at a higher level will also be given the opportunity to participate on one of 2 'A' travel teams, 12U or 14U. These teams will compete in the SFHL, and will play a 18 game season against coed teams!
Development Program - If you are fairly new to the game, we want you to be involved! You will be able to attend all practices, and will be given the opportunity to play games on either Team Lightning or Team Bolts within the newly formed Girls Hockey League playing against girls only teams from Orlando! Those players born in 2009 or later may only participate in practices (some exceptions may apply) at a lower cost.
The purpose of this scrimmage, is to help us evenly distribute players between Team Lightning and Team Bolts, as well as assist us in determining which level your daughter should play at.
No matter where you fall within the program, participation within the Tampa Bay Lightning program will include:
60+ hours of on and off ice training - Practices will be rotated between Ellenton, Florida Hospital Center Ice, Clearwater Ice Arena, and Tampa Bay Skating Academy Oldsmar (weekly practices, primarily Thursday nights)
Guaranteed space in Lightning Made Holiday Camp
Tournament appearances (SFHL only)
TBL sponsored events
Game and practice schedule to follow

Costs will vary depending on level of play. Highest price option will not exceed $1,200 (Team apparel additional cost)

**By submitting team deposit and completing this registration, you are agreeing and committing to participation in the Tampa Bay Lightning Girls Hockey Program**
If you have any questions or concerns, please do not hesitate to reach out to Kristen Bowness at kbowness@amaliearena.com or 813.301.6578.