Event Information
Location
Tech Data
16202 Bay Vista Drive
Clearwater, FL 33760
Description
**Event information is subject to change.**
Tuesday, December 17, 2019
Registration: 8:00 a.m. to 8:30 a.m.
8:30 a.m. to 4:00 p.m.
Agenda:
8:00 a.m. – 8:30 a.m.
Registration/Sign-In
Continental Breakfast
Sponsored by: Bayside Solutions, Inc.


8:30 a.m. – 9:20 a.m.
William Evanina,
Director of the National Counterintelligence and Security Center, Head of Counterintelligence (CI) for the U.S. Government, Principal CI and Security Advisor to the Director of National Intelligence
Presentation: KEYNOTE SPEAKER
9:20 a.m. – 9:30 a.m.
Presidents' Messages
Sponsor Recognition and Appreciation
Trace Hollifield, President, Tampa Bay ISSA and Lisa Shasteen, President, Tampa Bay InfraGard
9:30 a.m. – 9:45 a.m.
Break
9:45 a.m. – 10:35 a.m.
Dave Summit, CISO
Moffit Cancer Center, 2019 CISO of the Year (Int'l Council of e-Commerce Consultants)
Presentation: Cybersecurity and the Healthcare Industry (Reverse Panel)
10:45 a.m. – 11:35 a.m.
Jerry Nolasco,
Founder and President, CyberSec Partners
Presentation: Cybersecurity Breach, how prepared are you?
11:35 a.m. – 1:00 p.m.
LUNCH
Sponsored by: Tampa Bay ISSA Chapter
[**InfraGard Board Special Meeting-Closed Meeting/Room location is TBA.**]


1:00 p.m. – 1:50 p.m.


Dr. Lydia Kostopoulos
Strategy and Innovation Advisor (J5/SOFWERX), USSOCOM
Presentation:
Critical Infrastructure Preparedness in the 4th Industrial Revolution: Embracing new technologies while posturing for risks
1:45 p.m. – 2:00 p.m.
BREAK
2:00 p.m. – 2:50 p.m.
Ryan Irving
Division Director, Cyber Security, Hillsborough County, Florida
Presentation:
Ransomware - A year in review, what to look for, and what can be done?
2:50 p.m. – 3:00 p.m.
BREAK
3:00 p.m. – 3:50 p.m.
George Freeman, CISA, MCSE, CCSI
Solutions Consultant, Fraud & Identity, LexisNexis Risk Solutions
Presentation
:
Cybersecurity Threat Detection & Response Using Digital Identity Intelligence
3:50 p.m. – 4:00 p.m.
Door Prizes (Must be present to win)
Closing Remarks and Meeting Adjourned


Location:
TechData
16202 Bay Vista Drive
Clearwater, FL 33760
---
Tampa Bay ISSA Chapter Members: Free
Tampa Bay InfraGard Chapter Members: Free
Non-Members: $20.00
Breakfast and Lunch will be provided to attendees.
***Be prepared to present government issued ID and membership information upon check-in at the event. Thank you!***
---
The Tampa Bay ISSA chapter thanks the following sponsors for their support! Sponsors are listed in alphabetical order.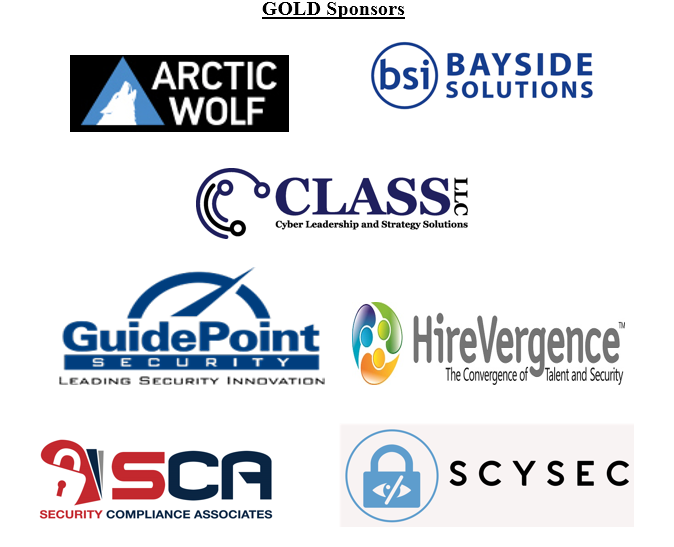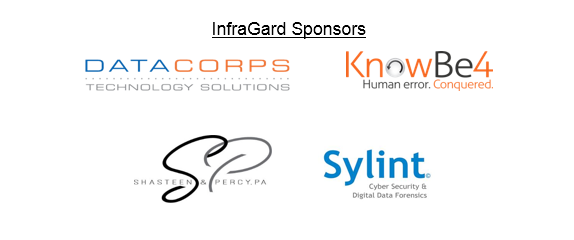 SPECIAL THANKS to Bayside Solutions for being an ISSA AND INFRAGARD SPONSOR!

Date and time
Location
Tech Data
16202 Bay Vista Drive
Clearwater, FL 33760
Refund policy