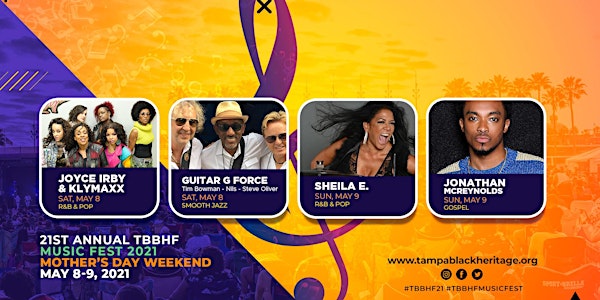 Tampa Bay Black Heritage Festival: Music Fest 2021- Virtual Experience
A Music Fest You Don't Want to Miss!
About this event
Don't live in Tampa Bay? Prefer taking in all of the sights and sounds of a great concert from the comfort of your couch? Purchase a virtual pass and enjoy the two-day music fest from anywhere with your mobile device.
▶︎ Only One Pass is needed per Household
Shortly before the day of the Fest, a unique device link will be sent via email that can be used to access the live stream.
MUSICAL LINEUP:
Saturday, May 8
❖ Joyce Irby & Klymaxx
❖ Guitar G Force
Sunday, May 9
❖ Jonathan McReynolds
❖ Sheila E