Taming the Wild West of Online Politics: Tales from 'Who Targets Me?'
Description
Sam Jeffers is helping citizens find out which political campaigns are using dark advertising and micro-targeting to persuade, dissuade and fragment their vote.
He is the co-founder of Who Targets Me?, an online tool that tracks political advertising and marketing on social media. Working with voters, researchers and the media, they are shedding new light on how today's political campaigns are using Facebook, Twitter and other social platforms to influence elections.
Join Jeffers for a conversation about how his project grew into a global phenomenon with a volunteer base of 12,000 people. You'll also hear about how he's helping to document thousands of political advertisements, and what citizens and the media can do to limit the power of social media giants and their algorithms in our politics.


---
About Sam Jeffers:
Sam Jeffers is cofounder of Who Targets Me?, a global initiative, established to monitor the use of dark advertising in our elections. He also heads up The Shop, which helps organizations solve business problems quickly, collaboratively, accurately and affordably.
Before opening The Shop, Sam Jeffers spent 7 years at Blue State Digital (the agency that helped elect President Obama in 2008 and 2012) as UK Managing Director, then Executive Creative and Strategy Director.
Sam has led client engagements with Unilever, Mazda, Google, Lloyds, The Labour Party, Oxfam, Save the Children, Tate Gallery, British Museum, Manchester City Football Club and many more.
Prior to working at Blue State, Sam ran his own digital marketing agency, specialising in arts and entertainment clients.
As a young man, he played drums in experimental rock band, Fridge, who released five albums and toured the world.
Sam holds a First Class degree in International Relations from LSE and a Masters from Harvard's Kennedy School of Government.

---
This event is presented in partnership by: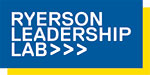 ---
By RSVPing to this event, you are giving consent to the conference organizer, International Issues Discussion, to share your contact information with Ryerson University and to receive electronic communications from Ryerson University regarding news, updates, events and promotions relating to its leadership educational initiatives and for other consistent purposes. You may withdraw your consent at any time.