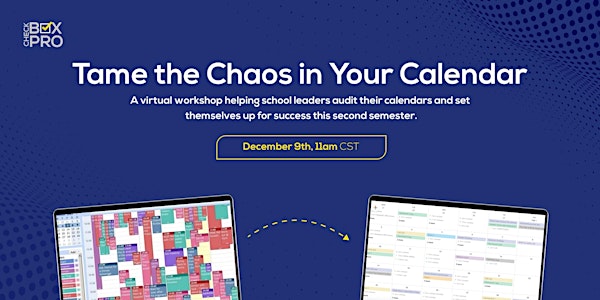 Tame the Chaos in Your Calendar
A workshop helping school leaders audit their calendars and protect the work that matters most this second semester.
About this event
Congrats, you've nearly made it through Semester 1! And if you're like most school leaders, your calendar is in such disarray that you are stumbling through the finish line. School-wide events were postponed or rescheduled. Your team added hours of extra meetings to your plate. You feel like your duct taping together policies and procedures as you go. And worse, you feel like you have no time for yourself.
At CheckBox Pro, we get it. We've organized school leaders' calendars from across the nation and understand how demanding your schedule can be. We also know best practices to help you regain control of your calendars.
So grab lunch and your calendar and join us as we audit your calendar, set priorities and automate labels, and discover opportunities for delegation to free up your time.