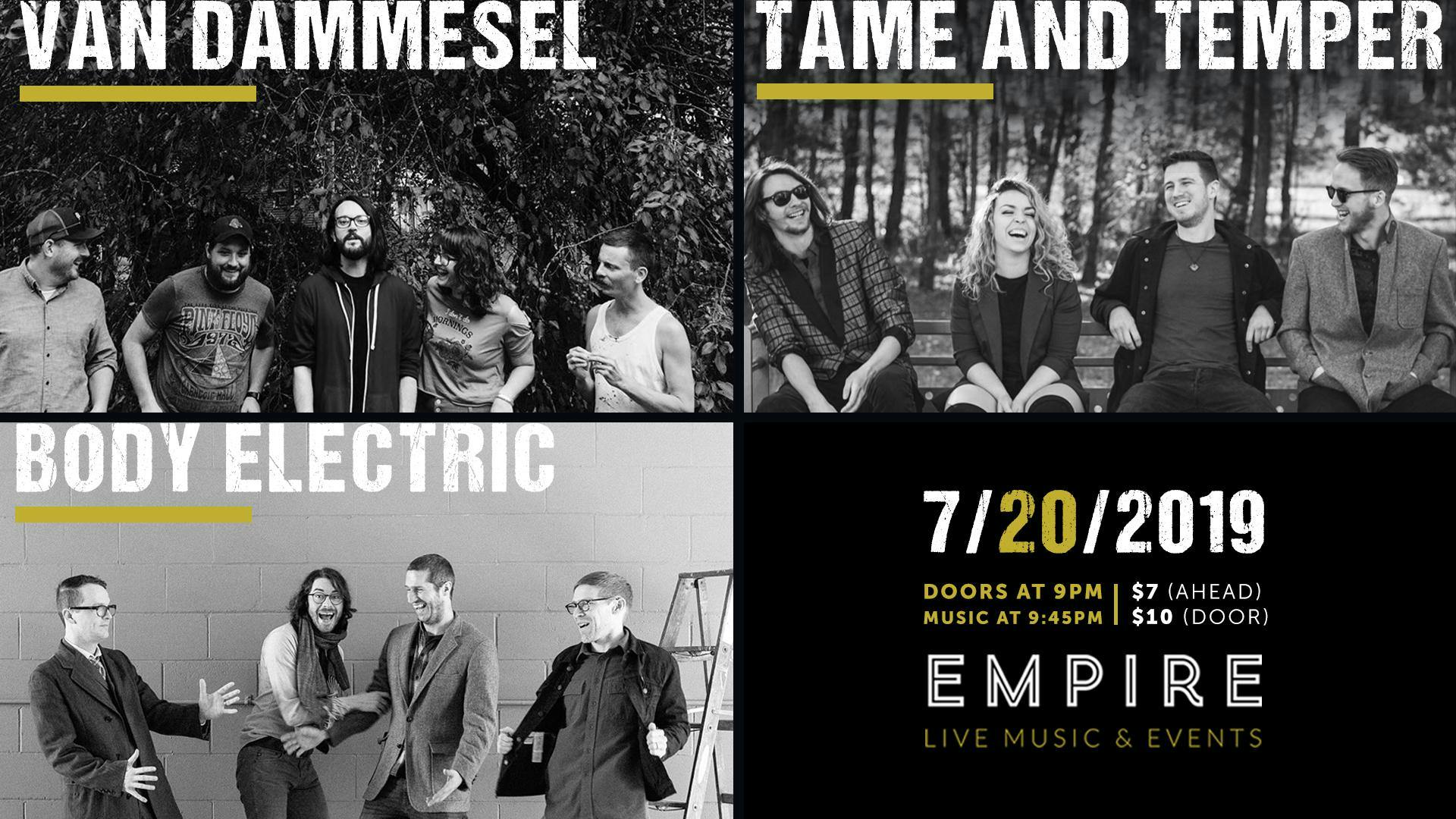 About this Event
Tame and Temper:
Tame and Temper is a Portland-Based band whose sound combines the power of rock and soul with elements of jazz, blues, and pop. Formed in late 2018, the band features Brit Martin on Vocals, Ned Lee on Guitar and Vocals, Nick Clark on Bass, and Jonathan Moore on Drums - all dedicated to creating groovin', toe-tapping tunes everyone can enjoy.
Van Dammesel:
Van Dammesel is a Biddeford based band established in April of 2014. Justin Shea and Angie MacDonald were urged toward one another by a mutual friend, and quickly announced their first EP. "Heartbeat" was released in late 2015, with the help of Justin's brother, Brendan, who was recruited during this time to help with the drum tracking/writing. Justin's previous experience with Nice Places, Marrellite, and Grand Hotel, provided the band with Guitarist/Songrwiter, Matt Roberge, and Bassist, Jason Elvin. They plan to release their full length record, "Unfamiliar Sounds", in the fall of 2019.
Van Dammesel's sound is best described as "ambient rock". Angie's dreamy vocals flow over elaborate guitar parts, and a tight rhythm section. And reverb...lots of reverb.
Body Electric:
"Pick up your head kid, it's just the internet" is more than just the opening line from Body Electric's first single "Shut Up Days" it's a credo.
Eric Bruce, Christopher Brewer, Kevin Hardson and Ryan Lamb, are products of their time, growing up with the sounds of the eighties and nineties in their headphones. From a time when our beloved screens were not portable and we had to share them with our parents. With songs about the constant news state, rapid headline culture, depression, anxiety, and also cats, Body Electric uses the sound of their youth to hold chaotic modernity at bay, if only three and a half minutes at a time.