Tamalpa Experience® Weekend Workshop at Estelle Stair Gallery

Saturday, July 12, 2014 at 10:00 AM

-

Sunday, July 13, 2014 at 5:00 PM
Event Details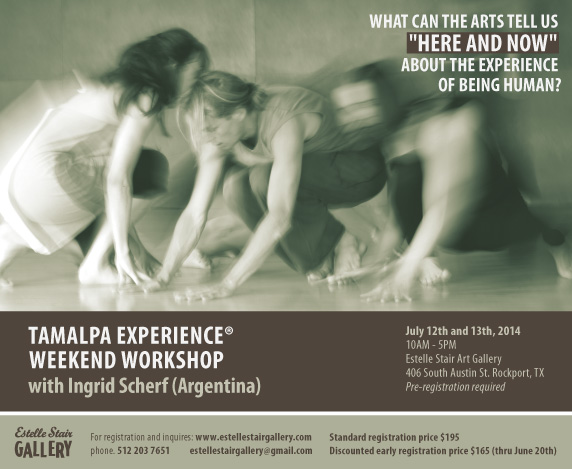 Estelle Stair Gallery Presents
A Tamalpa Experience®
A Weekend of Movement-Based Expressive Arts with Special Guest Artist and Educator Ingrid Scherf (Buenos Aires, Argentina)
About the Workshop
The Tamalpa Experience® introduces an approach that enlivens dialogue between the body, imagination, life experiences, and art making. Using movement, drawing, poetic writing, and improvisational performance, participants will tap into art's symbolic language to explore current life themes and generate new resources to engage with life and art in more meaningful ways.

As co-founder of the Tamalpa Institute, Daria Halprin, likes to say, we will engage in a "serious play". It's in this serious play that we encounter rich and juicy material to feed our lives; material which expresses our dreams, the wild calls of heart, spirit, and soul, and the fears, doubts and blockages to honest and open expression of the former in our everyday lives.  This is art-making more concerned with developing higher levels of sensitivity and creative freedom than increasing technical skill.  As humans, we are all sensing, feeling beings who benefit from creative expression, this is a workshop for the those who both do and do not identify with the title of "artist", both will equally benefit from this work.

At the conclusion of this 2-day workshop, participants will leave with an experiential understanding of the Tamalpa work in movement-based expressive arts and have new resources for maintaining and building deeper, richer connections with their creative bodies so they may express themselves more openly and artfully in both the studio and in the other spaces of their day-to-day lives.

When
Saturday and Sunday, July 12th & 13th, 2014
10AM to 5PM (1.5 hour break for lunch and rest both days)
What to Bring

We suggest that participants wear comfortable, non-restrictive clothing so that they can move freely during all the activities. 
Please consider bringing a lunch so we can picnic together in the courtyard behind the gallery during the break. Coastal Bend HealthFoods is within walking distance and has many great options to choose from, however it is not open on Sundays. Participants may store their lunches in the refrigerator at the gallery.  
All art-making materials for the workshop will be provided, however, bringing a notebook and pen is highly encouraged. 
Founded in 1978, the Tamalpa Institute offers training programs and workshops in the "Life/Art Process®", a movement-based expressive arts approach that integrates movement/dance, visual arts, performance techniques and therapeutic practices. This approach supports personal, interpersonal and social transformation, teaching new models for health, psychology, art and communication. This work was originated in the 1950's by Anna Halprin, who is among the first pioneers in the contemporary Western world to use dance as a healing and transformative art. In the 1970's, Daria Halprin further developed the artistic and therapeutic aspects of this work and articulated the methodology that is currently taught in our programs.
About the Teacher
Ingrid Scherf is a visual artist and educator who studied at Instituto Universitario Nacional de Artes (IUNA), in Buenos Aires. Ingrid continued to develop her work as a visual artist through private study and mentorship under renowned artists. She has participated in art exhibitons, both individual and collective in South America and Europe. Ingrid has many years of teaching experience having founded a small community studio in Buenos Aires in 2001 and teaching there for several years. She is graduate of the Tamalpa Institute's teacher training program.
Ingrid lives in Buenos Aires, where she offers public classes and workshops in various locations around the city in addition to facilitating private programs within companies. Her work supports people to develop the ability of expressing themselves fully and enjoy that artful act, whether they identify with the title of "artist", or not. Ingrid is an active member of the Tamalpa ArtCorps, a program dedicated to taking the Tamalpa work to underserved, disadvantaged communities. She runs an expressive arts program for women's empowerment for the women of "La Villa 31", one of Buenos Aires largest marginalized communities, supporting them in expressing themselves and their stories in creative ways. Learn more about Tamalpa ArtCorps in the video below:
Cancellation & Refund Policy
Estelle Stair Gallery reserves the right to cancel a program at any time. If Estelle Stair Gallery cancels a program, you will receive a full refund. 
Refunds are available (less a $50 processing fee) up to eight days before your program or stay.
No credit or refund is available if you cancel within one week of the event start date; if you do not show up; or if you leave the event early for any reason.
When & Where

Estelle Stair Gallery
406 S Austin St
Rockport, TX 78382


Saturday, July 12, 2014 at 10:00 AM

-

Sunday, July 13, 2014 at 5:00 PM
Add to my calendar