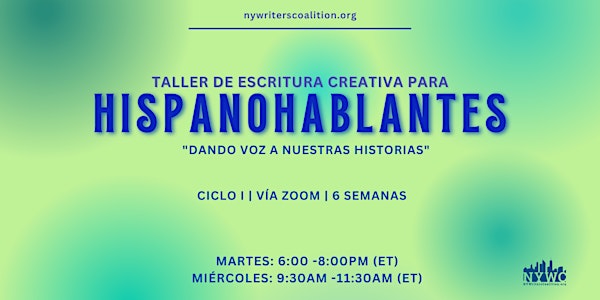 Taller de Escritura Creativa para Hispanohablantes
Join us for a NYWC drop-in writing workshop!
Date and time
Starts on Tuesday, February 14 · 3pm PST
Refund Policy
Contact the organizer to request a refund.
About this event
Please note that the entirety of this workshop will be in Spanish. If you are not Spanish-speaking or are not comfortable speaking in Spanish, we kindly ask for you not to attend.
La totalidad de este taller será en español. Si no habla español o no se siente cómodo hablando en español, le rogamos que no asista.
¡Únase a los talleres gratuitos (virtuales) de escritura creativa de NY Writers Coalition! No se necesita experiencia en escritura, y los escritores de todos los niveles de experiencia son bienvenidos. Nuestro trabajo amplifica las voces de personas históricamente no escuchadas y de escasos recursos en nuestra sociedad, y damos la bienvenida a personas de todos los orígenes.
Los talleres de NYWC se basan en el método de taller de Amherst Writers & Artists desarrollado por Pat Schneider (detallado en su libro, Writing Alone and with Others) y están dirigidos por un líder de taller capacitado y experimentado. Nuestros líderes recibirán estipendios por su trabajo, lo que esperamos alivie de alguna manera el momento actual de incertidumbre financiera entre los artistas, por lo que, aunque todos los talleres son gratuitos, ¡su participación realmente ayudará a apoyar a escritores y activistas!
En este taller sin cita previa, los participantes escribirán una pieza en respuesta a indicaciones opcionales proporcionadas por el líder. Puede escribir cualquier género y usar este tiempo como más le convenga: para escribir un diario; hacer una lista de cosas por hacer; escribir una carta; crea un poema, historias, ensayos, obras de teatro o diatribas, o cualquier otra cosa que te inspire. Una vez transcurrido el tiempo de escritura, los participantes tienen la opción, aunque no están obligados, de compartir sus piezas nuevas. Algunos talleres harán tiempo para comentarios positivos y de apoyo, mientras que otros solo consistirán en escribir y compartir lo que se ha escrito.
Estos talleres se llevarán a cabo virtualmente, a través de Zoom. No necesita una cuenta para unirse, ya que le proporcionaremos un enlace directo, pero se le pedirá que descargue la aplicación Zoom en su teléfono o computadora. Puede participar solo con audio o con una cámara (que es preferible pero no obligatorio).
Estos talleres son de pago-lo-que-pueda, con donaciones sugeridas de $50, $25 o $0, lo que sea con lo que se sienta cómodo. Si cree que puede contribuir monetariamente a su taller de escritura de 6 semanas, proceda con Pague lo que pueda e ingrese la cantidad que le gustaría donar. Si actualmente no está en condiciones de donar, continúe con Gratis. Aunque técnicamente se trata de dos salidas separadas, el resultado y el espacio que reserve en el taller será exactamente el mismo, sin preguntas.
Debido a la demanda, solo regístrese si sabe que puede hacerlo. Si se registra y su disponibilidad ha cambiado, le pedimos que cancele su pedido para que otra persona pueda asistir. Gracias.
Acerca de NYWC
NY Writers Coalition Inc. (NYWC) es uno de los programas comunitarios de escritura creativa más grandes del mundo. Nos asociamos con instituciones públicas y privadas, agencias de servicios sociales y organizaciones de justicia social para brindar talleres semanales continuos de escritura creativa únicos y empoderadores en toda la ciudad de Nueva York. Nuestros talleres están especialmente dirigidos a personas desatendidas, incluidos jóvenes, adultos mayores, mujeres, comunidades LGBT, personas que viven con discapacidades, personas que están encarceladas o anteriormente encarceladas u otras personas con necesidades especiales. Los escritores participan en las lecturas de NYWC y su trabajo se publica en las publicaciones de alta calidad de NYWC. Si desea hacer una donación para apoyar los talleres de escritura creativa, las publicaciones, los líderes de talleres y las plataformas virtuales de NYWC, haga clic aquí.