Come make a calavera in celebration of Día de Muertos!
About this event
No ofrenda is complete without a richly decorated calavera. And Artist Ivonne Pinto-Garcia will show us how to make one with the help of generous folks from the Philadelphia Folklore Project. With the proper care, calaveras can last for years and become part of your annual Day of the Dead decorations.
In this bilingual workshop (presented in Spanish), participants will learn about the traditions of Día de Muertos and how to make sugar skulls as everyone—both in-person and virtual—decorates pre-made and dried skulls (virtual attendees can arrange to pick up at the Parkway Central Library the day before by emailing kitchen@freelibrary.org). Afterwards, you'll have the one you created during the class to decorate too! This workshop is open to teens and adults.
Safety is our top priority. This hybrid event has limited in-person tickets to ensure safe, physical distancing as well as an option to attend virtually via Zoom. According to current guidance from the city of Philadelphia, it is required that all in-person attendees, regardless of vaccination status, mask for this indoor event. Those who are not fully vaccinated should take additional precautions. For more information about our Covid safety precautions, please email kitchen@freelibrary.org.
All proceeds from ticket sales go towards supporting the Culinary Literacy's Center programs for youth, neighborhood engagement, and English language learning. To learn more, please visit freelibrary.org/cook! Free tickets are available for SNAP eligible families and for anyone who cannot afford the fee right now but would still like to participate. Please email kitchen@freelibrary.org for more information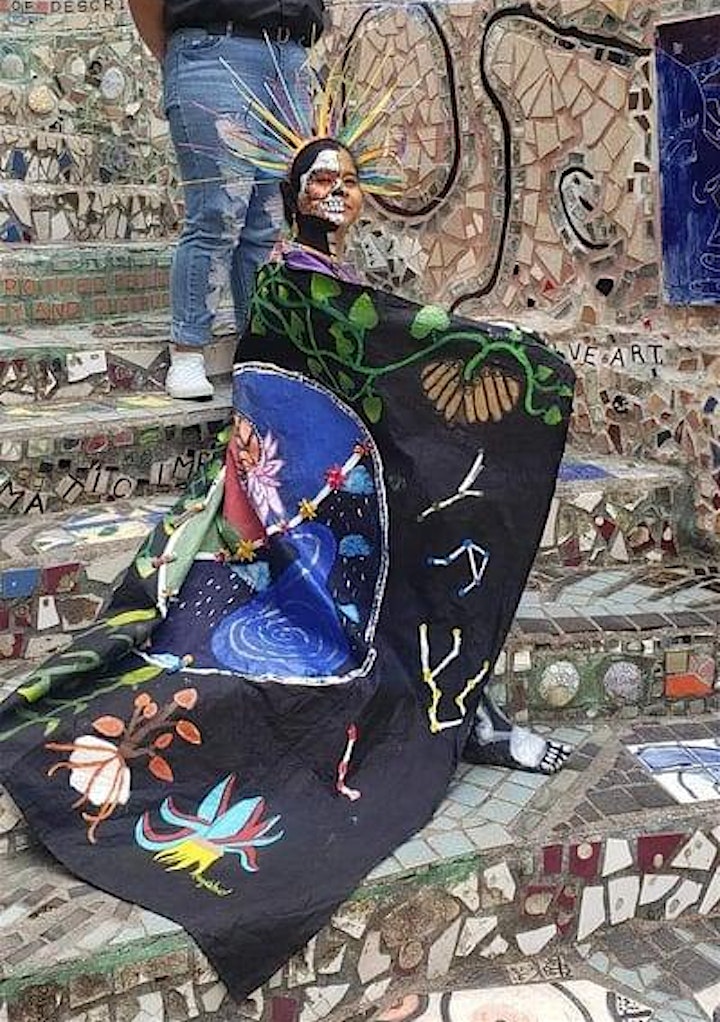 Ivonne Pinto-García was born in 1981 in the town of San Martin Texmelucan , Puebla, Mexico. In 2005 Ivonne migrated to Philadelphia, making the city her second home. She is a gifted community organizer, and has been critical in building strong community support networks across the Mexican community, and facilitating community members' access to quality healthcare, education, expression, and wellness opportunities. Ivonne is also a skilled and visionary artist and has served for two years on Fleisher Art Memorial's Día de los Muertos Calaca Flaca committee, where she participates in visioning and realizing community-based designs for the month-long celebration.
Ivonne's warmth is infectious, she fosters that critical sense of inclusion, welcome, and safety in everything and everyone she touches. Her spirit, boundless openness and energy, and fierce commitment to her community inspires each of us on a daily basis.
(adapted from her Philadelphia Folklore Project biography)

Organizer of Taller de Calaveritas de Azúcar - Day of the Dead Sugar Skull workshop
Every bite of food we eat tells a story. Here's ours:
The Free Library is advancing literacy in Philadelphia in a unique and innovative way—with a fork and a spoon. Cooking and eating are educational acts and provide opportunities to learn math, science, languages, history and so much more. Using cooking as the vehicle for learning, the Culinary Literacy Center advances literacy through food and cooking around a communal table.
Opened in 2014, the Culinary Literacy Center is the first space of its kind in a public library and serves as a model for libraries worldwide. The Culinary Literacy Center is based in our kitchen classroom at Parkway Central, but we offer programming at nearly all of our neighborhood libraries. Culinary Literacy Center programs teach healthy cooking, build community, and promote civic dialogue.
Pull up a seat at our table and see what's cooking at the Free Library of Philadelphia!