Tallahassee Turkey Trot 2015

Thursday, November 26, 2015 from 8:00 AM to 10:00 AM (EST)
Event Details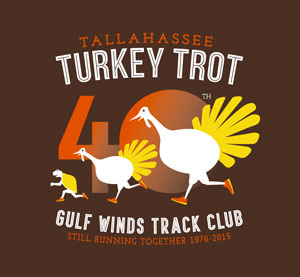 Date:
Thanksgiving Day, November 26, 2015
Time:
The Turkey Gobbler, a great race for kids and walkers, is a 1 mile fun run/walk that starts at 8:00 a.m. The 5K, 10K and 15K races start at 8:30 a.m. on Esplanade Way in SouthWood. Place 4055 Esplanade Way, SouthWood State Office Complex
Parking:
Please carpool if possible. There are three main parking lots. The easiest to access is located in front of the Department of Revenue buildings. This lot is on the west side of Capital Circle between Merchants Row and Shumard Oak. Please be careful when crossing Capital Circle. The second lot is on the east side of Captial Circle, also between Merchants Row and Shumard Oak. You can access it from either end, but plan to arrive early.  The lines to enter the lots grow as the start time approaches. The third lot is south of Shumard Oak. It is the first lot on the right if you turn onto Shumard Oak from Capital Circle. IF there is a line at Merchants Row, then continue through to Shumard Oak. The Northside Kiwanis Club has been helping runners get parked for more than 13 years, so please thank them for their help on race day!
Packet Pickup:
Participants may pick up packets at the Health, Fitness and Music Fest on November 22 (1:30 p.m. unti 5:00 p.m.) at Cascades Park or at Capital City Runners Nov. 23-24 (10:00 a.m. - 7:00 p.m.) and Nov 25 (10:00 a.m. - 6:00 p.m.) at 1817 Thomasville Road. Race Day Registraion is from 6:45 until 7:30 right in front of Crosby's Cafe on Esplanade Way. Early registration and packet pickup are strongly encouraged to assure you get a Turkey Trot t-shirt.
Turkey Trot Training Group
If you want to be ready to go on Thanksgiving, be a part of our Turkey Trot Training Group.  It is eight weeks of running fun beginning with a kickoff social on September 22nd. Check out the Training Group sign up page for more information and to sign up.  For the social check out this GWTC  link. 
Three Great Causes and Two Ways to support Them:
For many years now, Turkey Trot has raised major funds for The Refuge House, The Shelter and the Boys and Girls Clubs of the Big Bend.  We also have kept race entry fees low, including great discounts for families.  The best gift you can give is just to join us on Thanksgiving Day for your favorite race distance.  But for those who want to do a little more for our three charities they can become a Turkey Trot Hero by making a donation for one or more of these or become a Turkey Trot Super Friend by starting or joining a Turkey Trot Fundraising Team.
Turkey Trot Hero
If you just want to contribute to one of our great causes it is as simple as entering an amount next to the Turkey Trot Heroes line on the Eventbrite registration page.  You can donate as much as you want, but if you donate a minimum of $35 you will receive a commemorative gift recognizing your generosity. If you want to register for the race as well, then you can choose one of the registration categories above the Turkey Trot Hero designation.
You can also become a Turkey Trot Super Hero and use the entry box next to the Super Heroes designation to pay $50 and take care of your race entry and contribution in one swift click.  Super Heroes also will receive a special gold star on their race bibs and a commemorative gift recognizing their generosity. 
Turkey Trot Super Friend

Here is where some real fun begins.  Create your own fund raising page or contribute to another person's page. Compete individually or as a team for great prizes. To contribute to an existing team, just hit the DONATE TO A FUNDRAISER button and select from the drop down menu.  If you want to create a fundraiser then hit the REGISTER FOR TURKEY TROT button.  After you register you will be sent an email with easy to follow instructions on how to create your own fundraiser, join another one or simply contribute to an existing one. 
When & Where

Southwood Office Complex
4055 Esplanade Way
Tallahassee, FL 32311


Thursday, November 26, 2015 from 8:00 AM to 10:00 AM (EST)
Add to my calendar