(Tallahassee) FL Class "G" Statewide Firearms License Training Program

Multiple Dates
Event Details
Get Trained.  Be Prepared.  Feel Confident.  Win.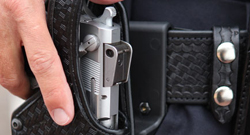 Florida Class "G" Statewide Firearms License Training Program 
The Class "G" Statewide Firearms License, issued by the Florida Department of Agriculture and Consumer Services, is the license that permits any individual who possesses a valid Class "D" Security Officer license to perform the duties of an armed security officer while on an armed post or on an armed assignment.
Further, the Class "G" license permits holders of valid Class "C", "CC", "M", "MA", and "MB" licenses to perform duties while armed.
NOTE:  In order for you to obtain a Class "G" Statewide Firearms License, you MUST:
Have completed a state-mandated 40-hour unarmed Security Officer training program, OR

Be scheduled to complete a state-mandated 40-hour unarmed Security Officer training program, OR

Possess a valid FL Class "D" Security Officer License, OR

Possess a valid FL Class "CC" Private Investigator Intern License, OR

Possess a valid FL Class "C" Private Investigator License.
As a pre-requisite for applying for the Class "G" license, an applicant must complete a state-mandated 28-hour training course, pass a written examination and successfully pass a 48-round qualification course of fire.  Our program ads an additional two hours to cover modules on the combat dynamics mindset.
The 30-hour course includes:
Chapter 493 of the Florida Statutes
5N-1 FAC (Florida Administrative Code)
Chapter 775 of the Florida Statutes
Chapter 776 of the Florida Statutes
Chapter 790 of the Florida Statutes

Use of Force Justification & Documentation

Combat Dynamics Mindset

Civil and Criminal Liability
Firearms Mechanical Training
Firearms Operations
Dry and live-fire tactical handgun manipulation skills
Use of Force
Written Examination
Pistol Qualification
PREREQUISITES:   See above. 
EQUIPMENT REQUIREMENTS
1. Semi-automatic Pistol or Revolver - chambered in one of the following calibers: .380acp, .38, or 9mm.
2. Ammunition - a MINIMUM of 200 rounds of 9mm, .380acp or .38 spl is required. Ammunition is available for purchase from us at market rates. (Average price for 9mm is 25¢ to 32¢ PER ROUND.)
3. Magazines or Speedloaders - if using a semi-automatic, bring a MINIMUM of two (2) magazines. If using a revolver, bring a minimum of 3 speed loaders. It is recommended that students have magazine holder/pouches or speed-loader holders.
4. Holster with STURDY belt - The holster must have the ability to be securely fastened to the belt. A duty rig, if available, is preferred.
5. Eye Protection, Ear Protection and Baseball Style Cap - Sunglasses may be worn in conjunction with a baseball cap with the bill worn forward. Safety glasses must be of the wrap around type or employ side panels. If wearing prescription glasses, they must be covered with safety glasses unless they meet the above requirements. Ear plugs or ear muffs (preferred), and a baseball cap with bill to deflect ejected brass must also be worn.
6. Appropriate Clothing - Students should bring appropriate clothing to participate in the classroom portion of the training. Students should bring appropriate clothing to participate in the range exercises consistent with prevailing weather conditions. Range exercises will be conducted in inclement weather unless a safety hazard exists. NOTE: Shorts, sandals or flip-flops are NOT range-appropriate.
7. Note-Taking Material - Pen, pencil, and paper to take notes with in the classroom and on the range. A jumbo permanent marker for use on the range.
CLASS TUITION: $199.00 
Tuition includes all classroom material. 
** AGENCY AND GROUP DISCOUNTS AVAILABLE **
FIREARMS MAY BE RENTED FOR $25 EACH
Where

Wakulla County Sheriff's Office Gun Range
65 Qualify Lane
Sopchoppy, FL 32358


Multiple Dates
Add to my calendar
Organizer
On-Sight Tactical Training Institute
On-Sight Tactical Training Institute delivers a full spectrum of specialized civilian defensive and law-enforcement tactical firearms training programs. Each course offered is tailored specifically to individual skill levels, and can be customized to meet personal goals.
For the novice, On-Sight offers NRA and non-NRA certification programs designed to introduce safe gun handling and basic marksmanship concepts while fostering an appreciation for defensive and sport shooting. For the proficient individual, On-Sight delivers advanced courses that integrate situational tactics with motor-skill reinforcement (MSR) exercises purposely designed to bring the student to a new level of both competitive and defensive preparedness.
In addition to an extensive array of firearms training programs, On-Sight also offers defensive tactics certification and re-certification curriculums for private security and law enforcement personnel in TASER, OCAP (Oleoresin Capsicum Aerosol Projector or 'pepper' spray), tactical baton and tactical handcuffing disciplines. Less-than-lethal defensive programs are also offered for civilians in TASER, OCAP, baton and kubaton.
On-Sight Tactical Training Institute's cadre of instructors includes currently-serving and former law-enforcement, military and public safety personnel. All of our trainers are certified in their respective fields and possess extensive real-world situational and command experience.
Contact our offices at (239) 247-5585 Visit http://www.ostti.com today for more information about our programs or our instructors, or call us at (239) 247-5585 to speak with a training specialist. 
(Tallahassee) FL Class "G" Statewide Firearms License Training Program