About this Event
Our event is designed for developers.
Don't wait in any lines to network with senior developers and companies in your area! At Talks.dev, we have 3 great tech speakers talking about topics that interest you. No lines. In between each talk, you have the opportunity to network with other developers and companies who are hiring in your city. Along with free beer and pizza, how could you ask for more?
Looking for a discount? Apply on the form below:
Are you a Company that wants to meet developers, or a potential future speaker? Apply to attend by clicking here
This event is relaxed and fun, encourages conversations, and gives you the opportunity you've been looking for-- meet interesting startups and companies, hear interesting tech talks, and network with other experienced developers.
Find out more about what we do -- www.talks.dev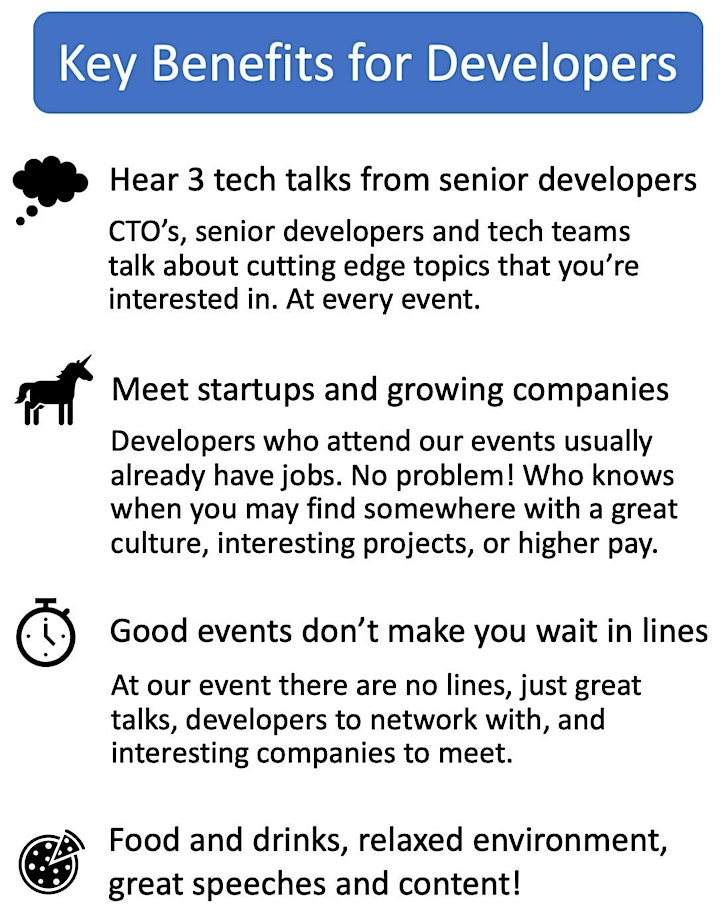 Agenda
We have snacks, drinks, interesting talks, small-group discussions and of course plenty of time for you to network with other engineers and meet companies interested in telling you about their projects.
We design our event to offer value to engineers... We're not at all like a boring "recruitment fair". That's why high quality, experienced developers attend our events and every event is sold out :-)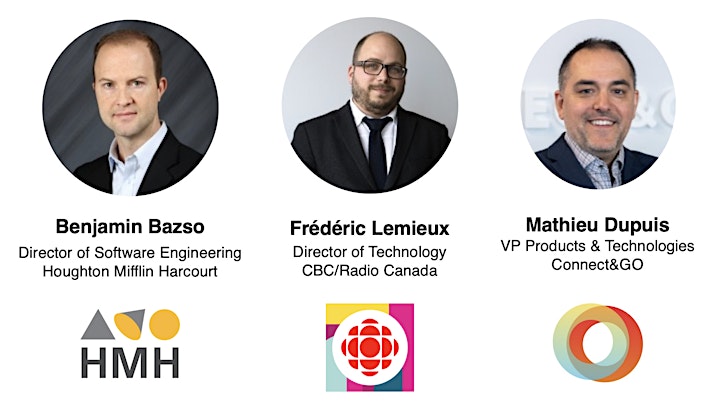 6pm - 6:30pm Networking, snacks and drinks
6:30pm - 6:45pm Sponsor talks
6:45pm - 7pm Talk 1
"Continuous Delivery " by Benjamin Bazso, Director of Software Engineering at Houghton Mifflin Harcourt.
Ben is a commercially minded engineering executive with substantial experience designing, leading, and implementing a broad range of software applications in a variety of different industries: aerospace, telecommunications, medical and marine. After graduating from McGill university, he worked as a software engineer for over a decade and even had a startup company of his own. Ben has over 15 years experience as a Director of Software Engineering at companies such as HMH & Vantrix and loves bridging the gap between the technical and non-technical people in a company. He especially enjoys leading technical teams to solve big problems.
7pm - 7:15pm Small Group Discussions
7:15pm - 7:30pm Talk 2
"Technical Debt and Management" by Frédéric Lemieux, Director of Technology at CBC/Radio Canada.
Frederic has experience as a Technical Director at CloudRaker, Technical Director and partner at Turbulent, and his current role as Technical Director of Digital Development and Media Production at Radio-Canada. Specialties: Objective-C iOS Linux Apache MySQL/PostGreSQL PHP XHTML Javascript CSS SQL
7:30pm - 7:45pm Small Group Discussion
7:45 - 8pm Talk 3
"Innovation and Technology Stack Choices" by Mathieu Dupuis, VP Products & Technologies at Connect&GO.
Having graduated in 2000 with a degree in computer science from UQAM, Mathieu Dupuis started his career as a programmer for Théâtre St-Denis. After six years, Mathieu decided to create his own ticketing company. Billetterie Première Loge Inc. soon took its place in the Canadian entertainment industry. In 2016, Ticketpro acquired Première Loge and Mathieu was promoted to President of the company. Mathieu is now the CTO at Connect&GO, a global leader in RFID technology offering a unique combination of smart wearable technology and intuitive operating management systems for the leisure, sports and entertainment industries.
8pm - 8:15pm Small Group Discussions
8:15pm - 9:30pm "Meet a Startup" networking and recruiting, Food and drinks
*Startups and established companies have table discussions and meet anyone interested!
9:30pm Event Ends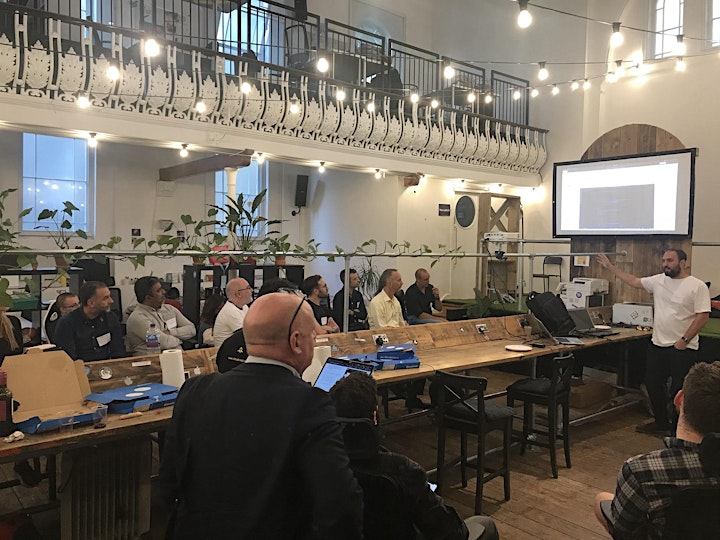 Experienced Team
Andrew Bott, Founder of Talks.dev and HiredEvents, has led hundreds of technology events over the last 4 years, working with established companies like Amazon, Microsoft, IBM, TD Bank and GE Digital. Our team has put on successful events for fast-growing startups like Credit Karma, Moz, Boku and over 1000 other companies around the world! We know events and would love to help you meet your goals.
Check out the link to our Entrepreneur podcast here!
Email for questions: andrew@hiredevents.com