Talks at the Schomburg: Basquiat and Contemporary Queer Art
Description
The Very Black Project (Andre Singleton), Dr. Jordana Saggese, Kim Drew and Dr. David Clinton Wills will present a #veryqueer #verybasquiat #verydiasporic #veryblack conversation on the life and legacy of Jean Michel-Basquiat. This program, created by NYU Africana Studies graduate students, Ja'nell Ajani and Ayanna Legros, and Juliana Huxtable explores and historicizes the cultural phenomena and life events that laid the foundation for Basquiat's creative genius and his undeniable impact on African Diasporic communities across the globe.
This program is presented in collaboration with Basquiat: Still Fly at 55.
@SchomburgLive | #Basquiat
Watch on livestream.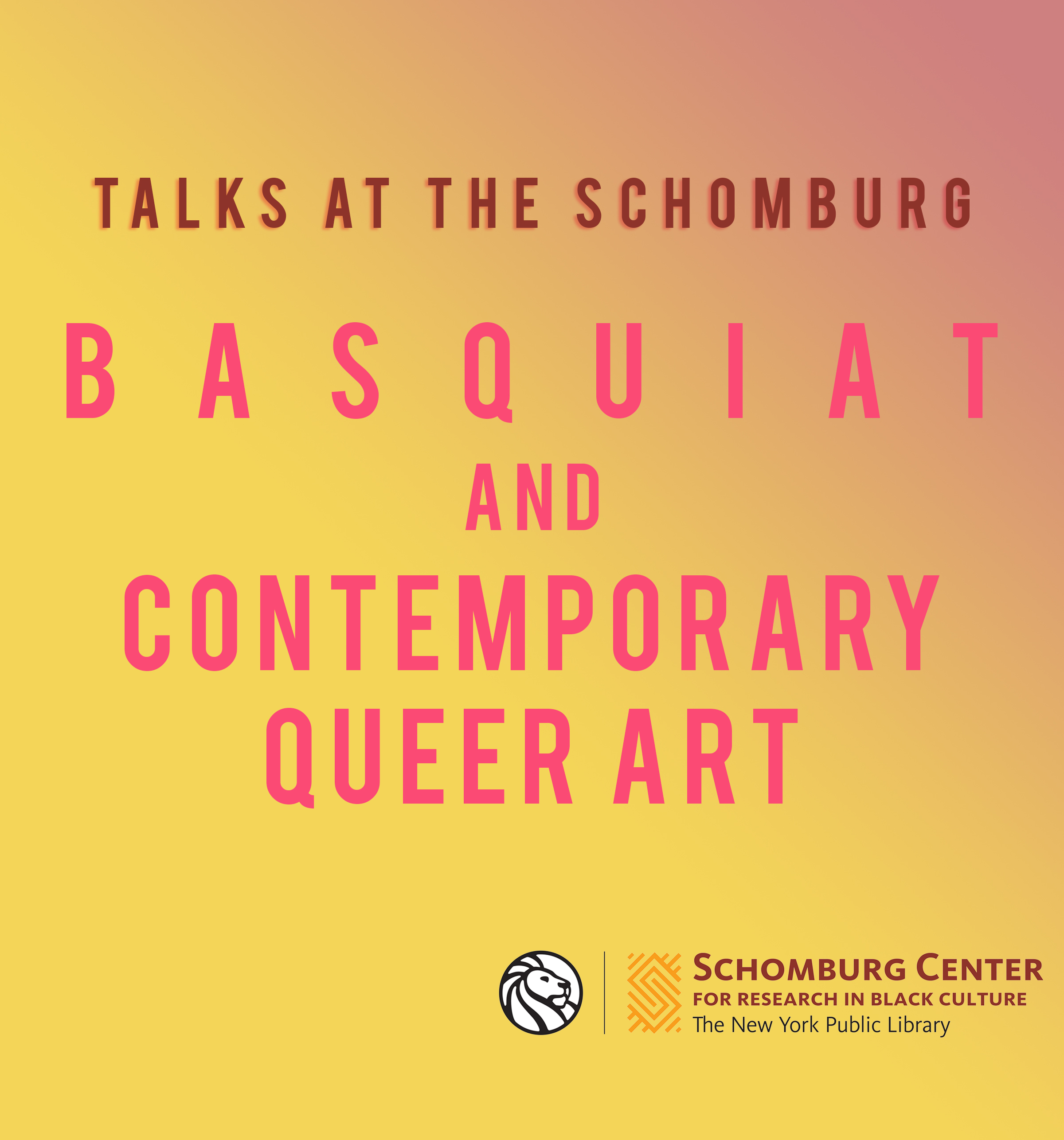 FIRST COME, FIRST SEATED
For all free events, we generally overbook to ensure a full house. All registered seats are released 15 to 30 minutes before start time, so we recommend that you arrive early.
PRESS
Please send all press inquiries (photo, video, interviews, audio-recording, etc) at least 24-hours before the day of the program to Adenike Olanrewaju at adenikeolanrewaju@nypl.org.
Please note that professional photography and video recordings are prohibited without expressed consent.
Organizer of Talks at the Schomburg: Basquiat and Contemporary Queer Art
Founded in 1925 and named a National Historic Landmark in 2017, the Schomburg Center for Research in Black Culture is one of the world's leading cultural institutions devoted to the research, preservation, and exhibition of materials focused on African American, African Diaspora, and African experiences. From the original 10,000 items provided by Arturo Alfonso Schomburg to the over 10 million items in the collection today, the Schomburg Center features diverse progamming and lifelong education and exploration that illuminate the richness of global black history, arts and culture.
Subscribe to our e-newsletter
Visit: schomburgcenter.org/calendar
Please read our Privacy Policy