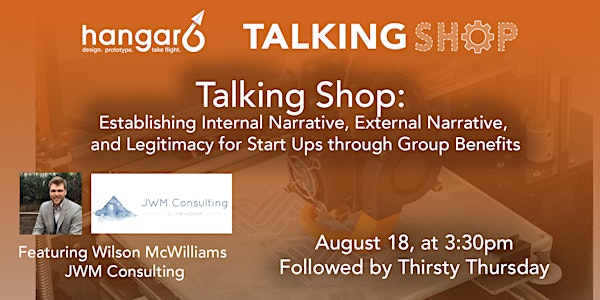 Talking Shop: Establishing Startup Legitimacy thru Group Benefits
Learn about establishing Internal Narrative, External Narrative, and Legitimacy for Start Ups through Group Benefits from Wilson McWilliams
About this event
Join us at First Flight in the Hutchison Conference Room or virtually via Zoom. We also encourage attendees to join us for a happy hour (Thirsty Thursday) immediately following the event.
Wilson McWilliams, owner of JWM Consulting, will be leading the conversation on why offering health insurance and other benefits as an organization goes way beyond the basics of the actual coverage itself. It is a tool to establish and communicate, in the minds of all company stakeholders, the trajectory of an organization and the legitimacy of the company and its mission. In this talk Wilson will go over the nuts and bolts of a benefits program, the ideal timing, strategy, and messaging around offering benefits, and how this will affect your existing team, current investors, and potential future hires.
At JWM, team members average more than 18 years of experience in the group benefits space, and throughout Wilson's career former clients include organizations such as Precision BioSciences, the NC Biotech Center, and Dude Solutions (now Brightly Software). JWM Consulting as a firm specializes in the start up community both in the Triangle and across the state of North Carolina, assisting during all stages of growth.
About Wilson: Wilson McWilliam is the owner and strategist of JWM Consulting, an independent brokerage located in the Triangle that is focused on bringing group benefits to mission-oriented organizations.
About JWM: JWM Consulting is a local, boutique employee benefits firm specifically designed to serve the mission based entities of the Triangle, and of North Carolina. Our specialty involves startups and nonprofits under from 1 to 99 employees; from installing health insurance for the first time, to charting a course that builds a positive, internal narrative with your growing staff. Our decades of experience allows for our clients to navigate and understand the trends, compliance, and options available to them in the benefits space, as well as the chance maximize their opportunities in taking care of their teams and organization in an ever-evolving world.