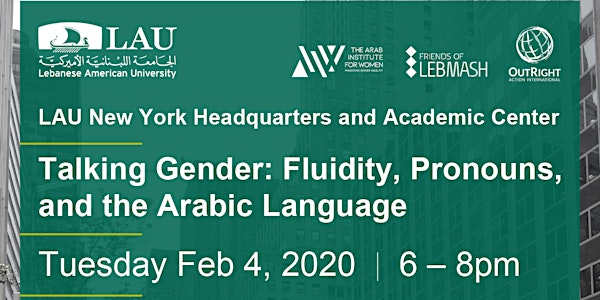 Talking Gender: Fluidity, Pronouns, and the Arabic Language
A lively discussion on Talking Gender: Fluidity, Pronouns, and the Arabic Language
When and where
Location
Lebanese American University New York Headquarters and Academic Center 211 E 46th Street New York, NY 10017
About this event
Merriam-Webster has recently added "they" to the dictionary as a pronoun to refer to a person whose gender identity is non binary, which was followed by announcing it as the word of the year for 2019.
As we witness the evolution of Western society's attitudes towards gender and sexuality, and the reflection that this has on language, it is time to discuss how this translates to the Arab World.
Friends of LebMASH and OutRight Action International invite you to join us on Tuesday Feb 4 at the Lebanese American University in New York for a lively discussion on this topic. Our distinguished panelists will focus on the Middle Eastern community and the state of our understanding of such issues and their importance.
Featuring:
Dima Ayoub, expert on Middle Eastern studies and Arabic literature
Daina Rudusa, senior communications manager at OutRight Action International, a leading international LGBTQ rights advocacy organization
Omar Fattal, co-founder and board member of LebMASH, the leading LGBTQ health advocacy organization in Lebanon
and Emmy-nominated journalist Ahmad Shihab-Eldin who will moderate the panel.
Reception with refreshments and light snacks to follow the panel
Moderator:
Ahmed Shihab-Eldin
Pronouns: He, Him, His
Ahmed Shihab-Eldin is an Emmy-nominated journalist and producer and Senior Presenter for AJ+ where he developed a documentary series titled BEYOND. He currently lives in NYC where he is developing a new podcast, and studying improv and acting. Ahmed has previously worked as a correspondent for VICE on HBO, a host and producer Al Jazeera English, as well as for the The New York Times, The Huffington Post and PBS. In 2015 and 2016, he was featured on the Arabian Business Power List "100 under 40: The world's most influential young Arabs."
Ahmed is passionate about telling stories that connect people across boundaries and borders that separate them. He is taking improve sketch comedy classes in NYC to develop some of his alter egos, and in the hopes of one day being told he is funny. He appears as a commentator for CNN, NBC, BBC, MSNBC, Al Jazeera, Yahoo and other platforms, and is often invited to speak at leading media, technology, and ideas conferences around the world - including the UN, World Economic Forum, SXSW, Aspen Ideas Festival and Google Zeitgeist. In 2013, the Network of Arab-American Professionals honored him with the 2013 Professional Excellence Award.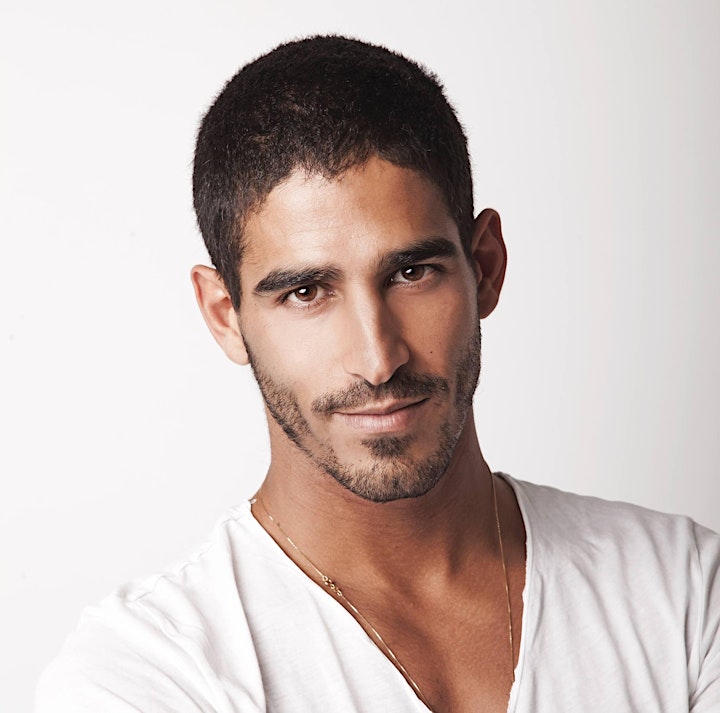 Speakers:
Dima Ayoub
Pronouns: She/Her/Hers
Assistant Professor of Arabic | Department of Arabic
Director of Middle East Studies | International & Global Studies
Middlebury College
Dima Ayoub is an Assistant Professor of Arabic at Middlebury College where she is also C.V. Starr Endowed Junior Faculty Fellow in International Studies and the Director of the Middle East Studies Program. She specializes in modern Arabic literature and its intersection with translation studies. She also specializes in feminist, queer and postcolonial studies.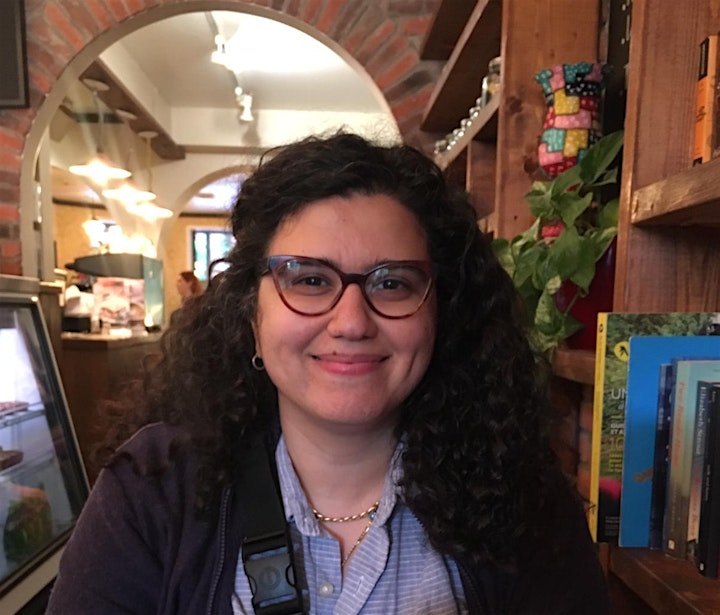 Daina Rudusa
Pronouns: She, Her, Hers
Senior Communications Manager
OutRight Action International
Daina Ruduša is OutRight's Senior Communications Manager responsible for media relations and raising the organization's profile, based in New York. She joined the team in February 2019 after almost three years at ILGA-Europe, the foremost European-level LGBTIQ organization. She has also worked at leading international development organizations CARE International UK and the Bill& Melinda Gates Foundation. Daina first joined the LGBTIQ movement in her native Latvia in 2006, when the second Pride march was being organized and faced hateful and violent opposition. Thereafter Daina studied history of sexuality as part of her Bachelor's degree in History and English at Simon Fraser University in Vancouver, Canada, and earned her Master's in Public International Law and Human Rights from the Riga Graduate School of Law in Latvia.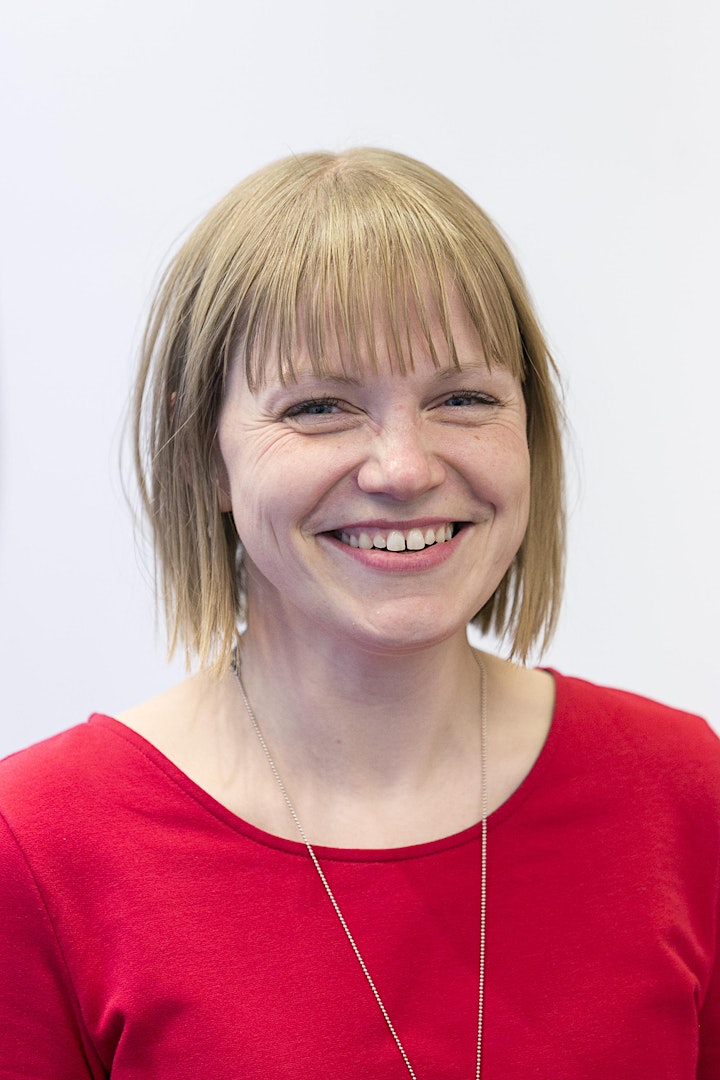 Omar Fattal
Pronouns: He, Him, His
Co-Founder and Executive Board Member
LebMASH and Friends of LebMASH
Omar Fattal is a 1999 graduate of the American University of Beirut (AUB) Medical School. He also holds a Master's Degree in Public Health from AUB. He completed his residency in Psychiatry at the Cleveland Clinic in 2005. He is currently the Assistant Chief for Quality at the Department of Psychiatry at Bellevue Hospital.
He has published several articles and book chapters. He is currently a member of the editorial board of the LGBT Health journal. He has also given several talks to medical students, residents, staff physicians, hospital staff, and the general public. He has focused his academic interest on cross-cultural psychiatry and cultural competence in healthcare. He worked closely with the Office of Diversity at the Cleveland Clinic on several initiatives to increase awareness regarding diversity concerns in health care. He has served as the co-chair of the LGBT Employee Resource Group for the Cleveland Clinic.
He was the fundraising officer and a member of Helem, a Lebanese LGBT rights organization from 2004 until 2008. He is also a member of the American Psychiatric Association (APA) and the Gay and Lesbian Medical Association (GLMA). He is a founder and current board member of the Lebanese Medical Association for Sexual Health (LebMASH) and a founder and current board member of Friends of LebMASH.