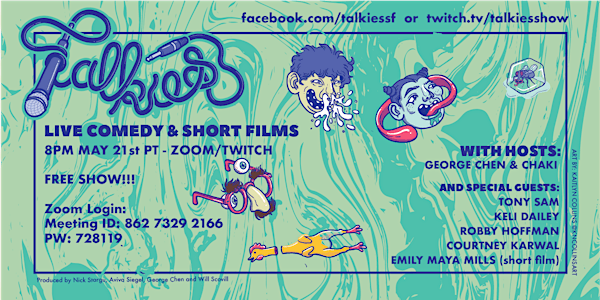 TALKIES: Live Comedy and Short Films (on Zoom)
TALKIES: with guests Robby Hoffman, Tony Sam, Courtney Karwal, Keli Dailey & Chaki
About this event
On this streaming edition of TALKIES, we're super excited to welcome our featured guests Robby Hoffman, Tony Sam, Courtney Karwal, & Keli Dailey.
Featuring a short film from Emily Maya Mills
Featuring your hosts -George Chen & special guest host CHAKI
SPECIAL GUESTS FOR THE ZOOM EVENT:
Chaki is a funky alien wizard from Outer Space. With his unique take on electro funk, he has brought his weird ass stage show to festivals like Noise Pop and The Offbeat Fest. Chaki has shared the stage with like minded weirdos Peelander Z, El Vez, Bob Log III, Metalachi, Captured By Robots and The Oingo Boingo Dance Party. Rolling Stone said he is like Prince except not sexy and much fatter.
Robby Hoffman is a small ex-Chasidic queer Jewish stand-up comedian, writer, and true original. She was just named one of Vulture's Top Comedians to Watch in 2020, one of Comedy Central's UP NEXT comedians, and on Conan O'Brien's Comics to Watch list. She has performed numerous times at the Montreal Just for Laughs festival and was a headliner for the New York Comedy Festival. In 2019, she recorded her first one-hour stand up special for Just for Laughs, "I'm Nervous" in Toronto, available on CraveTV.
Robby is also a notable TV writer, having written on The Chris Gethard Show (TruTV), Workin' Moms (Netflix), and Baroness Von Sketch Show (IFC). In 2019, Robby won a Daytime Emmy Award for her writing work on Odd Squad (PBS).
Courtney Karwal is a comedian, actress, writer, and when she was seven she played little league baseball. Before the pandemic Courtney was actively studying at The Groundlings, and was about to begin writing lab. Courtney co-created a Funny or Die web series called Check Your Surroundings and was named a " Comic to Watch" at the Riot LA Festival. Since then she has also been featured at Bumbershoot in Seattle, D.C. Comedy Festival at the Kennedy Center, SF Sketchfest in San Francisco, and Out of Bounds Comedy Festival in Austin. An original show she created with Natalie Young won at the 2017 Just for Laughs Festival in Montreal and went on to be featured at the New York Television Fest.
She's currently working out a new show called Never Naughty at UCB Franklin where she combines standup with an examination of her high school diary. Courtney is making her directorial debut with her short Lipstick City.
Keli Dailey - Comedian Keli Dailey is mostly a journalist. She is also the creator of the live comedy "Surviving San Francisco," the webseries "News Hangover," and has done standup on stages and backrooms around the Bay Area.
Tony Sam is originally from the part of the country where decent people come from (the Midwest), and he's a playful S.O.B. who combines his quirky spirit with real-life experiences. The end result is a heaping, steamy pile of terrificness. In addition to his stand-up comedy, Tony has specialized in improv and sketch comedy. In Chicago, he is the co-creator and long time executive producer of the critically acclaimed show Chicago Underground Comedy and has written and/or produced many other highly successful shows including the heralded "Pop Stand." In Los Angeles, he helped run the SoCal version of the legendary Peoples Republic of Komedy: "Hub Bub." He has performed on Comedy Death-Ray at the Upright Citizens Brigade Theatre and is a regular fixture in its monthly variety show, "The Walsh Bros Show." Sam produces a monthly, all-character show at the Hollywood Improv. Punchline calls it—PERSONA!—"a total riot!"
Tony has written for MTV's "Ridiculousness," MTV2′s "Guy Code" Online, MTV NEWS "Life Code," and A&E's "Brandi and Jarrod: Married to The Job."
=========================================
***All donations will go to support the performers.***
Talkies is the Bay Area's best unconventional, experimental, and multi-media live comedy event every second Friday at All Out Comedy Theater in Oakland, CA. At Talkies, comedians, writers, improvisers, and performers work outside of their regular routines to push the boundaries of comedy; PowerPoint presentations, characters, and off-stage antics are the order of the day.
Started in the basement of San Francisco's Lost Weekend Video store, this monthly show has been an incubator for many unique comedy talents spreading their wings on weird flights of fancy. Past guest performers have included Aparna Nancherla, Brent Weinbach, Ron Lynch, Frankie Quinones, Myq Kaplan, Sad Vicious, Mary Mack, and Beth Lisick. The show is a regular feature of SF Sketchfest and almost always sells out.
============================================
TALKIES is produced by Nick Stargu, Aviva Siegel, George Chen and Will Scovill