TALKIES: with guests James Austin Johnson, Mary Van Note and Chad Damiani
About this Event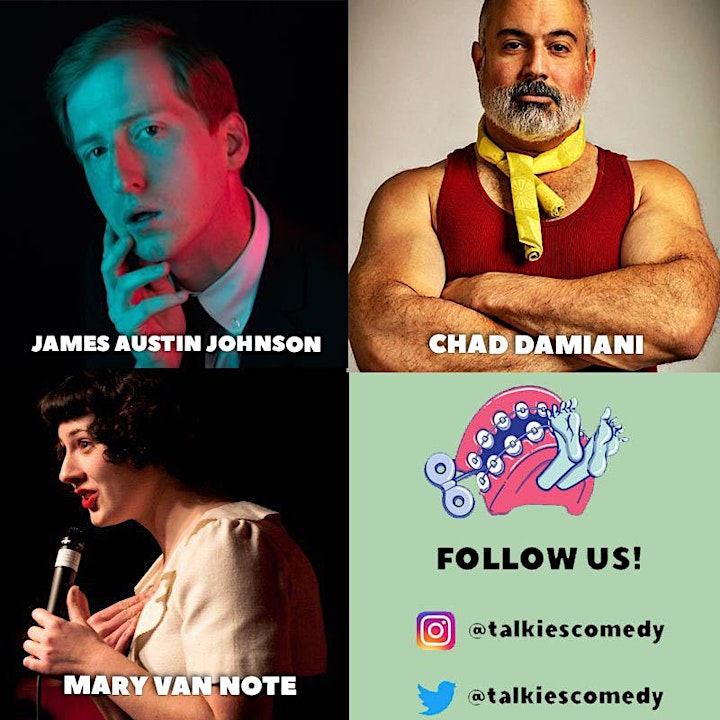 On this streaming edition of TALKIES, we're super excited to welcome our featured guests James Austin Johnson, Mary Van Note and Chad Damiani!
Featuring your hosts -Nick Stargu, Aviva Siegel and George Chen
SPECIAL GUESTS FOR THE ZOOM EVENT:
James Austin Johnson has appeared in a Coen brothers movie, been killed on Better Call Saul, and was once told by George Clooney that he looked just like Wes Anderson. He also is known for his hysterical Donald Trump impression.
Mary Van Note is a comedian of the weird variety. She is the creator and star of the award-winning Independent Film Channel web series The Mary Van Note Show: Gavin Really Wants Me. She is a SF Weekly Masterminds grant recipient, a seven-time SF Sketchfest performer, and an Andy Kaufman Award Semi-Finalist. The San Francisco Bay Guardian called her a "Zine-Queen Comedian" as she regularly makes zines, crafts and mini-comics. Her specialties are stick-figures and cross-stitch. She also posts regularly on her personal style and comics blog at
Chad Damiani is a writer and performer from southern New Jersey. He is one-half of the clown-improv duo Jetzo -- who perform all over Los Angeles, San Diego and festivals across the country. He has appeared on America's Got Talent on NBC and Cake on FX.
=========================================
***All donations will go to support the performers.***
Talkies is the Bay Area's best unconventional, experimental, and multi-media live comedy event every second Friday at All Out Comedy Theater in Oakland, CA. At Talkies, comedians, writers, improvisers, and performers work outside of their regular routines to push the boundaries of comedy; PowerPoint presentations, characters, and off-stage antics are the order of the day.
Started in the basement of San Francisco's Lost Weekend Video store, this monthly show has been an incubator for many unique comedy talents spreading their wings on weird flights of fancy. Past guest performers have included Aparna Nancherla, Brent Weinbach, Ron Lynch, Frankie Quinones, Myq Kaplan, Sad Vicious, Calvin Johnson, and Beth Lisick. The show is a regular feature of SF Sketchfest and almost always sells out.
============================================
TALKIES is produced by Nick Stargu, Aviva Siegel, George Chen and Will Scovill