About this Event
Join former New England Patriot and three-time Super Bowl Champion Tedy Bruschi to hear his story, learn how you can take steps to prevent stroke and heart disease, and take your first steps toward healthy living.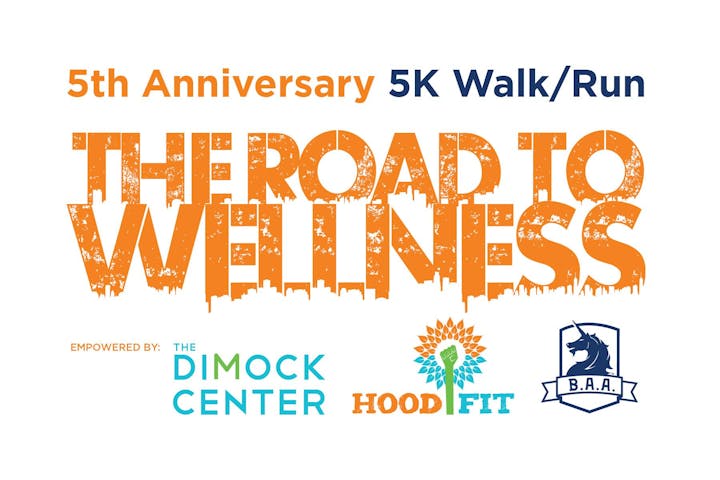 Road to Wellness 5K & Tedy's Team
Organizers of Talk & Walk with Tedy Bruschi
The 5th Anniversary Road to Wellness 5K
September 7, 2019
The 5th Anniversary Road to Wellness 5K Walk/Run is aimed at inspiring mind, body and spiritual health through fitness and exercise while embracing Roxbury's rich history, diverse culture and strong sense of community. The Road to Wellness 5k engages over 1,200 participants from over 200 surrounding communities to unite runners and walkers in their pursuit of wellness.
About the Founding Partners:
The Dimock Center
Founded in 1862 as the New England Hospital for Women and Children, the Dimock Center heals and uplifts individuals, families, and our community. Operating on a nine-acre campus in Roxbury's Egleston Square, we serve people from Boston neighborhoods and 212 communities across the state through our Health and Community Care, Behavioral Health, and Child and Family Services. Nationally recognized as a model for the delivery of comprehensive health education and human services in an urban community, we serve more than 19,000 people annually.
HoodFit
HoodFit seeks to amplify the positive attributes in one's neighborhood that have allowed residents to grow strong, experience resilience and exercise strategic problem solving. When people are able to transfer those same skills to experiences outside of their homes they are fit. Protecting one's "hood" with endurance, strength and perseverance often comes at the price of neglecting physical spirit. HoodFit embraces the connection between mind, body and spirit.
The Boston Athletic Association
Since its founding in 1887, the Boston Athletic Association has promoted health and fitness through running in our community. A leader within the sport of road racing, the B.A.A. created the Boston Marathon in 1897, which is now a particularly meaningful and beloved event in the Boston community and highly regarded worldwide. In addition to the Boston Marathon, the B.A.A. conducts a 5K (April), 10K (June) and half marathon (October).The three races comprise the B.A.A. Distance Medley. The Road to Wellness is a unique partnership for the B.A.A. and one that is highly valued by the organization.
Tedy's Team
Tedy Bruschi suffered a stroke in February 2005 at the age of 31, just weeks after winning his third Super Bowl and days after returning from playing in the Pro Bowl in Hawaii. As he recovered, Tedy committed himself to being an advocate, spokesperson, and inspiration for stroke survivors in our area.
Tedy, and his wife Heidi, asked the American Stroke Association to work with them to create "Tedy's Team," an endurance training team raising money for the American Stroke Association and training to complete the Boston Marathon® and other races near and far. Their participation not only supports the Bruschi family's fight against stroke and honors both the survivors and the loved ones lost to America's No. 5 leading cause of death but also lives the mission of the American Heart Association/American Stroke Association by being active and living a healthy lifestyle.
Always remember the warning signs of stroke: F.A.S.T.: Face Drooping, Arm Weakness, Speech Difficulty all equal Time to call 9-1-1.